After having 1-2 - 6-7 beers, everybody agrees that having a gyros is your best bet, but you have to be careful where your want your pita to be filled just like in every other city, you can get really rubbish or really good gyros in Budapest.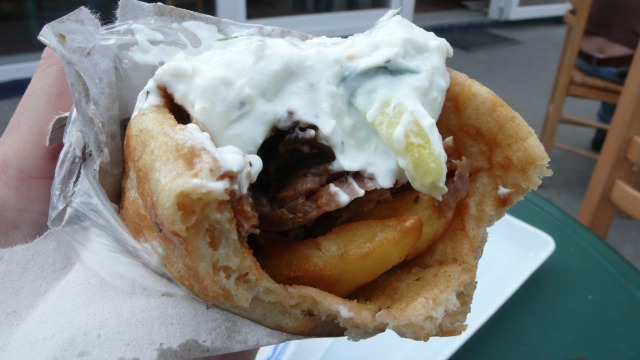 We embarked on a mission to find the best placed to get the most delicious mix of meat tzatziki and veggies.
You probably have read our hamburger test, so applying the same rules, we visited the best places recommended by our friends, aquantaces and readers, so therefore everybody could be an active member of our test. Having tasted all gyros, we came up with the top hit list.
Surprise surprise, the best gyros places are not in the downtown area, you can find some good ones there though, but you have to travel a bit for finding the best. The price is not really an issue, since you can get gyros for 2-3 euros everywhere.

A legjobb gyrosok Budapesten nagyobb térképen való megjelenítése
5th Place: Szeráj
We have tried the döner-kebab here. Presentation was visual pleasure, ingredients were good enough, altogether the culinary experience was a bit flat and unchallenging, but we can still include this place in the one of the best category.
Address: 5th district , Szent István avenue 13., across 'Vígszínház'
Opening hours: Monday-Sunday 09:00-04:00
4th place: Fotios
At this place you get the full greek picture, with thick pita bread, real nice tzatziki, huge portions, good quality, so I would call this the whole nine yard. Very similar to the Big Gyros Taverna, with the nice carrot salad and thick tzatziki.
Address: 9th district, Üllői road 214.
3rd place: Pyrgos
This is a bit out of the way at the Tesco Budaörs, but worth going there. The authentic greek family run business make the difference. The quality of the gyros made from leg(thigh) and chuck roll was something to be proud of.
Address: 2040, Budaörs Kinizsi road 1–3., Budaörsi Tesco Hypermarket
2nd place: Big Gyros Taverna
This place is not up to the traditional gyros restaurant standard, it has something else completely: CONCEPT, which is built on the different recipe. Theirs is a strong aromatic cheese based chicken gyros which is impeccably spiced. Their tzatziki is so thick you have to shake it off of your spoon, not to mention the carrot salad, and the green salad with beautiful feta cheese and finally their 3 cheese salad which covers meat of chicken drumsticks.
Address: 18th district, Nefelejcs street 89/a., you can drive off the road towards Liszt Ferenc Airport to get here, not the clearway
Opening hours: Monday-Saturday 11:00-21:00
Home delivery is available to Liszt Ferenc Airport. (on: 00 36 20/9-556-558) Minimum delivery: 1200 HUF.
1st place: Gyradico
To be honest we cannot make a choice between Gyradico and Big Gyros Taverna, they both very committed to quality and to impress without trying too hard. Gyradico gives you the full greek experience with thick pita bread, deliciously thick tzatziki and massive yummy meat, just like in Greece.
It is not overloaded with vegetables, they have just the right balance, and the veggies find their proper place as well, the tomatoes go on top of the potatoes, and the cucumber makes its way to the yoghturt sauce. And you don't have to struggle through a 'hamburger version gyros' with the unnecessary burger fillers.
Address: 3rd district, corner of Királyok útja – Pünkösdfürdő street
Opening hours: Summer - Mon 13:00- 23:00; Tue-Wed 11:00-23:00; Thu-Sat 11:00-01:00; Sun: 11:00-23:00
Winter - Mon 13:00-23:00 Tue-Sun 11:00-23:00