We like to offer advice on the best places to go for a great meal with an acceptable price tag in Budapest. Sometimes it is useful to mention the places you should just avoid too!
The other day we were walking on Váci Street in search of some hot mulled wine. Meanwhile we worked up an appetite too and decided to grab a sandwich at Nordsee a German chain restaurant which seemed one of the better ones on the fast food scene. We asked for a fried fish sandwich that had a mouthwatering picture on the menu. I won't even go on about that we had to wait 15 minutes for it as there were bigger problems.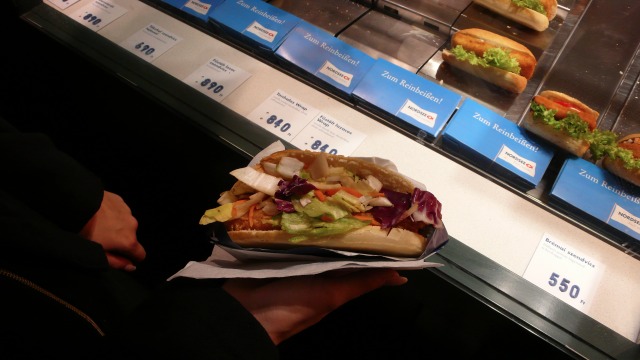 I don't want to be Michael Douglas from the film Falling Down where he totally looses it when his food resembles nothing of what the picture on the menu suggests and even proceeds firing an automatic riffle into the ceiling. I simply would like to express my disappointment that in 2012 in Budapest someone can charge 4 EURO for a tiny sandwich with a little frozen value range fish finished off with some uninteresting garnish.
For the same price you could find many restaurants with a very nice three course special lunch offer, though you are likely to fork out more in the evenings for dinner. Going back to Nordsee such glaring quality-price in-balance should not be accepted at any time of the day.