Even though by reading us it might seem like only wonderful places open in Budapest, the reality is that we tend to cheat a bit : we only write about our positive experiences and the rest goes on to be forgotten. This also means that we visit a lot more places than what we review on the blog, there is a whole load of restaurants and bars that simply aren't worthy of being mentioned. Say good or nothing – that's our motto.
Apacuka in Nagymező utca used to be one these places: we visited them last summer, had a meal and left unsatisfied. At least I did: there were four of us and everyone else liked what they ate. I on the contrary found that the quality was mediocre at best, while the prices were set relatively high. I would even go as far as to call it expensive. So Apacuka never made my list and I kind of forgot about it.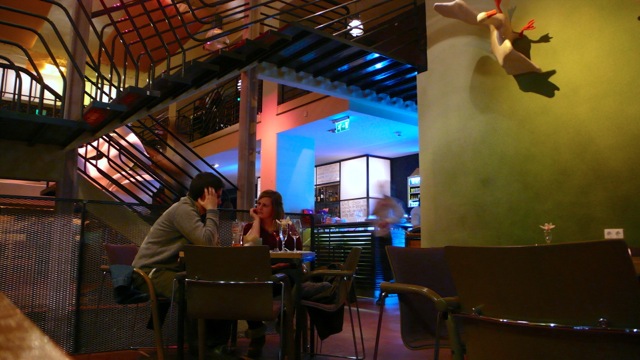 And then I've been back on two occasions, both times for a work-related event. I had my preconceptions but at the same time I was very hungry so I put my principles aside and ordered a dish. I was surprised by the quality of the food, which was much more edible than what I've tasted before so I decided to visit them again and test at least three of their courses.
The interior of the restaurant is quite interesting, not so much cosy as surreal, sometimes simple, different wherever you look but definitely more exciting than the majority of the places in Budapest. The composition I liked th most is the 'Girl teasing two-headed geese with no underwear' - this is I title I gave to the piece.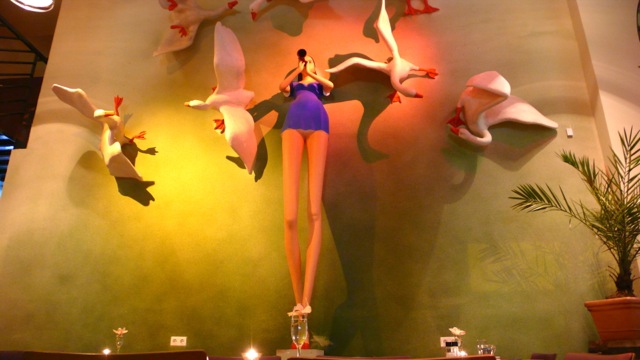 But let's see about the food: I had mussels with white wine, garlic and chili for the entrée, which was way better than most of what they serve in this genre. The mussels didn't taste tired or frozen but quite fresh and this spicy, creamy, oniony sauce I found to be extraordinary. Well done!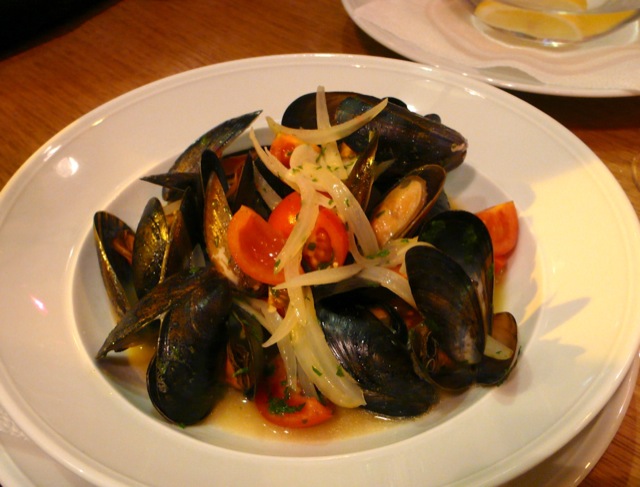 I also tasted some of the duck foie gras which came in several forms, as a crème brûlée or served with cocoa dots. Experimenting with this ingredient only works with high quality foie gras and I think it's rare to find it treated by as expert hands as in Apacuka.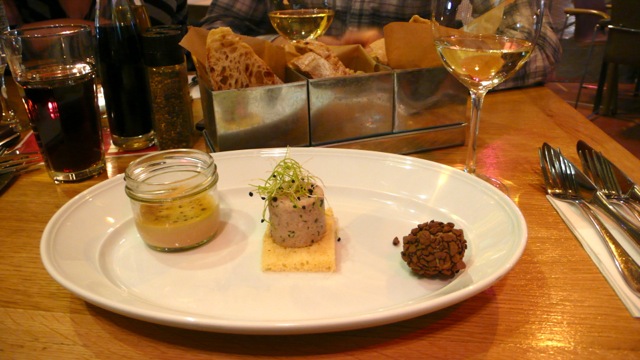 As for the main course, I had Confit of Pork Cheeks with 'slambuc' lasagne (slambuc is a traditional 'shepherd's' food, made of pasta, potatoes and lard), a simply wonderful dish: the pork cheeks were juicy, soft and crisp and the lasagne smoked enough to make it less of a gastrosnob and more of an authentic experience. I could have used some more 'jus' on the plate though.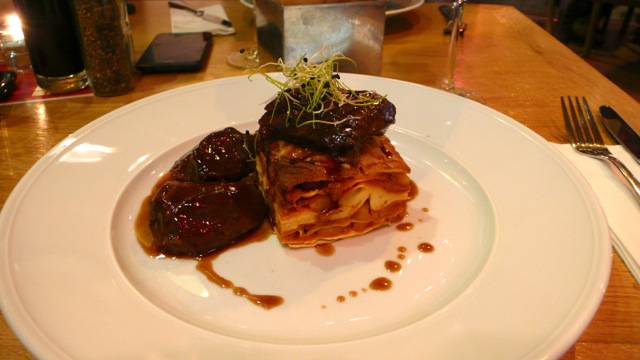 The only thing I wasn't satisfied with was the Cheeseplate, I find that 1500 HUF is way too much for a mediocre camambert and a boring cheddar, even if the blue cheese was all right, but not outstanding.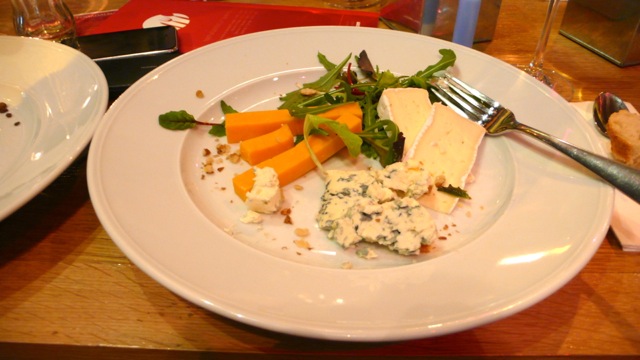 All in all, Apacuka has undergone an immense development and passed from indifferent to recommendable, though it's still considered as expensive, 6-8000 HUF / person with drinks, and for that amount it is normal to expect high quality dining.
Apacuka Kávéház Étterem Varieté
1065 Budapest, Nagymező utca 54-56.
Telefon: +36 1 269 1317
Mon-Fri 10 AM- 2 AM
Sat: 12 AM-4 AM
Sunday: closed
If you want to get to know the authentic side of Budapest, the best bars, restaurants, clubs and events, join our Facebook group where you can find all the information you need.