There are places which become simply successful. There's nothing to do with quality, because there are several great competitors and nobody cares about them, until someone turns the spotlight on them.
Quality is important but that's not all. You need a good concept, loads of money to advertise the opening, good location and something eye-catching plus.
Loud music is a good example for that in Spíler which has just opened in Gozsdu Udvar: If I were living in the neighborhood I would have doused the place with petrol and set it on fire. But I don't live there and neither live most of the people from Budapest so we are absolutely lucky for having this place somewhere halfway between everything and which is an adequately original thingy that is impossible to categorize.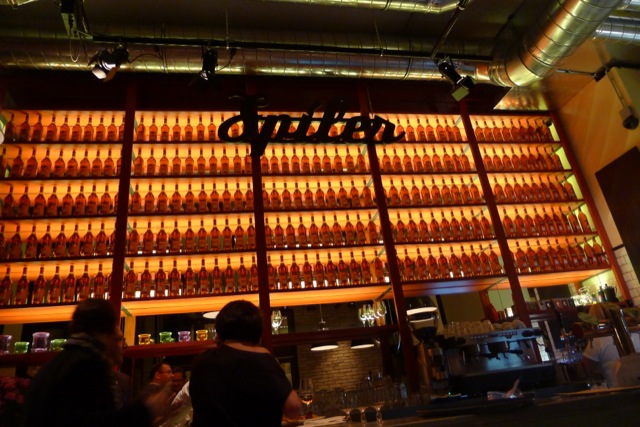 Short background introduction: the owners aren't beginners. They own every second restaurant in the Castle district, the Pest-Buda, the Pierrot and the 21. They are only a few blocks away from each other. And behind these there is Roy Zsiday who came from his gourmet-tower from Buda. But he did not went straight to the other side of the Danube. He only did it after an inspiring tour in New York to create a more lighter, younger, Pest-like high quality ruin pub-disco-wine bar-pub-club-coalafishmutantbird-combo.
And he did it so well.
The Spíler is a unique place in Budapest despite some mistakes at the beginning and its created fake past (it is strongly communicated to make believe that at the beginning of the 20th century there has already been a place called Spíler, but not). Leastwise I haven't seen any club like this before.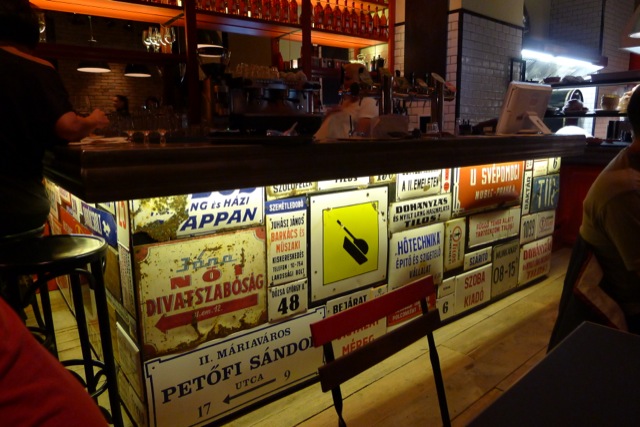 The interior is freaking smart. The interior decorator did not want to self-realize his own, said past. At first sight Spíler is a perfectly mature job in which everything was created by the same drive and verve beginning with the lights, the placement of the open kitchen, through the uniform of the staff and the loud anglo-saxon electronic music till the restrooms. And it also fits to the eclectic feeling that the modern music is only played from vinyl by the DJ from the restaurant and the trendy bar with the 17 meters wide counter where the owners great-grandfather has worked in his workshop as a mechanic engineer before the World War.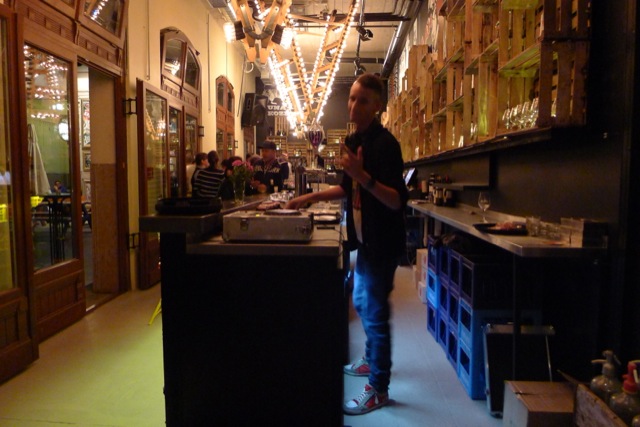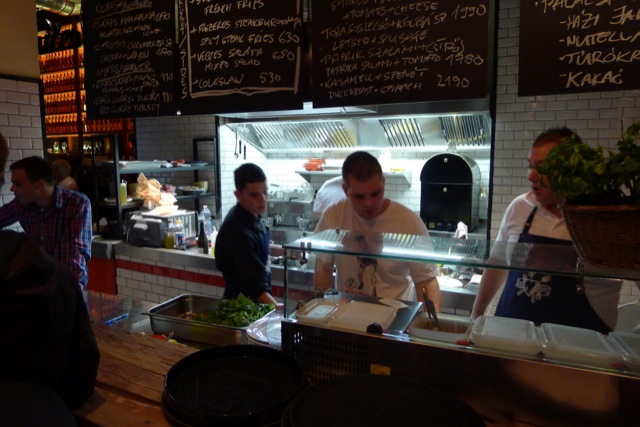 The menu is also interesting. You can only find meals in the Spíler you will never meet anywhere else. Neither in downtown Budapest nor in other places like this. While it is unique it is quite hard to compare it to anything else, but one thing is sure. It is not a cheap place though you can also eat a lot with a little money. Except if you order the truly great homemade grilled sausage made with Tokaj wine, which isn't as big as you would like it to have for 1200 HUF.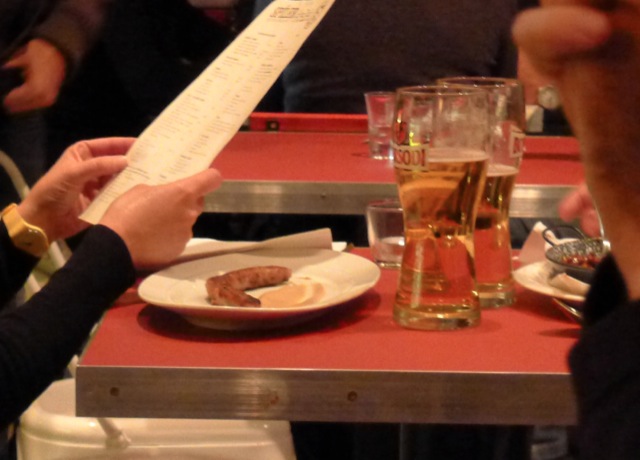 But you can have stodgy flamed pies between 1500-2000 HUF and also spud (jacket potato) with every kind of special sauces for 500-700 HUF. A hamburger takes 1300 HUF which isn't that much but with potato and salad it is much over 2500 HUF. So if we take a look at the Spíler this way it is obviously in the higher price category. But you also get quality with it.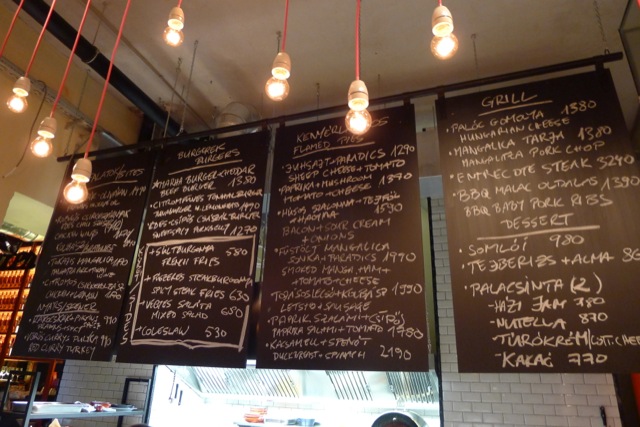 First of all the sauce itself makes the jacket potato a real dinner. And we also have to appreciate Spíler for experimenting with such meals you cannot have anywhere else and aren't typical. Otherwise the potato with this cheese and jalapeno sauce was really good and if you order a hamburger and a craft beer besides that it is still only around 2500 HUF and you could eat and drink well. In this environment this price is absolutely perfect (you only have to be careful with the sausages).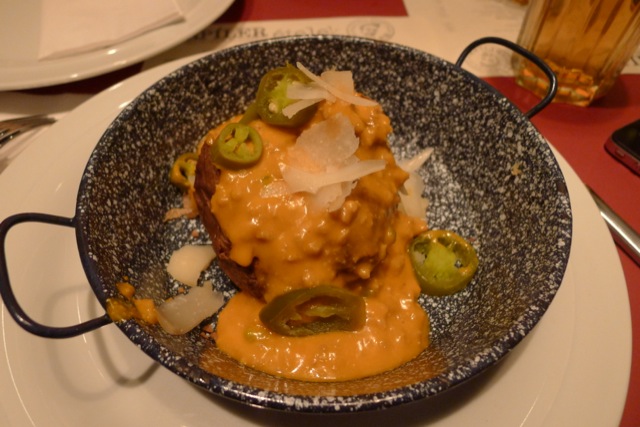 And now let's commemorate the hamburger which is called the best burger of the country. I would doubt that, but if we consider that a burger is made of a piece of meat, traditional bun with cheese, ketchup and mustard, then it is really hard to create anything else that is everlasting. The decoration is alright and the strange meat is truly wonderful. Altogether with Adam we swear on the Ring-Manga-Cowboy-Pántlika kind of experimentation, the value added, but according to the original recipe we cannot say any bad word about Spíler's burger.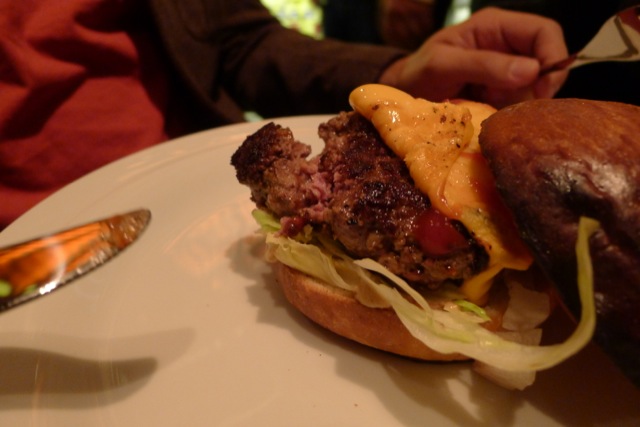 The place has just opened so smaller uncertainties occur. For example after our arrival the kitchen has stopped working and did not accept other orders, but the staff handled the situation so professionally, calmly, kindly and empathically which is quite rare in Hungary, we just didn't care and waited till our food was ready. And it was worth waiting.
If you are around and they have free seats just pop in because Spíler can show you something new in this slowly oversupplied market and if we take a look at the quality the prices are also reasonable. I am sure that with this beginning after the Castle district the downtown of Pest will also be conquered by Roy and his team, restaurant by restaurant.
If you want to get to know the authentic side of Budapest, the best bars, restaurants, clubs and events, join our Facebook group where you can find all the information you need.