When I first heard about the Suttogó piano bar I decided to visit it one day. Statements: small cellar under the ground in Pest in the Hajós utca, comfy sofas, mysterious lights and a jazz pianist every night, who plays only for a few people who are there.
So one day we visited the place with Csaba. I imagined that we won't even have free seats, we will be drinking at the bar, while listening to soft laughing with Diana Krall singing in the background. And after arriving to the place under the ground we have realized what we can also see in the pictures on the homepage of the place.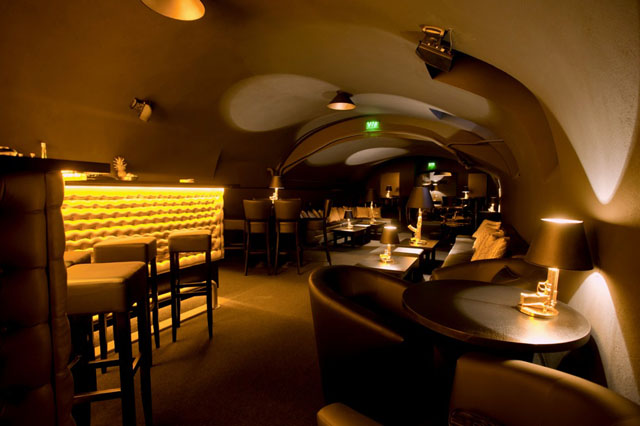 photo: suttogopianobar.hu
Zona deserta. No one was there except the waitress and the pianist, who immediately jumped over to the piano and asked us what to play. We sat down to a table in a semi-dark corner and realized that after BeerCo we have found another deserted place which is worth more than that. Although we haven't felt that we have to pass by a bearded security guard having a nap in the toilet.
Because the concept of the place is really good. It reminds me of the world of the American Mafia with underground jazz-club with drinks, live music, lumpy sofas. By having taken a look at the drink list it turned out quickly that this had been exactly the purpose of the owners. Here you can read a really good short text about the prohibition of alcohol, the world of gangsters, corruption and the way how this new trend gave job to the musicians. You can also read about these illegal places called 'whisperers' and stories where the owner bought the originally 5 USD barrels of beer from Canada for 55 USD and he served it for even more. Or Owney Madden the owner of Harlem Cotton Club, who gave the opportunity to play music for such legends of the era like Duke Ellington or Billie Holiday.
The lamps on the tables looked like gilded weapons. They also amplified the atmosphere but together with Csaba we thought that it was an absolute exaggeration. Moreover they looked really fake, as if somebody had won some golden sprayed plastic fake guns at the saint's-day and had glued the lampshades to them.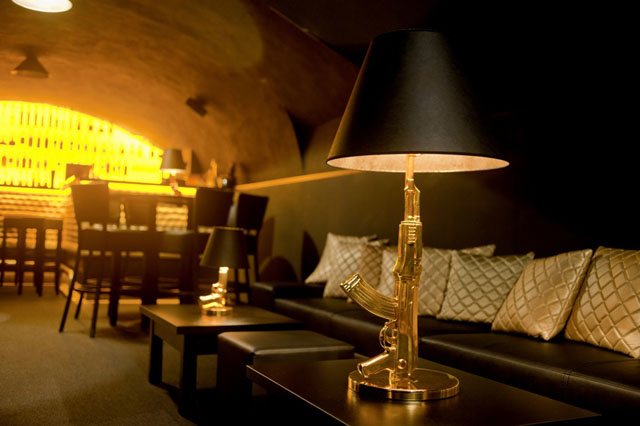 And when you happen to find on the net that one piece of this table gun lamp designed by Philippe Starck designers takes 3300USD (750 000 HUF) the whiskey simply gets stuck in your throat. But as I got to know from an interview read in the Szép Házak (Nice Houses) Magazine these lamps are imitations. It is obvious that someone manufactured it in the East for a small part of the original price. Although I don't believe that Starck's lamps look like an imitation for the first sight but imitations always have this disadvantage.
So we were just sitting in the leatherette armchairs amongst the lighting fake guns absolutely alone. In the background we heard mostly Chris Rea and Csaba was looking at Django's green jacket. He told me how attentive Tarantino was when he chose the costumes because with this he commemorated to another cult film, Bonanza. He also told me that he needs a green jacket like this. We were chomping the life-saving salty thingies in front of us what we haven't even ordered.
I asked the waitress when the party will start. She told me that we are the party and if we won't stay, they won't necessarily wait till the end of the shift, so they are going to close earlier than 5 am. But it is said that on Fridays they usually have quite a bit of movement and crowd, dancing and partying in a gangster-jazz-golden gun-way. I'm afraid I won't come back at the weekend, because I don't feel like dancing for Josephine alone.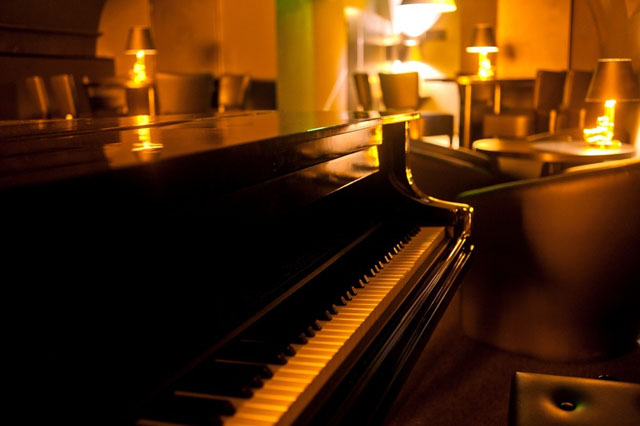 Csaba really liked the place and so did I. I was expecting something like this. Drinks are not so cheap but if we compare it to a simple pub and we also add the live music to it, we won't get a heart attack. One deciliter of wine takes 500-600 HUF (Dúzsi-Sauska-Légli lineup) and I don't feel bad if the 0.33 beer takes 700 HUF if otherwise the night has a really good atmosphere. If only we had more people here not only us.
On the way home in the Nagymező utca I have seen a queue of 100 people in front of the Peaches and Cream Club. It was around midnight and I wouldn't even expected for this, because a few minutes ago I was having some drinks in a dreamy place and now it turns out that I could have stayed in a queue for hours on the Budapest Broadway just to see Linda Zimány a few streets away.

Budapest is just as varied as it is during daytime.
Suttogó Piano Bár
1065 Budapest, Hajós u. 27.
Opening hours: Tuesday - Saturday 19-05
If you want to get to know the authentic side of Budapest, the best bars, restaurants, clubs and events, join our Facebook group where you can find all the information you need.