I have written this writing long ago, but I was a little bit uncertain posting it. In our series where we are looking for the best Hungarian food we are concentrating on meals that can be chosen from a menu at a reasonable price. The Fülemüle is a bit more expensive than the average (and also has better quality) so we have chosen from the lunch menu what we evaluated this situation as a ground of refusal later on. There is only one reason why we wanted to have this post: last Friday András Singer the legendary owner of the restaurant passed away. He was also in the restaurant when we tested the place. I myself did not know him but I know that he was an absolutely significant person in the life of the gastronomy of Budapest. So now we break the rules of the series and in the memory of Mr. Singer we post the latest writing of the series.
So many of you have suggested trying this restaurant in the eighth district in the Kőfaragó utca, which is the fourth competitor of our series presenting the Hungarian restaurants at a reasonable price after Kádár, Róma ételbár and Nótafa. It is a bit similar to Kádár, because it is also in Pest and has Hungarian-Jewish cuisine where cholent has the main role on Saturdays.
On the other hand it is totally different than the others: it also has a retro feeling, but not in a lower middle class way like the other two with the checked table cover. Fülemüle is rather like time travel in which we live in the Goulash communism in 2012, but during the time travel an error occurred and the time machine had sucked up a civil canteen from 1931 and the whole year of 1993.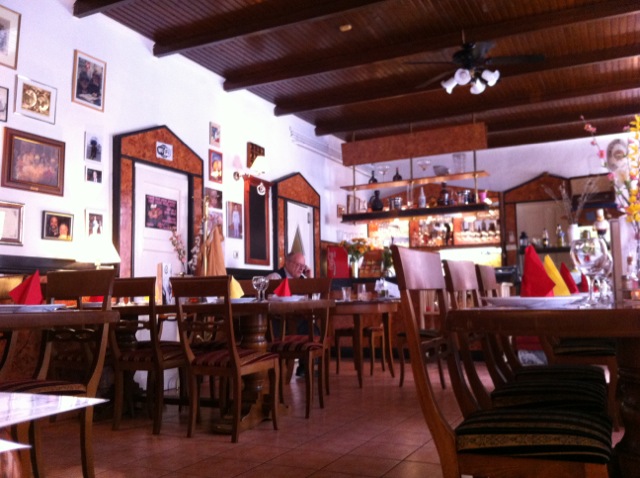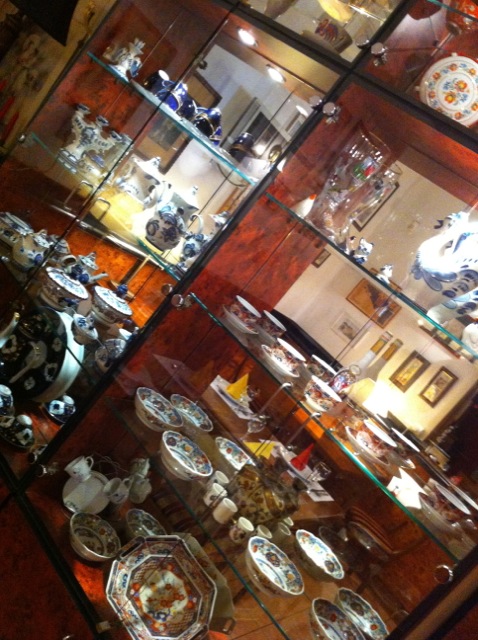 Altogether the place is friendly, homely full of personal articles and photos. Thank to owner András Singer who also have been to Moscow everything is full of socialist-communist souvenirs. Everything is decorated with these inside: there is a sign from the KISZ (Hungarian Young Communist League) Committee of the City of Moscow and from the Moscow Youth Club. We can see a photo in which Gyula Horn and Ferenc Gyurcsány (former socialist prime ministers) are having their meal and another one in which we can see a little child holding a 'Thank you Feri' sign. It looks like that the tip of the scale is strongly on the left, but a good kitchen always has to be well balanced. That's why we can also see portraits of pontificates only a few meters from the photos of Horn and neither the photo of Navracsics (right-wing politicians) would like to fall off the wall because of the closeness of Gyurcsány.
Isn't it wonderful?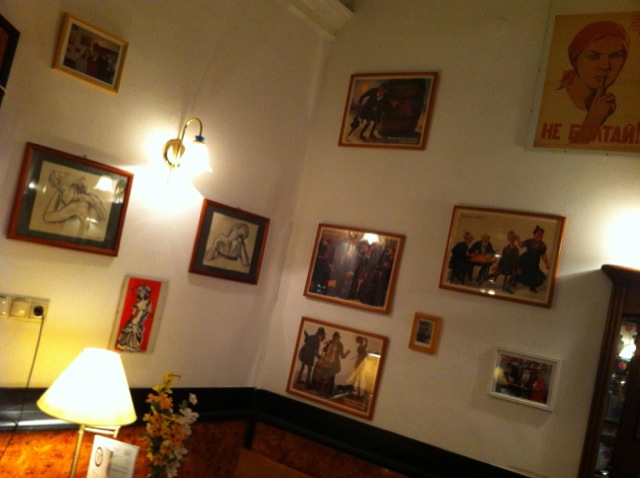 The place was absolutely empty at quarter past two despite the famously active regular guests. Only I had to be served by the very polite waiter and sometimes Mr. Singer, who is usually sitting idly in the restaurant as a good owner.
I started with a meat soup, with vermicelli. It wasn't that characteristic and greasy as the soup in Róma ételbár, but it was also totally good and what for more, some people would rather like this moderate taste. Ingredients were also fresh. Real vegetables and real spices were in the soup and the paprika served next to the soup was sliced right before bringing the first course to me. So it was absolutely alright.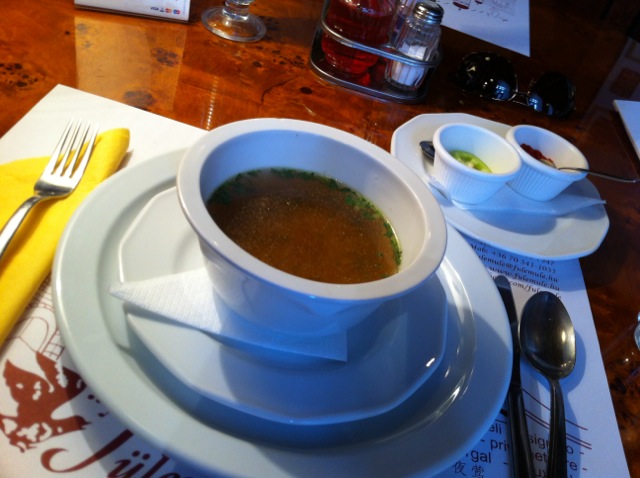 For second course I picked grilled fillet of pork with homemade pickles, which looks like this: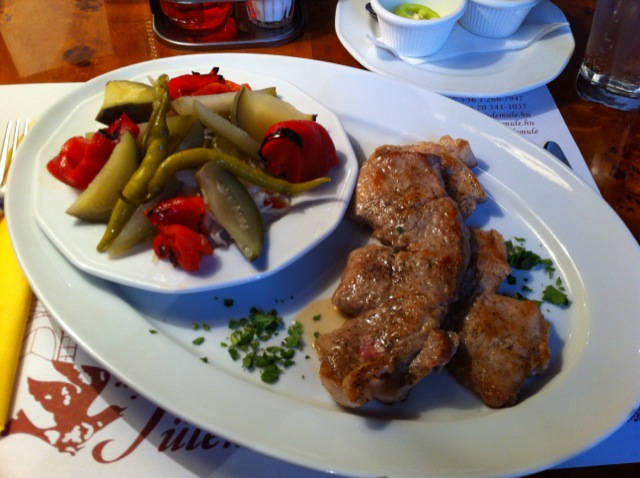 I was satisfied. Though it was a daily lunch offer, the meat was freshly grilled (I had to wait for it which is always a good sign and I could also hear it crackling on the grill). It was juicy, hot and bravely seasoned. A bowl of mixed pickles was a great choice for a side dish. At least it wasn't potato or rice. These homemade mixed pickles (with loads of bread) gave me what we are looking for in this series: the abandoned joy of guzzling. I only had problem with the bread. Something more exciting and fresher bakery good would be better.
At the end came the pancake with honey and poppy-seed. It was quite a brutal ending of the lunch, mostly because of the powdered sugar that covered everything. It also contained lots of grease and poppy-seed, though there could have been more honey on it.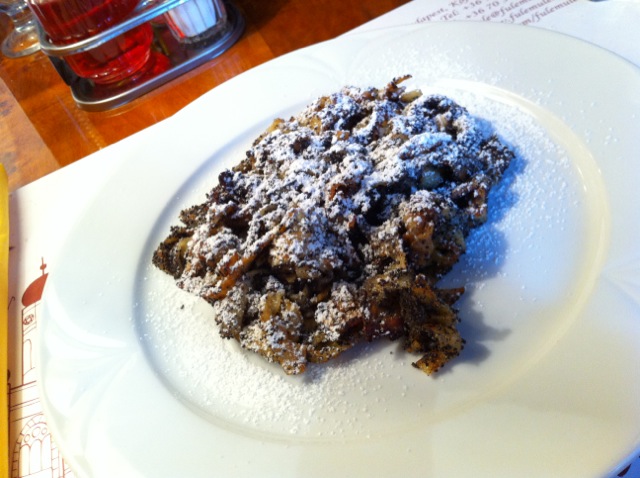 Altogether Fülemüle is an absolutely correct place. The three courses at noon took 2100 HUF plus the drinks and the service fee, so if somebody gets to the place and goes in to have a lunch must have around 2600 HUF for it.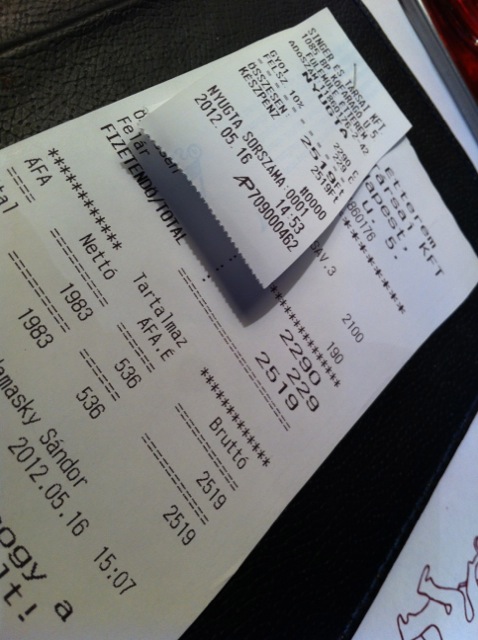 Or let's say: if somebody wants to visit the place.
If you want to get to know the authentic side of Budapest, the best bars, restaurants, clubs and events, join our Facebook group where you can find all the information you need.