A new restaurant has opened in the center whose owner claims that:
1: So far you couldn't eat a normal steak in Hungary
2: But from now on…
According to the main idea, the interior of the KNRDY is a little bit similar to the pornographic penthouse presented a few weeks ago: only massive, dark and straight tones fit to these large pieces of meat. Not soft curves and cute warm colors.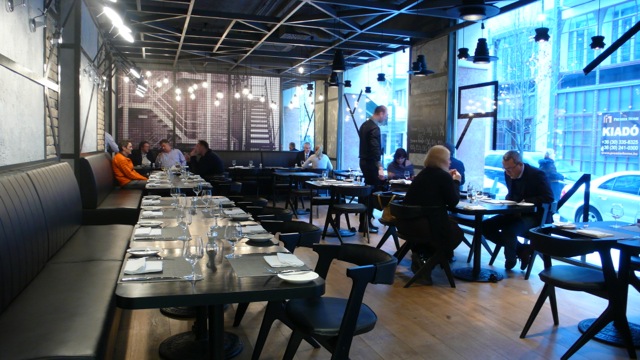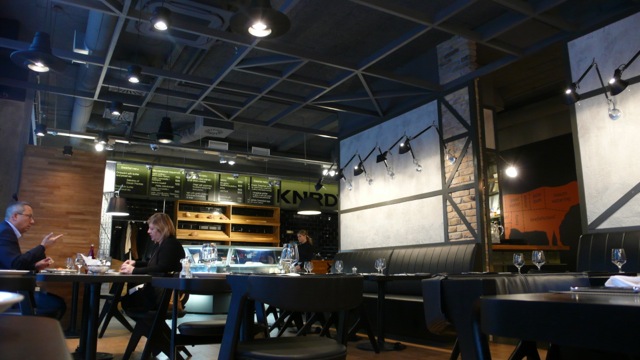 While we were waiting for our steak to be made we have also tasted some cold cuts: 'THE' joselito, a.k.a. Józsika, which is a superb ham. It is like the mixture of Monica Bellucci and Jessica Alba. If we can set aside the fact that we are talking about a wonderfully greasy food with extremely difficult animal husbandry and food making procedures and not about the beautiful actresses.
You feel like you have to cry.
After this came the steak. A huge Prime Black Angus porterhouse. The Porterhouse is kind of a composite steak coming from the point where the tenderloin and top loin meet. Basically an over-sized T-Bone steak the porterhouse is thicker cut and has much more of the tenderloin relative to the loin portion.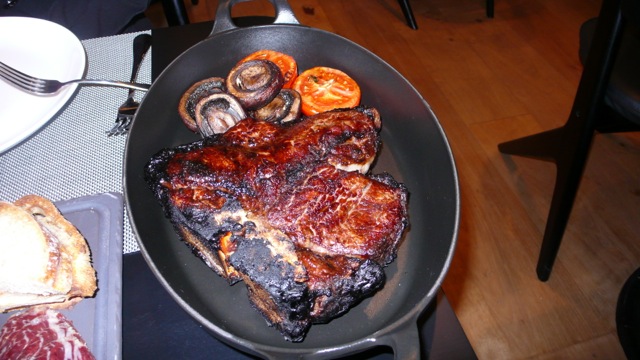 It is done in an American way: It means that this great piece of meat is cooked in a special oven on a really high temperature. This way the outer side of the meat is quickly done, the pores get closed so the interior of the meat gets soft and cooked by its own liquids. Theoretically this ends up in having a steak that has a layer and the magic inside.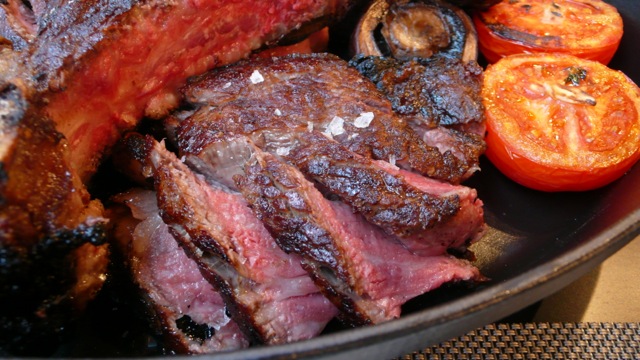 Practically it also ends up the same. The meat is unrealistically huge, but you don't have to feel happy because you have to pay after its weight so you don't win any money on getting a bigger one (what for more, on a sign you can see how big pieces you can choose from the kitchen. They also show it to you right before putting it in the oven. You just cannot see childhood photos of the cattle when it was planning its future as a little calf. Supposedly not a future like this.
So the steak was so good you felt like you have to cry again. It was wonderful. The layer of the meat was fabulous. But at some points it was really roasted, so it tasted a little bit bitter. Americans are said to love it like this or even more than this. But I'm just a silly Hungarian kid and I would've eaten it without the burnt parts. To be honest, this was only the 1-2% of the meat so we can simply rub it off and strew it to the plate of the American guy sitting next to us. He will be really happy.
The side dishes were also wonderful. The sauces, the mushrooms, the fried potatoes were great but I loved the spinach gruyere cheese the most. If I were spinach, I would like to end up like this.
The place has just opened but is already successful. It is full of guests mostly with foreigners which is understandable: If you'd like to have something for two you should calculate with between 20.000-30.000 HUF. It isn't a cheap place.
Of course you won't have steaks like these anywhere else in Budapest.
KNRDY
Budapest, Október 6. utca 15
+36 1 788 1685
info@knrdy.com
If you want to get to know the authentic side of Budapest, the best bars, restaurants, clubs and events, join our Facebook group where you can find all the information you need.