We are fighting on with the fried fat in bread crumbs: we are visiting another Hungarian restaurant, but this time we are not moving on the axis of Kispiac-Pesti disznó. We have rebooted the series and now we are getting back to the basics like Kádár and Norbi étkezde.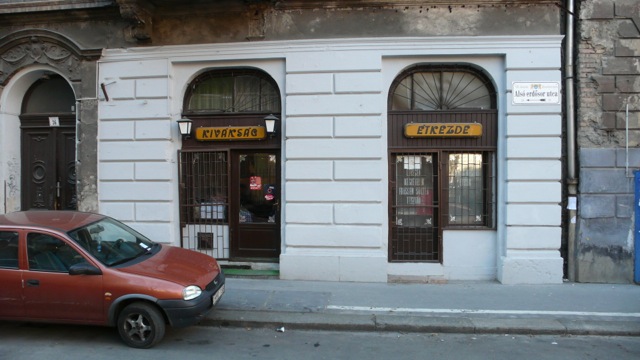 The Kívánság étkezde is located in the seventh district but not around Kazinczy tér, but far far away from that, beyond Nagykörút where you cannot see tourists, not even from Eastern Europe. This means that there aren't so many foreigners like in Kádár, but thetypical Hungarian checked table cover and the honor based cash register is the same. The guests are mainly regular guests, everybody knows everyone. Workers and intellectuals can be found inside, so they are not the same guests you can see in Costes. Though I can be mistaken because when I have been there the guests were talking about the benefits of double-entry bookkeeping, which could also be an interesting topic in the Michelin star restaurants.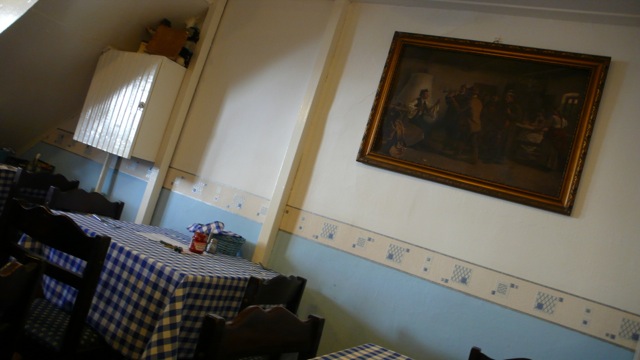 So the place is engaging and entertaining even from outside and inside. I think Paris could have been like that when Saint-Germain-des-Prés was THE Saint-Germain-des-Prés. Or the writers misled me or I misunderstood them.

Anyway the Kívánság gives the kind of atmosphere we know from the Hungarian films made in the first half of the 80s. That's why we feel comfortable in it and do not really want to check facebook and e-mails on our smart phone: we just lay back and enjoy the atmosphere.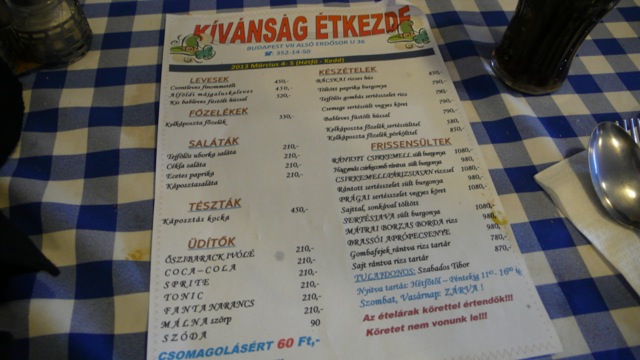 But not so long because my food arrives really quickly. I start with a bean soup, this is the small portion for 520 HUF, haha: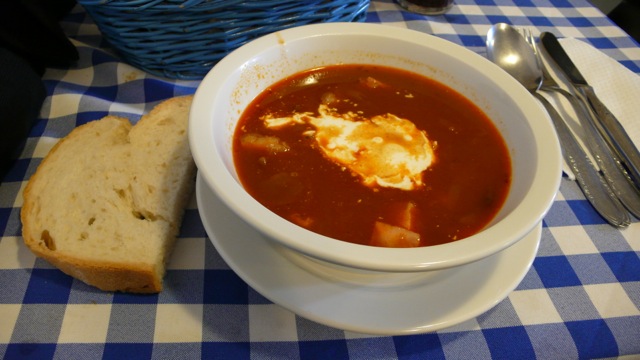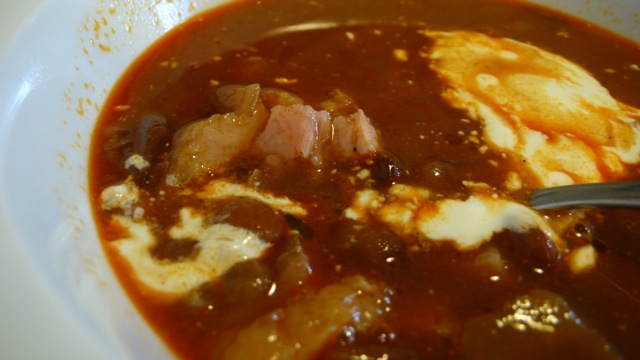 The soup was not a small portion, it was rather huge, particularly for this money. At other places this takes 7-800 HUF. I'm not saying that this was the best bean soup I have ever eaten, but the bean and all the other ingredients were well-cooked, the smoky taste was good, bacon cubes were alright, though not excellent just simply good. Altogether it was rather good than great but it took 520 HUF and in cooler restaurants you can only get a bottle of mineral water. You know, mineral water, but not 2 liters, but 0,33 l. This soup contained around half liter of liquid, which is worth more than the refreshment!

Then came the pork chop fried in potato served with garlic and cheese. One of our readers suggested trying it with French fries. With homemade French fries. I think it is cheaper than buying frozen potato, but at the end we get a fresh and edible side dish no matter if the reason is the latest trend or the economics. But how nice it is that if someone would like to serve cheap food, one gets to the same point where quality is the most important thing. But between these two worlds the rest and most of the world is feeding us with frozen junks.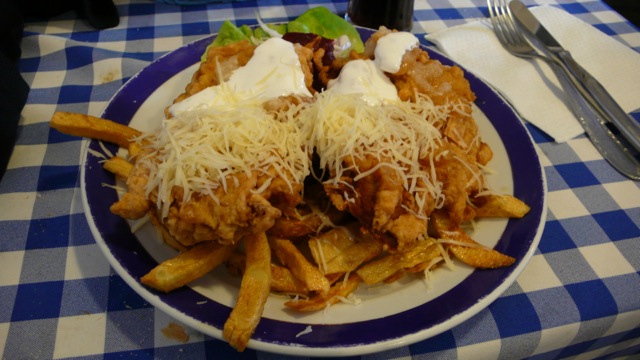 Otherwise oil was dripping from the food, maybe because I have been there on Tuesday and maybe they take care of it, but it was neither stale, nor stuffy, nor tasted like fish or any other food, it was simply oil. Richly. Otherwise in connection with the pork chop and the bean soup my statement is the same: not the best one, but good. And huge. It kills me. It defeats you no matter who you are or where you are from. The toff starts in to eat and the food laughs out it loudly. After having eaten it I haven't simply left the restaurant. I had to crawl out of it. And it also takes less than 1000 HUF. That is still just half a liter of mineral water in a Michelin star restaurant - or a quarter- but it means that t is Italian. So it is not the same, but Italians are really good in making pizza so you can imagine their mineral water.

In this league Kádár is still on the top, but Kívánság is quite close to it by looking at the portions and the taste. Though according to the last one Kívánság is a little bit weaker, but the sadder, darker and touchable atmosphere compensates us for everything. If not the atmosphere, then the lower prices.

Kívánság kifőzde
Budapest
Alsó erdősor utca 36.
Tel: 0613521450
Mo-Fr: 11:45-16:00
If you want to get to know the authentic side of Budapest, the best bars, restaurants, clubs and events, join our Facebook group where you can find all the information you need.