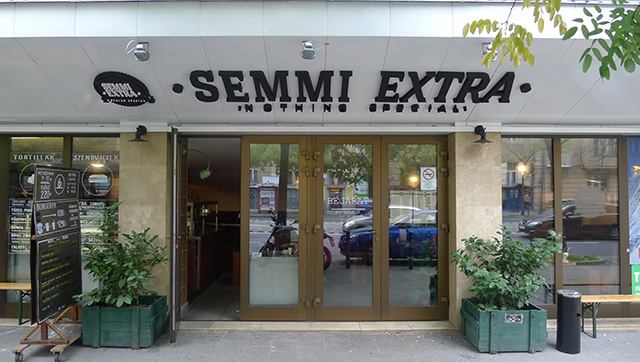 There are two relevant facts I can tell about the 11th district. It is full of green and there are only few places with good food, even though it is the biggest district in Budapest. I mean that finding a cool restaurant - where you can meet your friends or just pop in for short lunch or dinner and have good quality food - is very difficult.
Fast-food restaurant line up around Móricz Zsigmond körtér, offers hamburgers, Vietnamese soups, Greek or Hungarian menus, but these are typical "eat and go" places. Szatyor could be a nice shelter in the evenings, but unfortunately I cannot place its style among the restaurants... I live in 11th district and was so bored with going out in the city each time I would have liked to meet up and eat with friends.
So if you asked me about restaurants in 11. district, I could say: NOTHING SPECIAL. And this is the name of the restaurant in Hungarian; SEMMI EXTRA.
Semmi Extra exploded into this area with these two words and suddenly brought a big change for the residents of this district.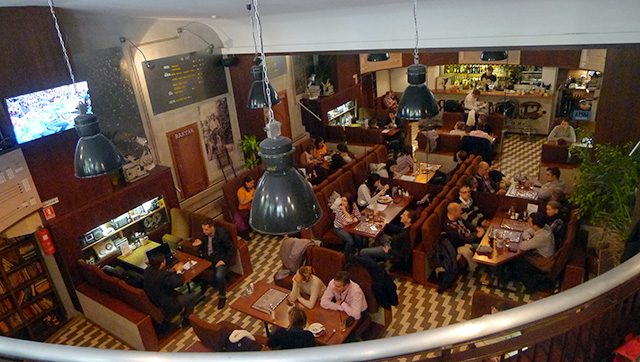 The interior is imaginatively designed, the waiters are very friendly and the restaurant offers delicious meals at a good price. The building use to be an old cinema, so the place pays respect to this, with a style reflecting those times. An open kitchen and a few tables welcome the guests, but the main part of the restaurant is beyond this. Stepping down on some stairs, we enter a more airy space with big mirrors which also makes this area more spacious. You feel like Uma Thurman and John Travolta in Jack Rabbit Slim's in Buda.
During lunchtime, a cafeteria is on, with variety of soups at 300-500 HUF and main courses around 650 HUF. Otherwise, hamburgers, pastas and salads are on the menu.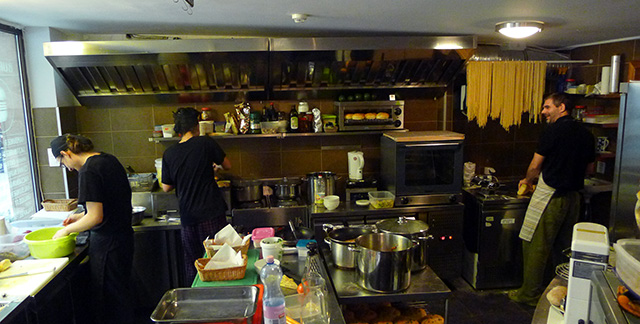 One of the most important speciality of Semmi Extra is their duck burger. The ingredients on top of their simple burger are the following: roast duck liver, red onion jam, roasted pepper, goats cheese, green salad and honey-mustard sauce. You can easily feel that the shef has experimented with each ingredient and tested the tastes in great detail, to see how these foods behave in the mouth. The whole flavour is sweetish, but they also offer a suor celery-onion sauce in which you can dip your chips, providing you with the perfect balance between sweet and sour. The price of this burger is 1090 HUF but you can get it at superb rate of 1490 HUF with chips and a drink.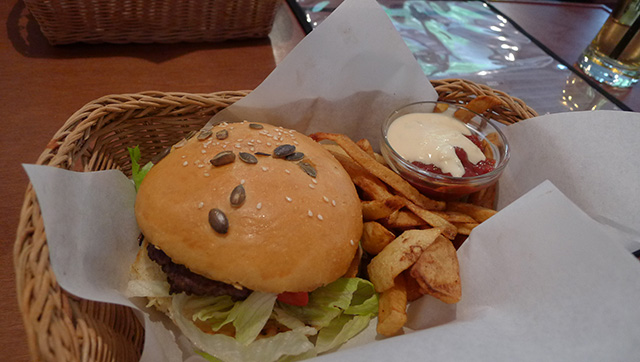 Gastro manager, Bori Sinkó, obviously knows that turning to fast food respectfully should alike turning to exquisite cuisine. The best burger could only be made with this attitude as well as fresh and tasty ingredients.
The restaurant is full all day. We went there at 2pm and had to wait at the bar. Then we tried another time, this time at 8pm but the situation was the same. However, it never took long to get a table.
Even if it is always busy, there are some mistake I have to mention. Sometimes the upstairs area smell of oil. They open the windows to let fresh air in, which also lets the cold in from outside. It is not rare for the electricity to be off because "they have problems with the Hungarian Electricity Works" - according to the nice waiter.
Movie chairs are so cool and comfortabe when you are leaning backwards, but it kills your spine whlist you are eating.
So take my advice, stay downstairs.
For those who live in Újbuda, Semmi Extra is a must-see!