As far as I can tell, Budapest doesn't really have a group capable of bringing the same care and professionalism to a vegetarian restaurant that our tops chefs guarantee in the world of bistros.
I can still assemble an unenthusiastic list, however, which can be used to check out the world of meatless meals. But it's even better if you take a look at a few vegetarian offerings by the top restaurants and go there instead. You'd likely be much better off this way.
This is clearly Budapest's best vegetarian restaurant. The people in the kitchen are full of ideas and have a lot of imagination, so the foods are all a delightful experience, which even meat eaters can applaud. The foods were so cleverly seasoned and the more acidic and neutral bites were so skillfully mixed that I hardly noticed I was eating only vegetables and grains (and, of course, oil).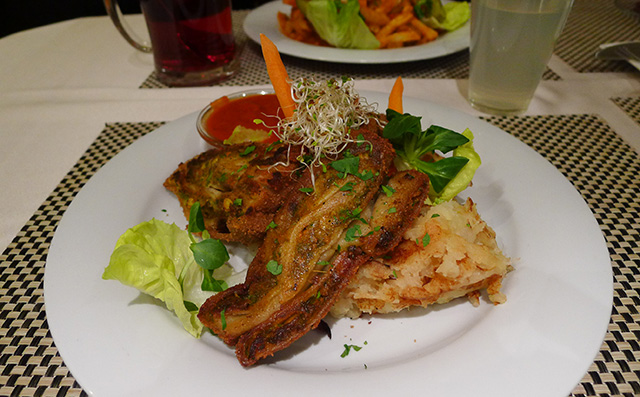 Since then, I've been back to this place several times, and even when the place is only half full, you can see the waiters are in a flurry and there is a sense of chaos in the air, but the courses are perfect and we are always happy to eat them.
Still, in an ideal situation, this place would only get a strong C in my book. Like a good csárda (inn), where hearty and delicious meals are prepared with great enthusiasm, but the gastro specialties are left to those who specialize in them. But as I see it, there's no such place.
This is where I had the best vegetarian hamburger in my life. I must add, however, that I don't have much experience in this area. The goat cheese, special sauces and vegetables create a rich flavor between the hard ciabatta buns that you may be familiar with from Ring Café.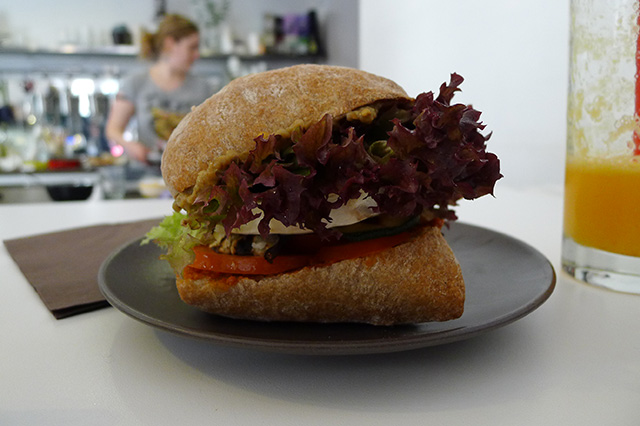 The bistro has a little brother as well, Nemsüti ételbár, which didn't knock me off my feet either, though it's a decent place.
3. Govinda
After the somewhat awkward service, I had some surprisingly good mouthfuls, so the Krishna restaurant got third place in my book.  Contrary to the Hungarian flavors of Napfényes, this place prefers an Indian style. You could say it's extraordinary in Hungary, but it's not at all. In fact, most of the vegetarian places focus on this pepper pakora and sabji cuisine, and this place provides the best flavors.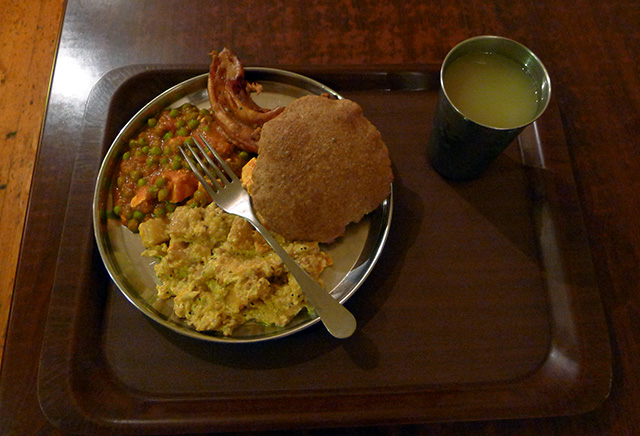 4. Napos oldal
Here the only thing we can highlight is the atmosphere, because it would be hard to say anything good about the vegetables that have been boiled to death. This is one of the few vegetarian places in Budapest where the restaurant is not down in a basement or cellar, so you can see the sun while you eat. Which does you some good.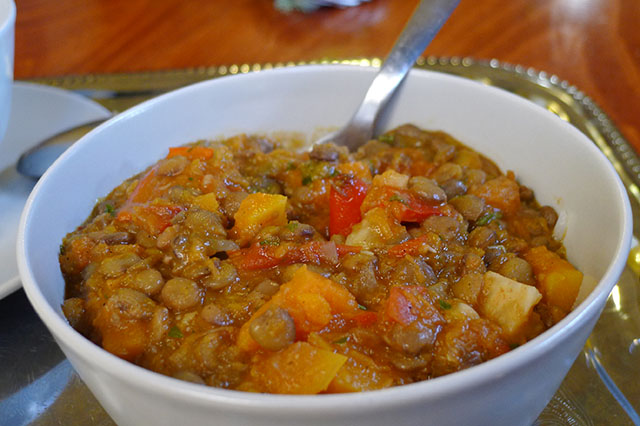 Nonetheless, they do have some exciting dishes – for example breaded seitan (wheat gluten), to mention one – but this place is geared to a basic "we chew because we must grind" experience.
This is a raw vegan restaurant. It's a special category that requires a very specific approach. I'd say I could hardly it eat, but I know people who particularly like the courses served here.
Incidentally, they're not bad. It's more like getting to know an extraterrestrial gastronomy.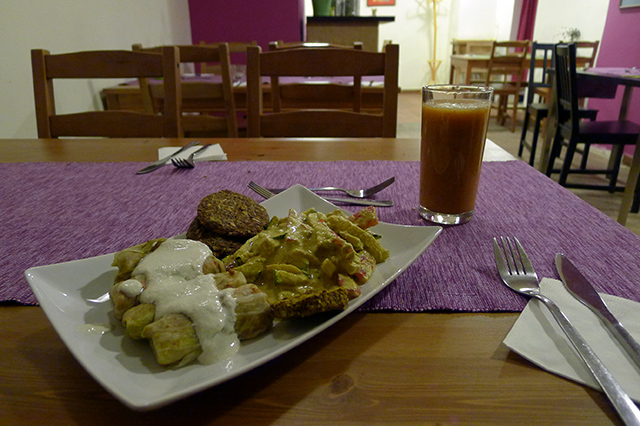 It's amazing how they put a plate of stuffed cabbage on your table made of vegetables without cooking it, but I for one would have been happier with an apple or carrot. Those are also raw, but somehow they go down more easily. Nature is a good cook too, so often it is wise not to interfere with it.
I wouldn't rate the rest; I just wrote down what I experienced.
This place used to be the Ganga vega at 25 Bajcsy-Zsilinszky Street, but now it has a different name (there is a location in Buda as well). This one also has Indian cuisine, as usual, and the place is definitely filled with exotic aromas. The chutney that you can order next to your food is quite good. It's a bit too sweet for me, but at least it's something that is worth a try.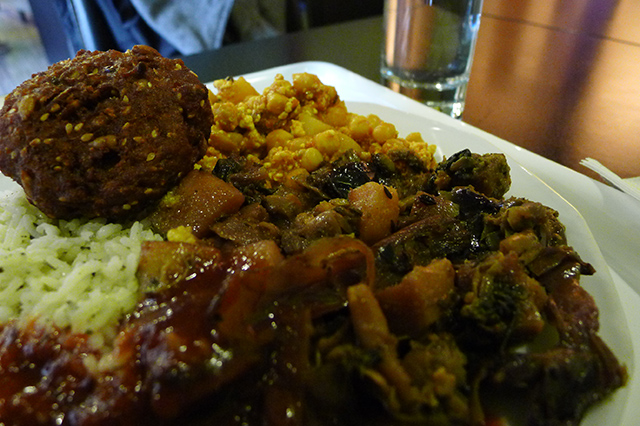 Otherwise, the food looks really bad on the plate when it's served. I wonder why they can't serve vegetarian food nicely. Of course it can be done, but for some reason there's no real desire for it.
Cold pita, lukewarm falafel. The whole thing is just garlic. The staff are making huge amounts of it, although there are only two guests inside. They're surely used to this kind of tempo. The walls are dirty.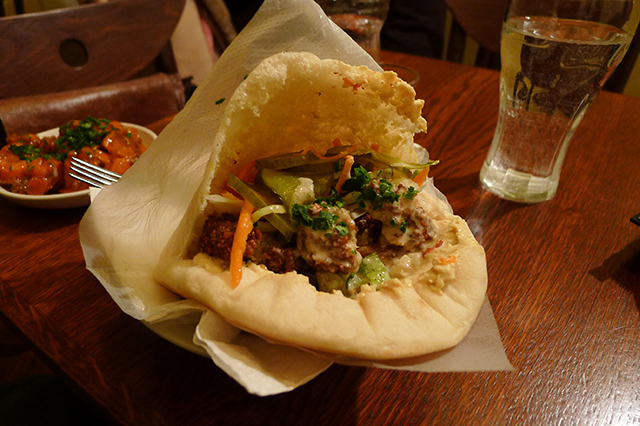 That's what I noted when I was there.
It's a very carefully decorated place, although there are a few things that hurt my eyes a bit.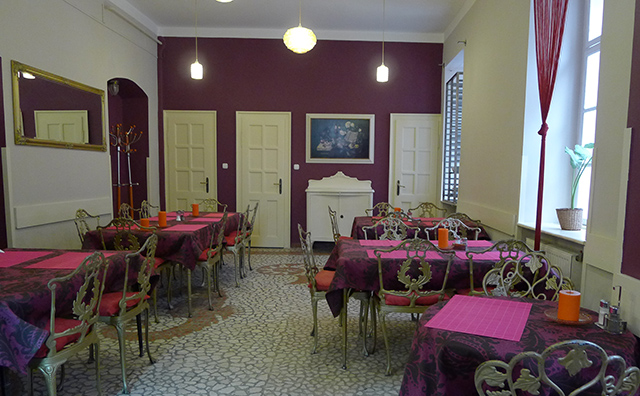 The food here is thrown together without striving for perfection. I got onion potatoes at a pretty high price (considering that it was just plain onion potatoes, a bit burned), nor was the soup any good, and the falafel was tasteless. I don't have any positive memories about this place.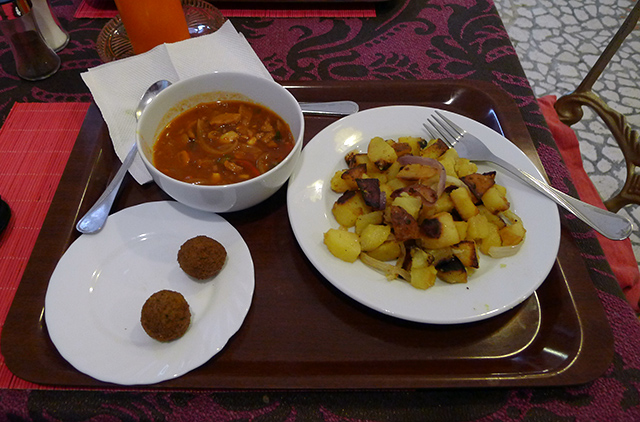 This is not only a vegetarian restaurant, but a macrobiotic and vegan place as well. If you've ever had tasteless miso soup in which the tofu is like a dry sponge, you'll know what I'm talking about. The second course was kinpira vegetables in tempeh (I had to Google it too), with rice and vegetables for HUF 2350. It had no taste whatsoever. I was told that it's like that; macrobiotic food doesn't use spices.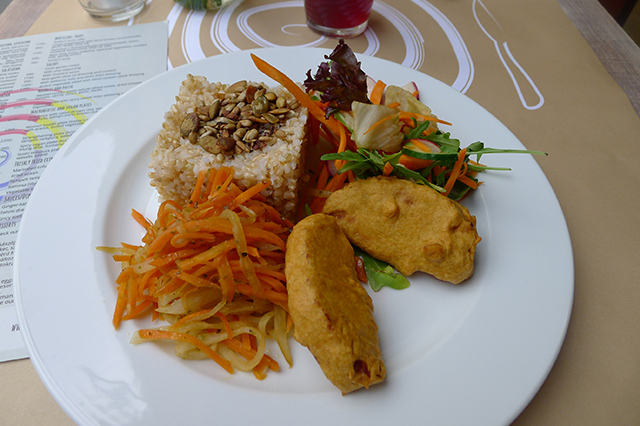 Don't misunderstand me. Maybe this is Canaan for macrobiotic vegans. I've been on a macrobiotic diet myself before and suffered more than enough. I just want to say that unless you have some strong intolerance for food, you should be bold enough to have something delicious. You shouldn't go from fast food places to the other extreme, but you should have something good made of fresh, good quality ingredients. Nothing can be healthier than that.
So, these are alleged to be the best vegetarian places in Budapest, and I'm sad about it. A complete revival would be needed for the chefs working at these places to treat the vegetables with the sensitivity that they deserve. I sincerely hope there will be some fresh blood pumped into this genre, since the city has been able to produce better and better chefs one after the other. Because what we currently have is way too little.
Translation provided by Helpers Business and Immigration Services. Find us at www.helpers.hu