ZONA has become one of Hungary's best restaurants without lengthy preparations in advance. The interior spaces are huge, for this is not a small, intimate restaurant, but a minimalist, upper middle-class gastro cathedral. The service is perfect and the clientele is international. The place is full by 9 pm: we didn't see any vacant tables. They must have all been invited bloggers.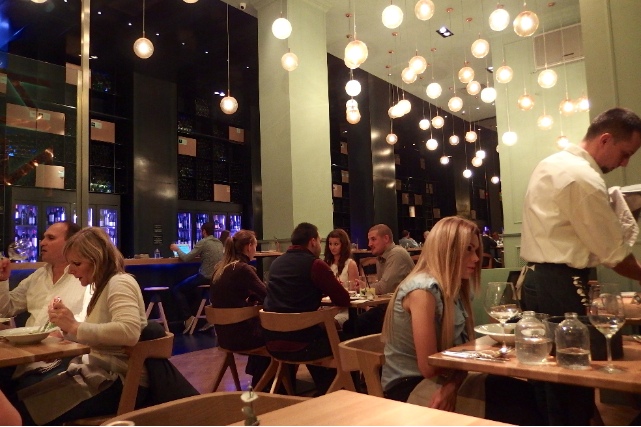 Now the dinner menu: five courses for 10,000. This price might look a bit frightening at first, but let's put the place into context: Costes's degustation menu costs HUF 25,000 (5 courses). Onyx's is HUF 25,500 (6 courses). ZONA offers approximately the same number of courses for much less and by the end of the dinner we were so full that we could hardly wait to get home and get rid of all our clothes. Even my watch strap was too tight by then.
Let's run through the courses: while waiting, we had some wonderful homemade bread with olive oil. Only those who have never been to a presentation given by an oil sommelier are surprised by this. I have, and received enough surprises then for a lifetime (we drank the oil from a glass. A glass!).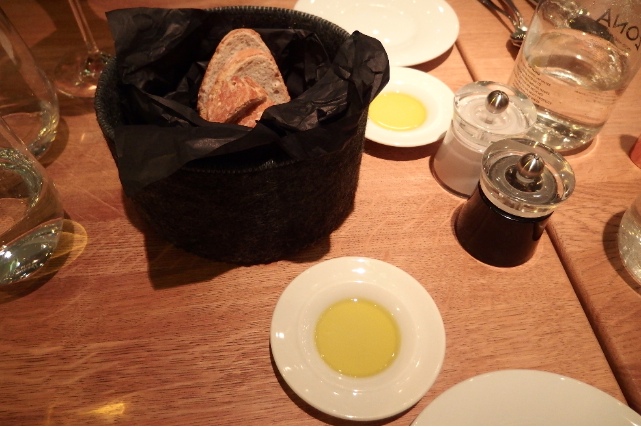 Then came some scallops with cucumbers, which was a great welcoming dish.
As we were waiting for the dinner, we ordered a plate of ham and a plate of cheese. The waiters are familiar with international gastro trends. We had to twice repeat that yes, we know the usual order of presentation, but we still want these courses at the beginning and not at the end of the dinner. Finally we got our plates. I wasn't able to take a good picture of the cheese, although it was exciting, especially the two types of goat cheese, but nothing can compete with the cheese plates served at Laci?Konyha! and Kistücsök (we have to admit that neither of them are available in the same form anymore).
The best ham in the world, Joselito was perfect though: a marbled, fatty, well-stored meat, freshly sliced after 32 months of ripening, with artichoke: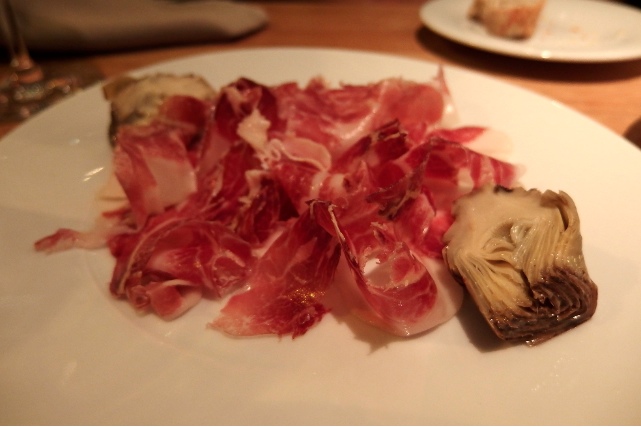 And now the first official course: Jerusalem artichoke consommé with mashed chestnut. This had such a kick to it that I got the other kick from the Michelin star folded in the Gault&Millau cover. What this full-bodied soup did with the restrained chestnut is something the best restaurants in the world could be proud of.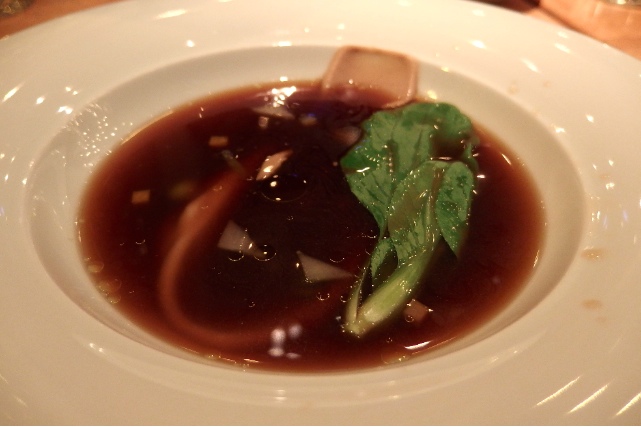 And that was not all, because the next part of the menu was also built on contrasts. Saint Jacob scallops, lobster sauce with noodles, peas with bacon. The first contrast we had to fight with was between our general visual expectations regarding food and the noodles which looked like a zombie earthworm and responded like an earthworm when pressed. For a moment we really had to overcome nausea, but as soon as the noodle got into our mouth we viewed it as food. Fine food. However, the real excitement was the scallops and bacon pairing. The poor Saint Jacob is being added to everything these days. It was served with sausage in tapasbár, which we reviewed last week, and here it was served with bacon. It always receives a more full-bodied partner, which is amusing since we are dealing with a terribly expensive, tender food with a nearly neutral flavor. Logically there's no point in serving it with sausage or bacon because it will be overwhelmed by them. But the Saint Jacob scallop suddenly gains some meaning by changing and highlighting the flavor of the food it is served with.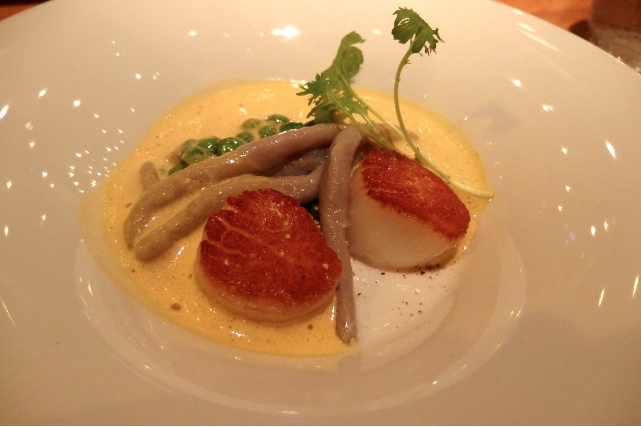 The quail egg with lecsó ("Hungarian ratatouille") was more like a cheerful transition, although I've never had such a perfectly prepared egg before and everything else on the plate was great. Funnily enough, now that I'm writing this article, the flavors are coming back clearly even a week later, which very rarely happens to me.
The next dish was the theoretical main course, although in a degustation menu it doesn't really make sense: venison rib with egg barley and eryngii mushrooms. I developed a like for it when it was recommended since the waiter noted that the chef is not WILLING to cook it all the way through, so if we don't like that we should have cod instead.
No, we don't mind, we love it! And we got it: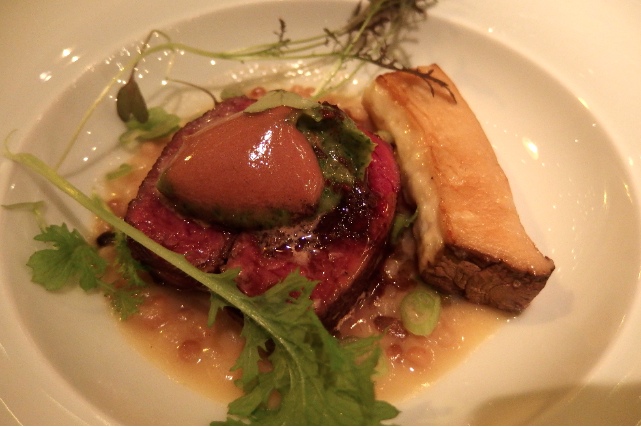 A beautiful, harmonious course. What looks like chocolate cream on the meat is actually fowl jus, and the thing on the right is the mushroom. A perfect, beautiful composition, although I missed the special twist that the previous courses had.
Of the two desserts we ordered the chocolate was modest to the fourth power, while the raspberry soup was newly rebellious so it was easy to be enthusiastic about it.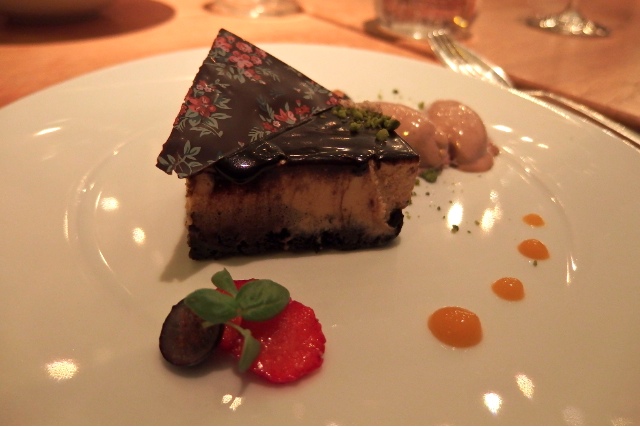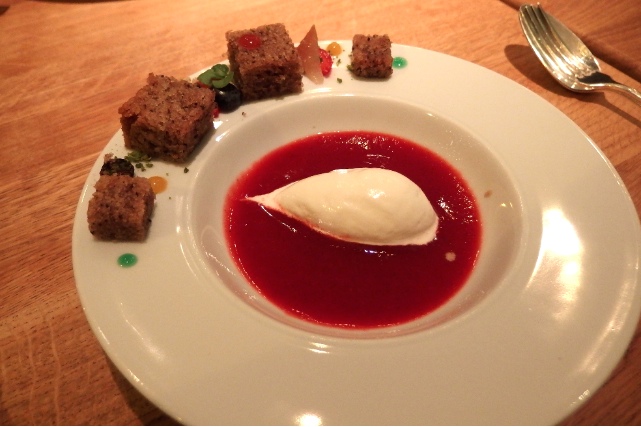 So, the entire menu with the wines, a cheese platter and a ham platter for two was about HUF 25-30,000. It would be foolish to deny that's a lot. But it is also part of the story that you would be lucky to get a dinner for one at this price at the other two restaurants that offer the same quality, and they are not swimming in profits either: it takes a lot of money to build and run a place like this, to purchase these ingredients and to pay such well-qualified employees, so in all likelihood ZONA is currently creating a massive loss (which Baldaszti doesn't seem to mind in the catering industry anyway). So, check out ZONA as long as it exists or before they brutally raise the prices – since you cannot find this quality for this amount anywhere else in Hungary.
ZONA
Budapest, Lánchíd utca 7/9
Tel: +36 30 422 5981
Translation provided by Helpers Business and Immigration Services. Find us at www.helpers.hu
You may find the original article here.