Not so long ago and with the help of our readers, we began to compile a list of the Italian places in Budapest worth trying, and were ourselves quite surprised to discover the number of great places this city has - we've been unable to sample almost half of those our readers suggested in addition to the ones we already had in mind.
We recently devoured kilos worth of pasta, sauce, minced meat and oysters to find the best Italian in Budapest and compile this list. These are the finest examples that we found, which are comparable not only to family-run trattorias, but would also find themselves on any serious list, with those at the top bringing out the most that can possibly be done with pasta.
This is how we graded things: the more points for flavor the better, and the more points for price, the better the value – so it's a case of the more points the better on both scales.
Here is the Top 10: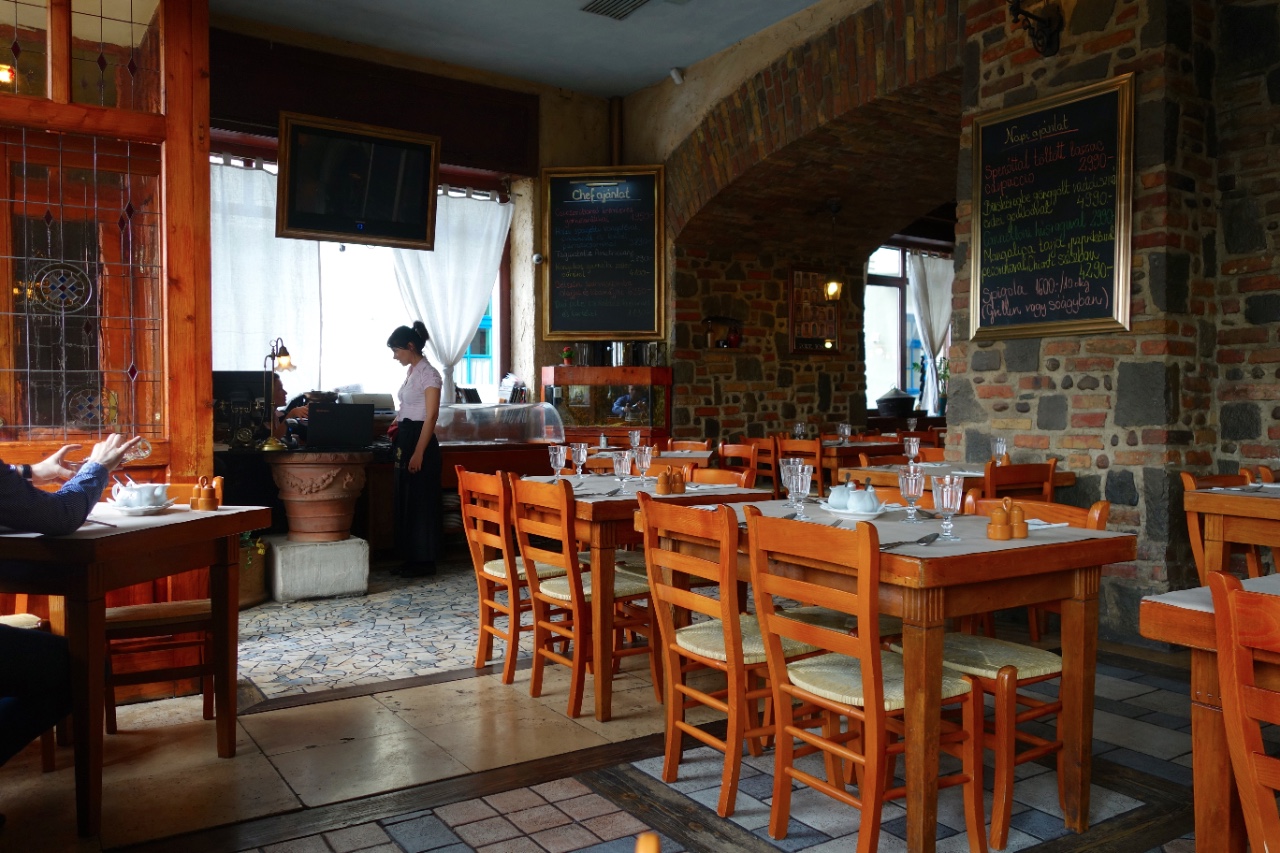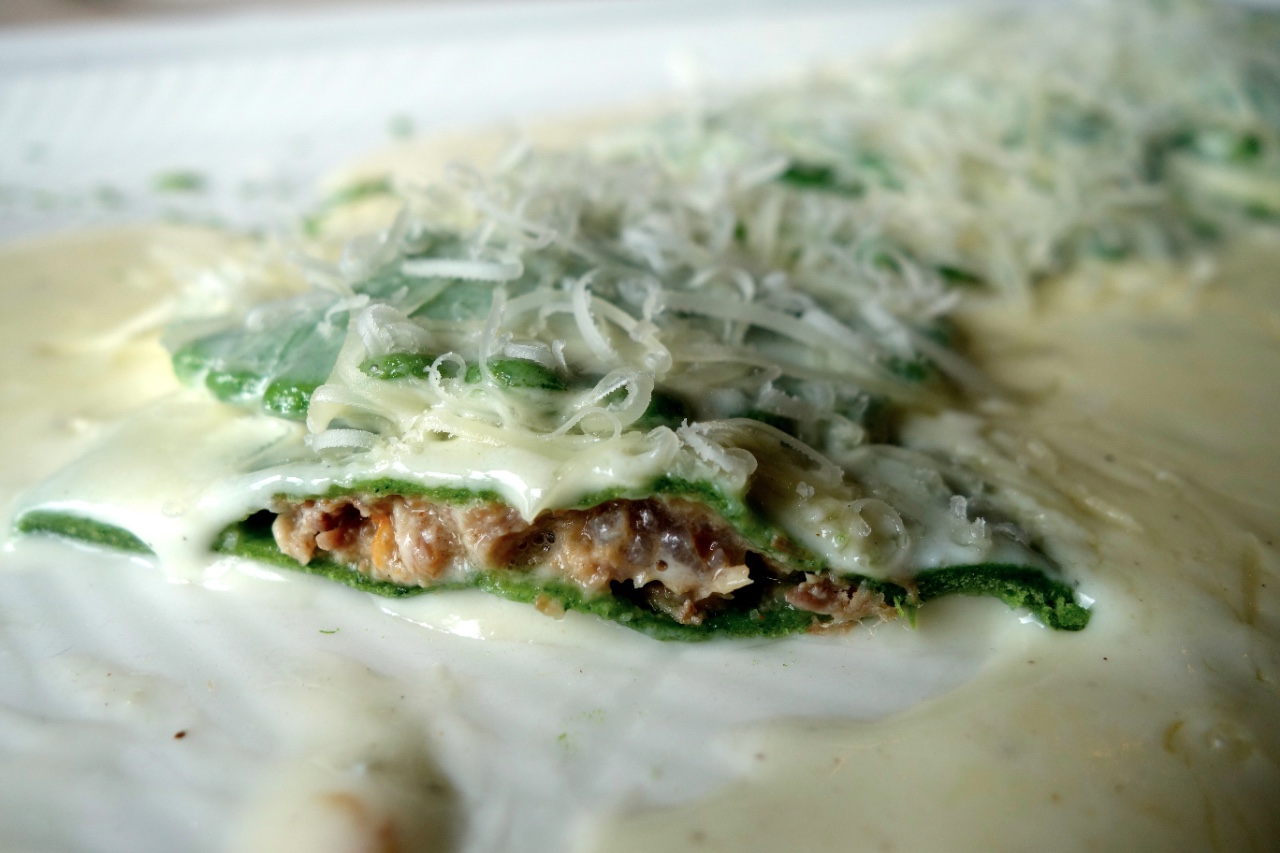 One of the city's must-try locations, they were already serving edible meals back when the best experience you could hope for in most Budapest restaurants was to catch a knife between the ribs on the way in. The world has changed a lot since those days, and although Toscana's quality is reliable, it does not enjoy the advantage it did in years gone by, barely cracking the Top 10. The pasta prices are around 3000 forints, and we asked for a plate of veal-stuffed green ravioli in a gorgonzola sauce. The portion size was barely enough to be content with, although the food is excellent. The pasta is good, the veal is not overwhelming but with character, delicately supplementing the light but full-bodied gorgonzola sauce. Knowing the ingredients, the understated nature of this dish is an achievement in itself. The parmesan grated onto the dish was fresh, but the herbs appeared to have been dried, or in any case were not fresh. Service was good, and a 12% gratuity was added to the bill, but they notify you of this in case you wish to leave an extra tip. The food was pleasant and exciting, although the price was perhaps a bit high all things considered.
Taste: 7/10
Price: 4/10
9: Alessio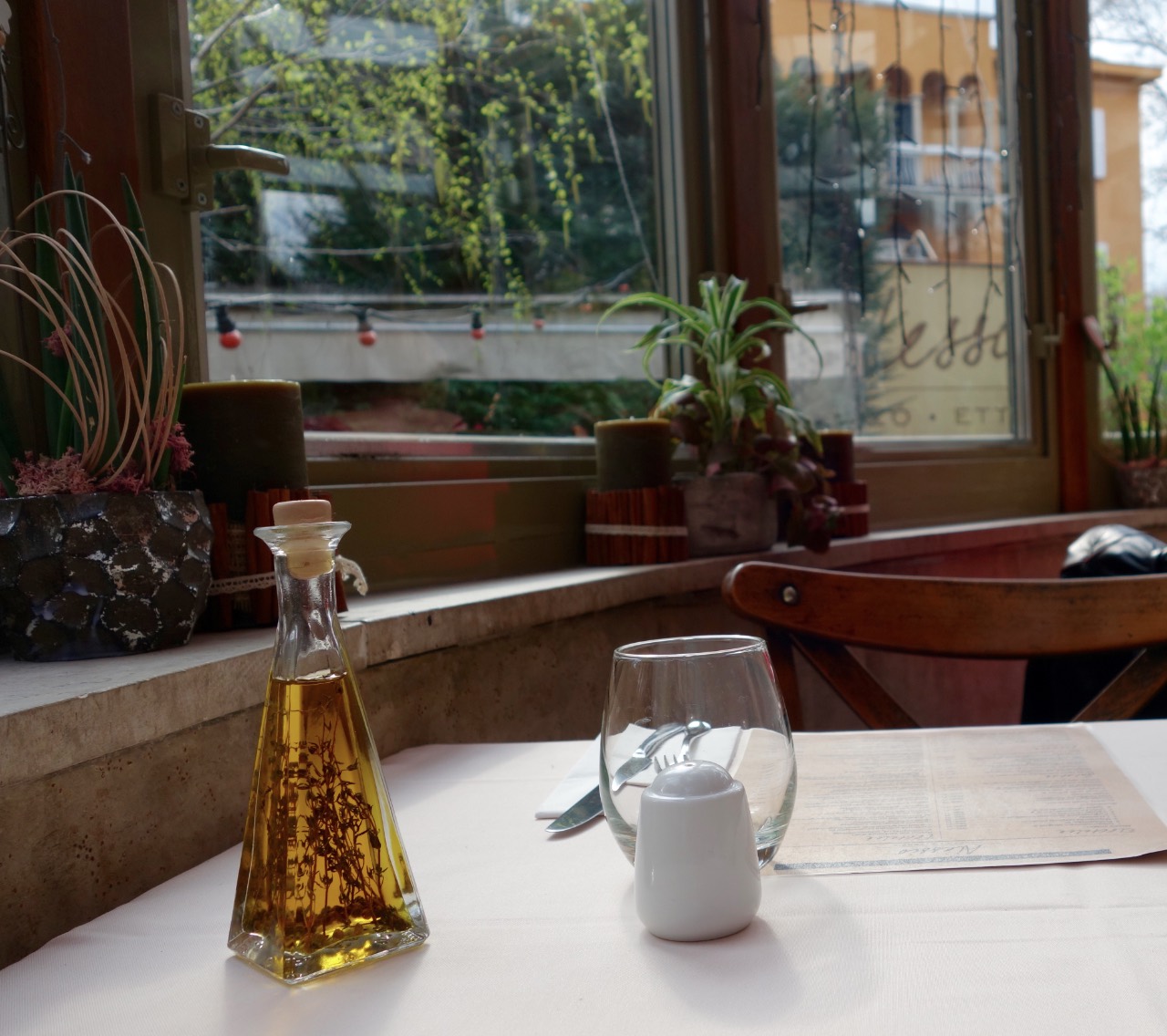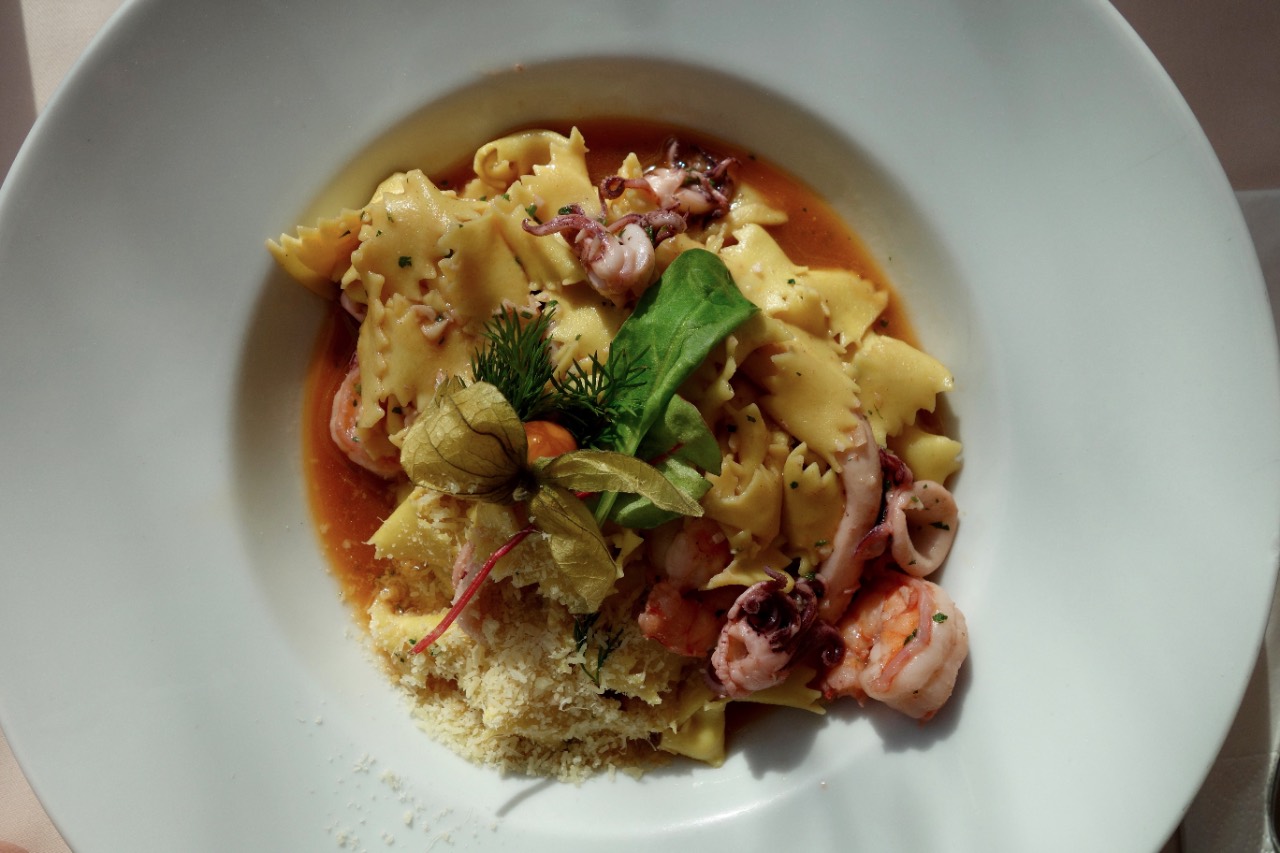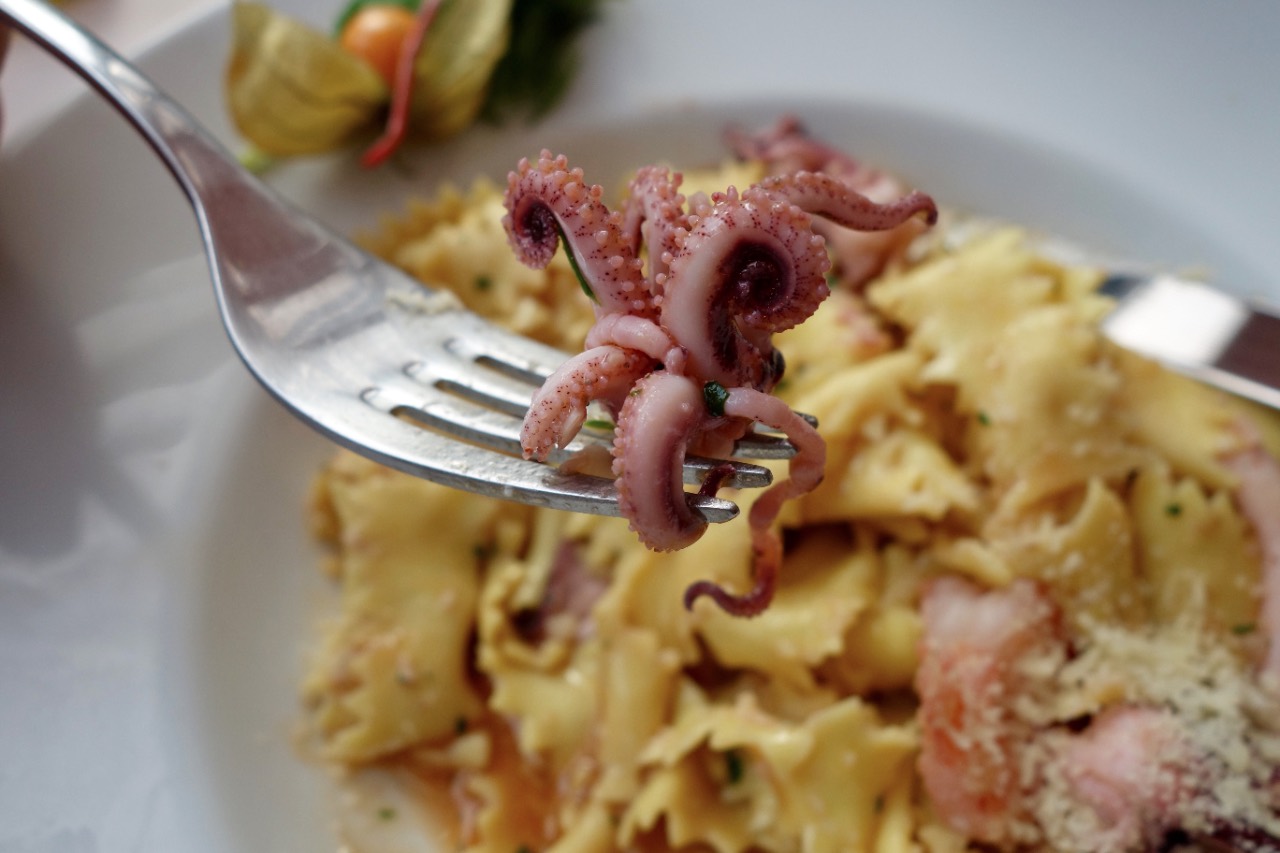 A relaxed restaurant in Buda on Pasaréti Road, which is best visited in the spring when the sun's rays come through its glass ceiling. Even without air conditioning, it does not feel like a sauna. The atmosphere is pleasant, the service attentive and you can tell that many of the diners at the other tables are regulars who almost always choose Alessio, which is understandable. They serve a variety of pastas, and, having heard good things, we decided to go with a seafood option, which on a Monday is quite daring since Budapest receives most of its fresh seafood on Tuesdays and Saturdays. The white wine pappardelle with roasted calamari and shrimp was promising, but it turned out to be a bit of a disappointment. The ingredients were great and the calamari appeared quite fresh (the shrimp could have been better), the pasta was excellent and well cooked, but it all seemed to drown in the overly watery sauce, so the dish did not live up to our expectations. The food was not as spicy as the menu had indicated, nor did I receive from the dish quite what I had hoped for. Nonetheless, it was only exceedingly high expectations that Alessio did not live up to, and it is still one of the best Italian places in Budapest, especially on the Buda side.
Taste: 7/10
Price: 6/10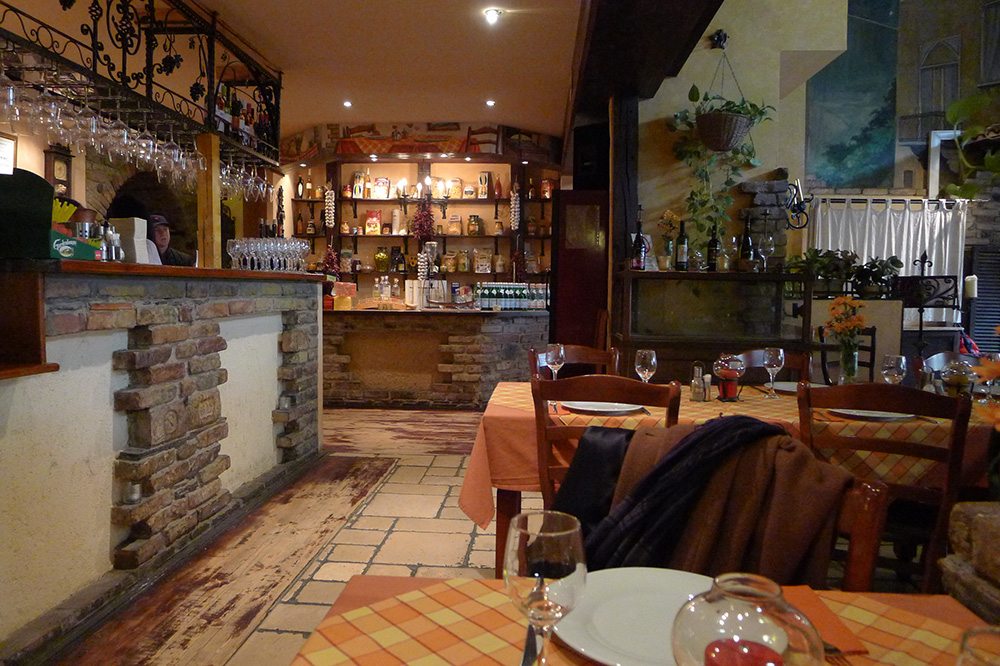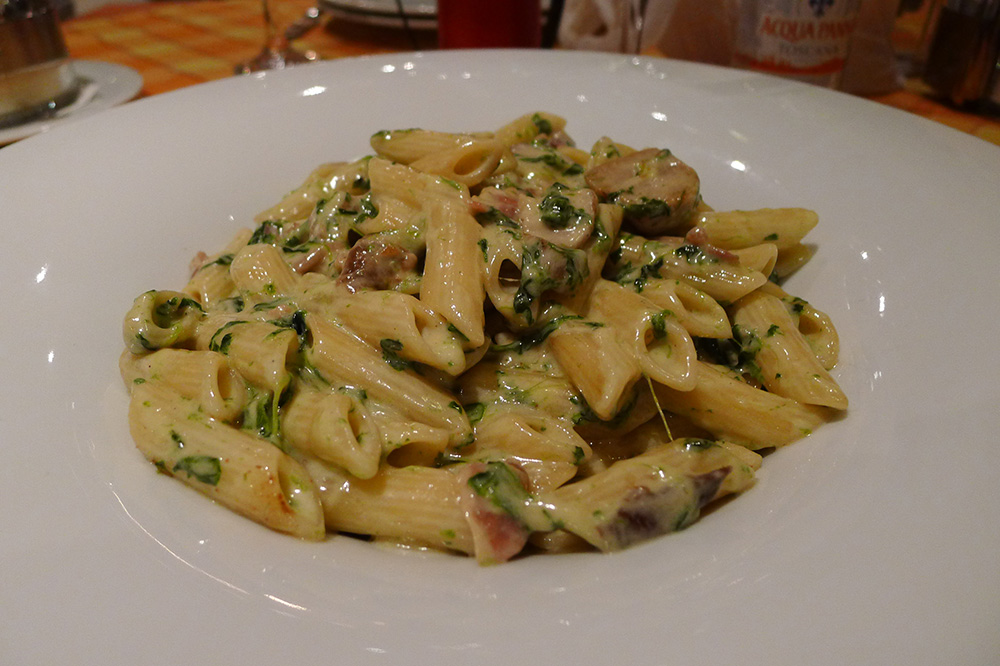 Our adventures with restaurants on the Grand Boulevard have rarely ended well, but Trattoria Venezia is certainly an exception. Upon stepping inside, I at once thought it was the Taverna Dionysus, except in an Italian and not Greek version. A somewhat tacky little village was built inside the restaurant with roofs, windows and a pleasant atmosphere. The kitchen was just as good with cheerful, tasty and well-presented dishes that give a nod to hedonism. Every restaurant can be proud if, after several years, they are able to retain the same spirit they had when they first opened, instead of slumping into the mundane. And it's not expensive either: a bowl of soup cost 610 forints (something I've not seen for some time), and the pasta prices were totally acceptable too.
Taste: 7/10
Price: 8/10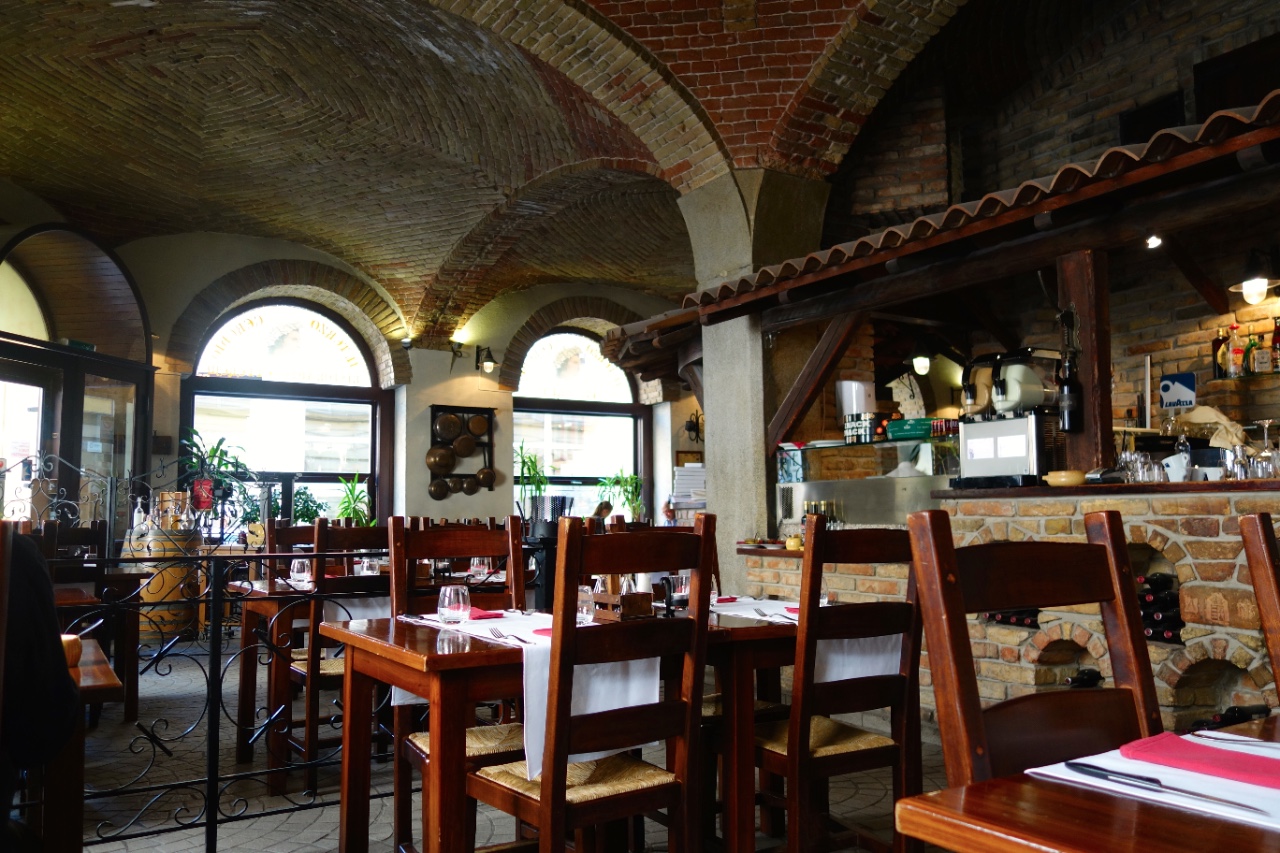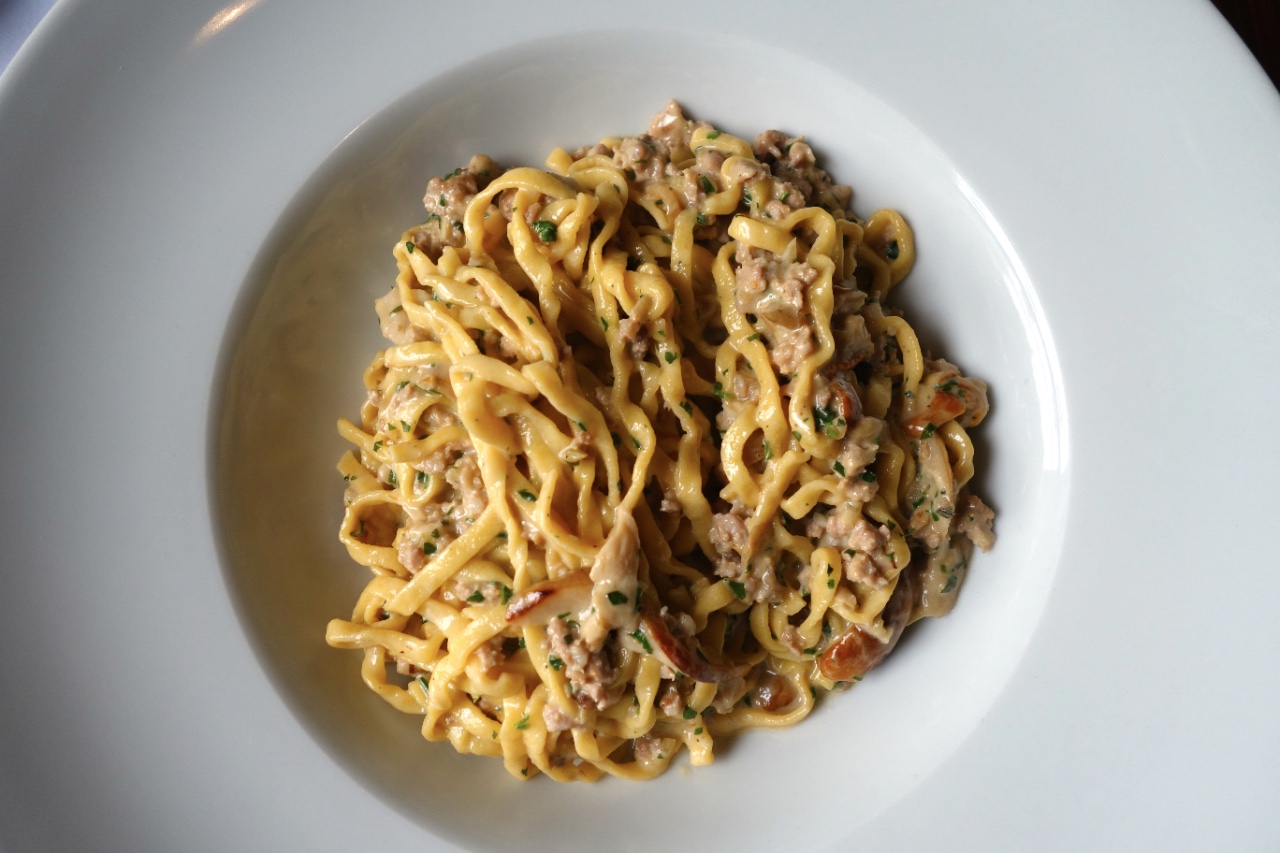 This is a rare breed of animal: high quality and home delivery, but keep in mind that nothing will taste as good as it would in the restaurant after traveling for half an hour. If you want pizza for home delivery, however, this is the place to call as wonderful things come from the oven at the center of the restaurant. We tested the pasta on this occasion, sampling creamy tagliolini with porcini mushrooms and Tuscan sausage. The environment was the usual Mediterranean terracotta, the waiters were moderately enthusiastic, but the food was amazing. We had one of the best dishes we tried during our test, consisting of the finest ingredients blended so well that each bite was its own experience. A service charge is added to the bill, but the waiter will notify you of this, and there is a 20% discount on the meals during lunch hours, meaning that we ended up spending less than expected. At dinner time, prices are the same as on the menu, so on average Il Terzo Cerchio is a little bit less expensive than Trattoria Toscana.
Taste: 7/10
Price: 5/10
6: La Botte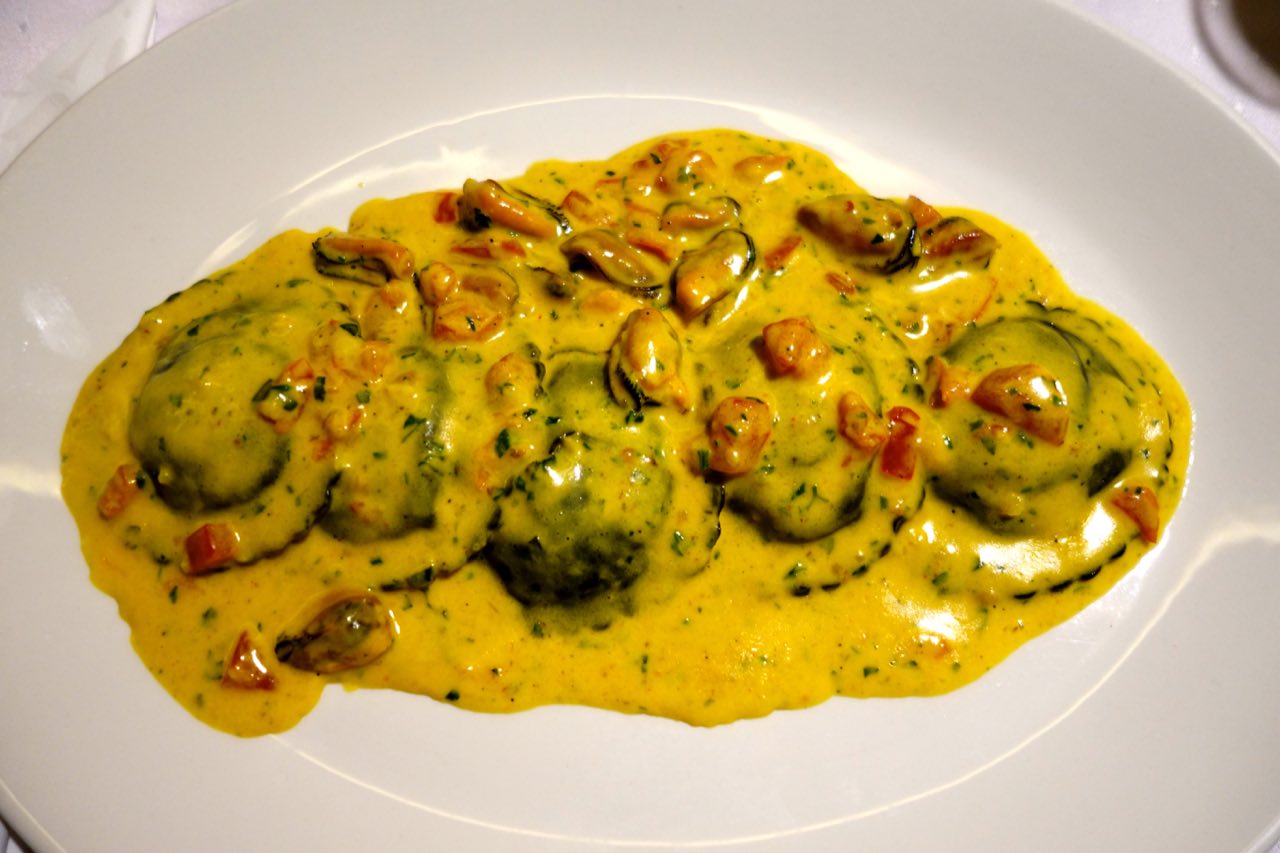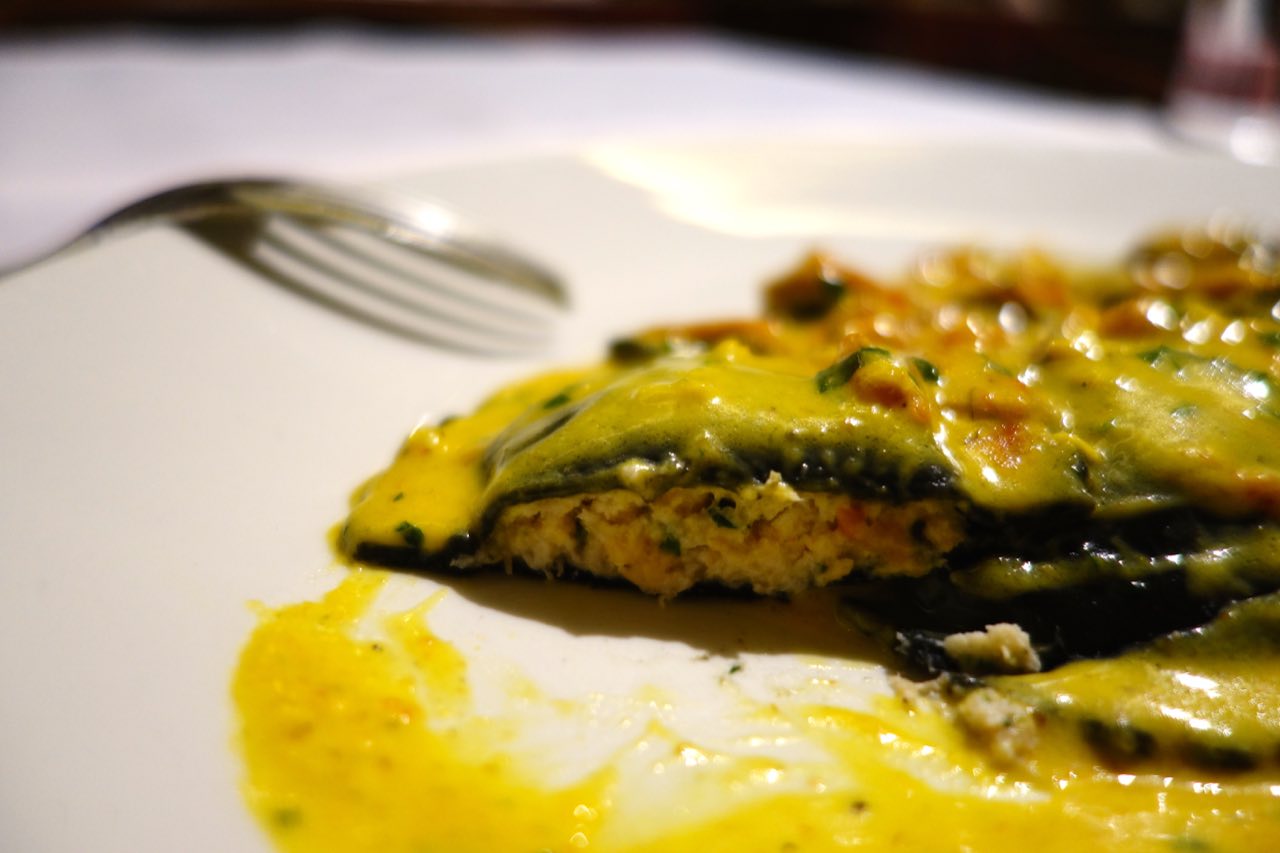 A normal local only goes to Váci Street by accident, and will only eat there if forced to at gunpoint. We are all so familiar with the stories of getting ripped-off or frog-marched to the ATM that we would never even consider sitting down at a place around here. So we didn't exactly come across La Botte by accident; it came with a strong recommendation. Our misgivings regarding the location were not eased when we stepped into a basement location with checkered tablecloths. We soon realized, however, that the waiters are not machine gun-toting guards but friendly guys. As guests arrived, Italian could be heard everywhere, and when my plate of black ravioli with salmon and saffron black clam sauce arrived, I was overcome with amazement: this place is wonderful, and especially so for 2,800 forints. It's not good as in edible, but as one of the best in Budapest. The pasta was springy, the salmon and clams fresh, as was the idea for creating this dish. If there is a place in Váci Street worth visiting, this is it.
Taste: 7/10
Price: 5/10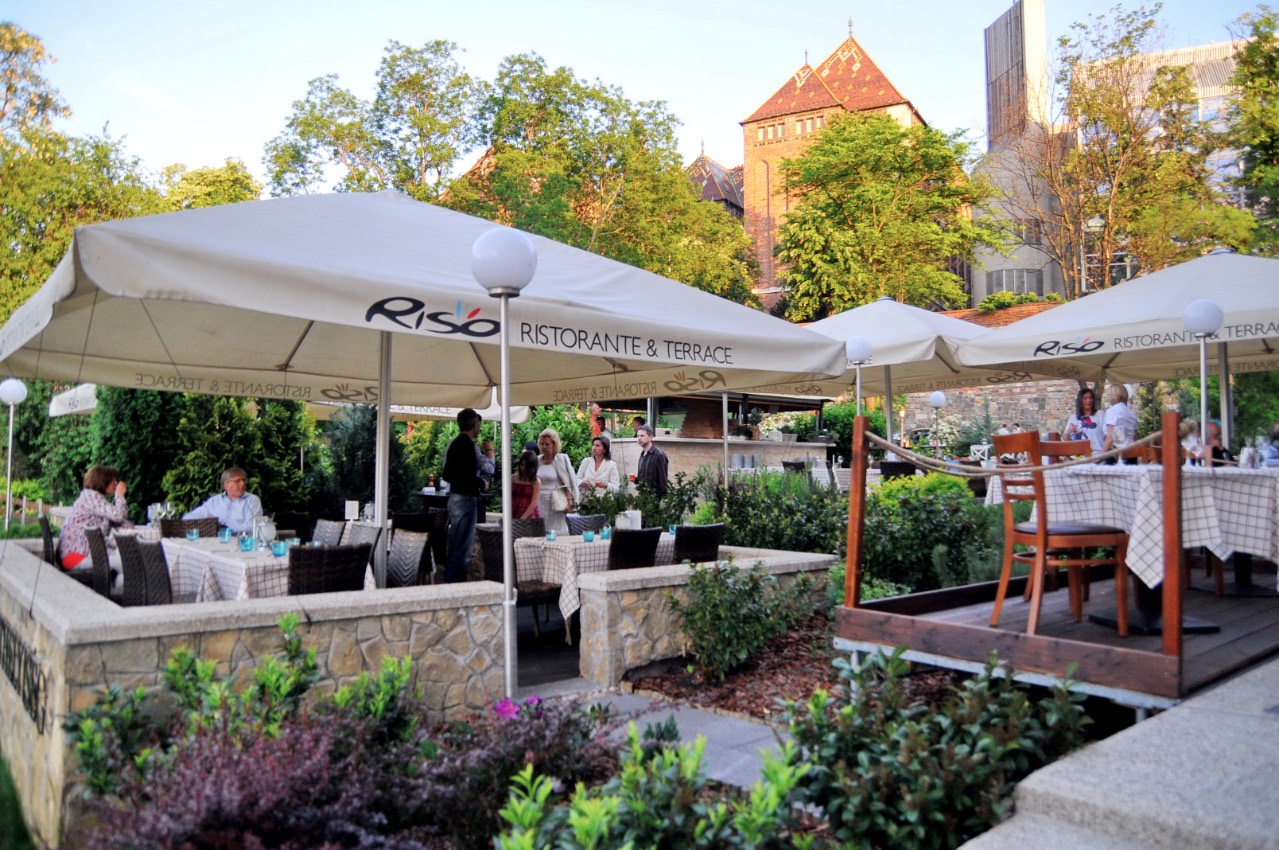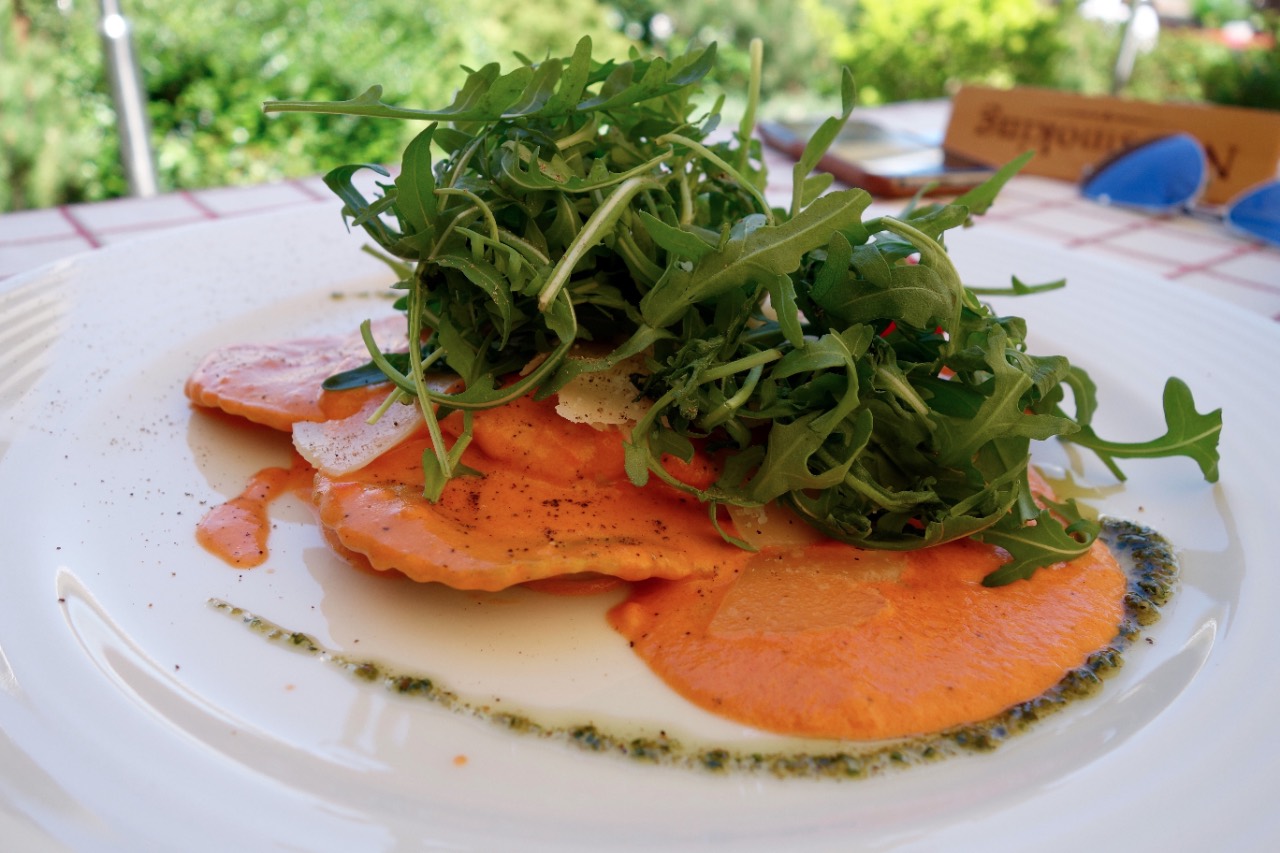 For some reason, I did not have high hopes for this restaurant, as I had not read any good reviews or heard about it from my friends. Nonetheless, since it was on the list, we had to try it, and once again I came away pleasantly surprised. It's located beneath the castle, and in spring you have to sit outside on its shaded terrace. The waiters are attentive and the restaurant's interior is pleasant too, making it a great location even in the winter months. And the food! I asked for spinach ravioli stuffed with crab meat, with a tomato and mascarpone cream, and in return I was served with one of the test's most exciting and thoughtful dishes. The pasta was perfect, the crab meat exceptional, and the tomato mascarpone complemented it all, with the heaps of rucola that crowned the dish the perfect way to round things off.
Taste: 7/10 
Price: 5/10
4: Porcellino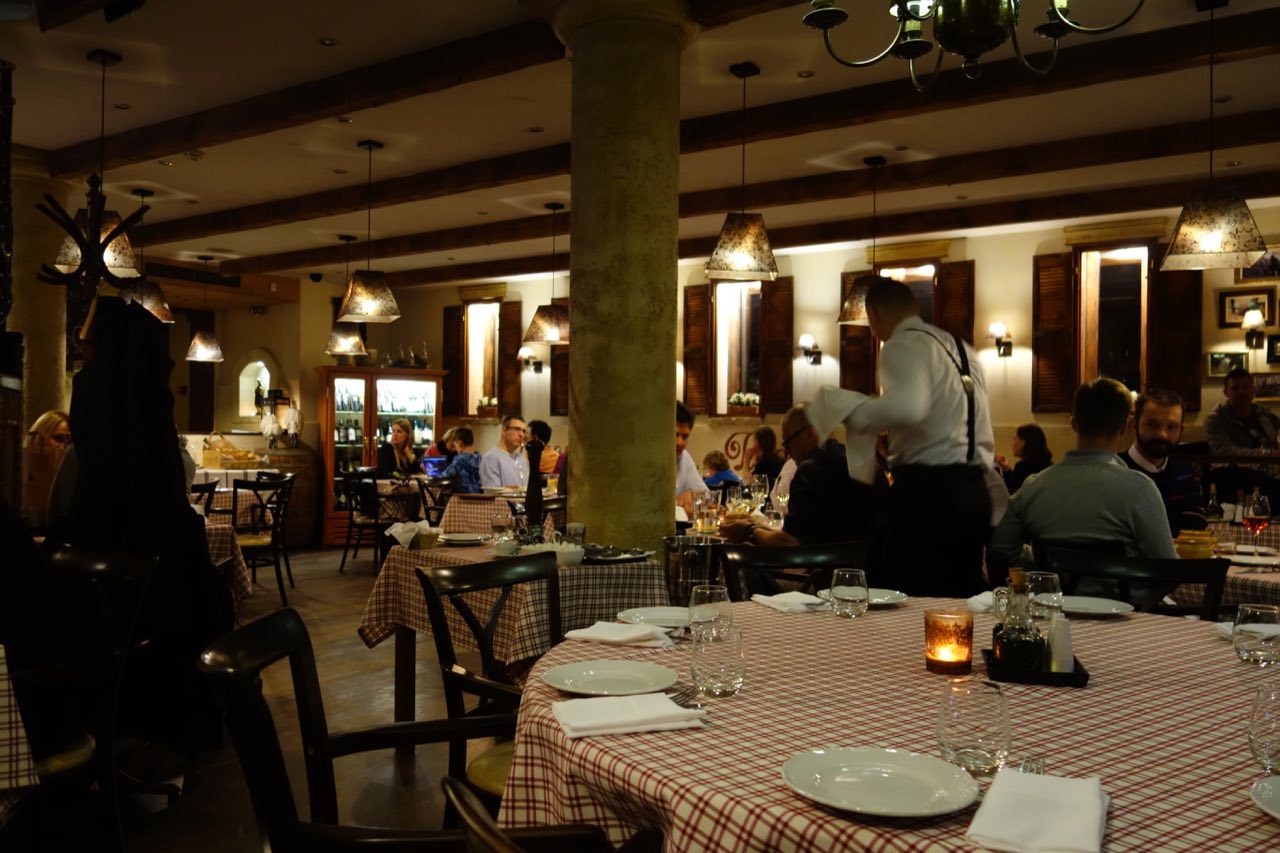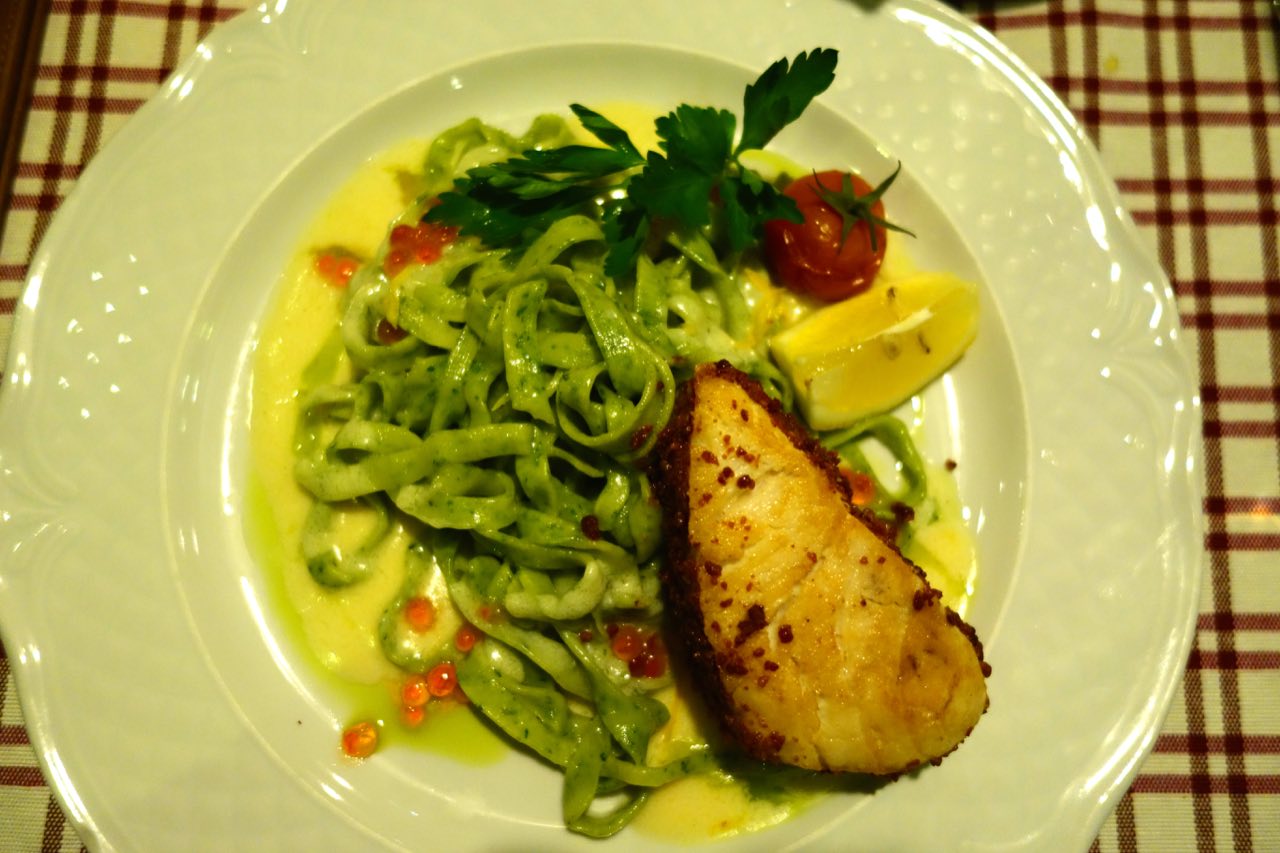 One of the most popular Italian restaurants on the Buda side, you can't just show up here on an ordinary Friday evening as it might be full despite its large size. The menu is long but exciting, and the service as attentive as one is accustomed to in the Buda hills. What we found more exciting, however, was the pasta: the butterfish in Parma crumbs with celery pasta, salmon caviar and a creamy lemon sauce was one of the most exciting and popular options available, despite the excellent pastas that reveal just how many different varieties exist, but the dish at Porcellino was so well prepared from such excellent ingredients, that you will still recall it years later. That's how amazing it was. I could eat it again right now, but unfortunately it was only a weekly special, unless of course they add it to the regular menu (hint hint).
Taste: 9/10
Price: 4/10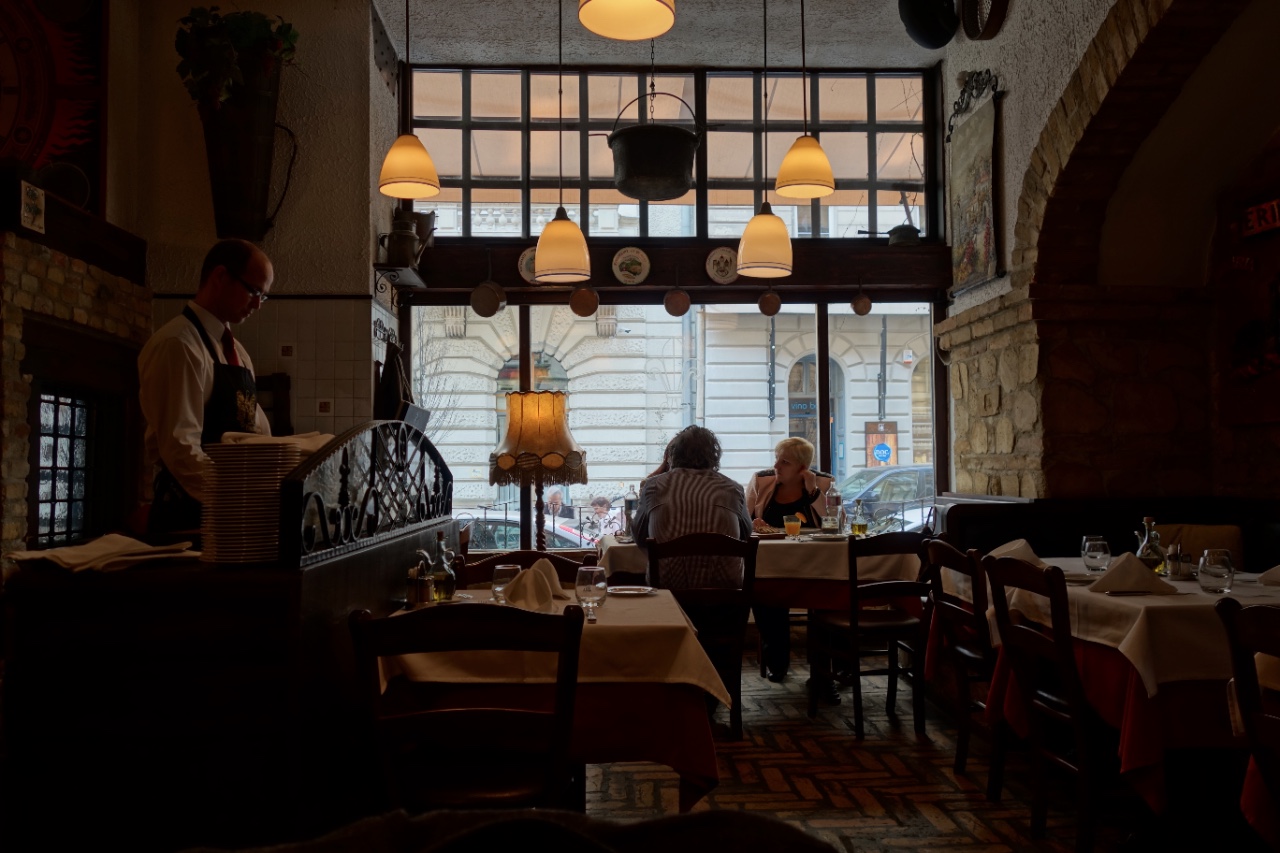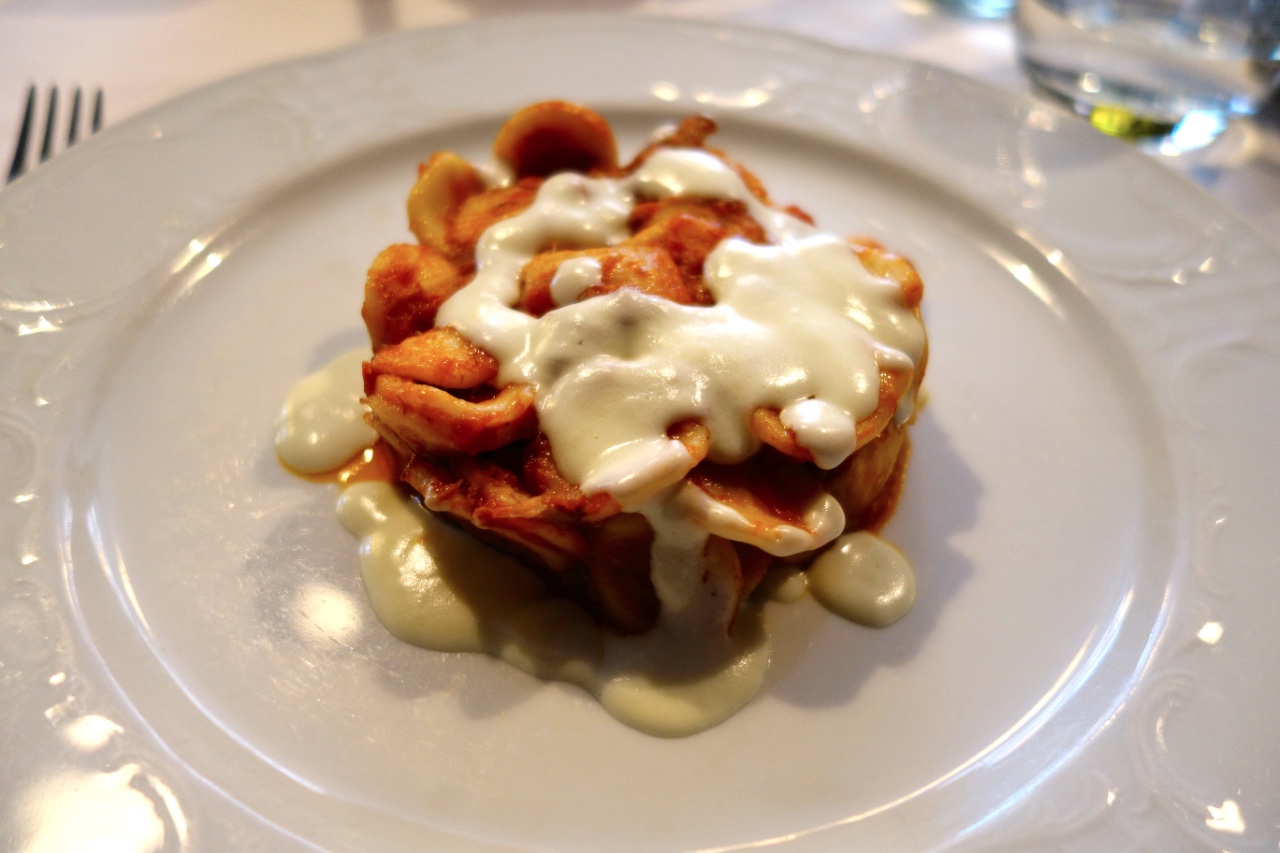 One of the city's best-known restaurants and that's no coincidence: Gianni regularly appears in the media and knows how to boost his restaurant's popularity, to the extent that everyone was already buzzing about this place long before the culinary revolution occurred. And not without reason: the place is famous not for its professional approach to marketing, but due to its good service and high-quality kitchen, which produces great meals in quick succession despite the excessively large menu. There is no shortage of customers, and it's worth booking a table even for lunch on a weekday just to be on the safe side. And what they offer is exceptionally good, not in the sense of haute cuisine, but in terms of food that is at once imaginative and demands attention: the orecchiette with Tuscan rosticciana was one of the best dishes we came across during the course of this test, despite these two ingredients being rarely combined. The location's concept is quite obvious: what does the average Italian enjoy, and how can we make the most of it? They succeeded while keeping things affordable: a dish for 2850 forints is about mid-range.
Taste: 9/10
Price: 6/10
2: Krizia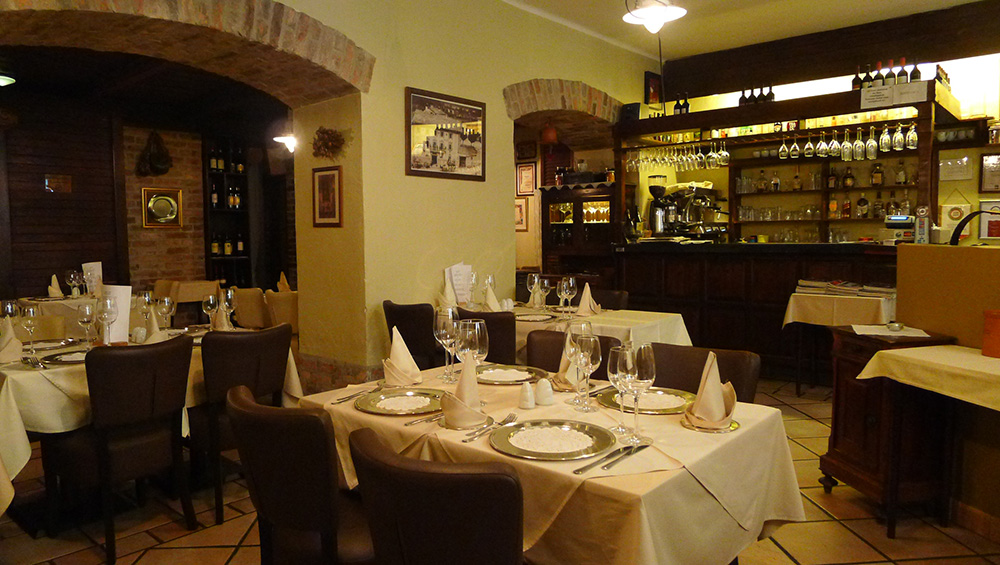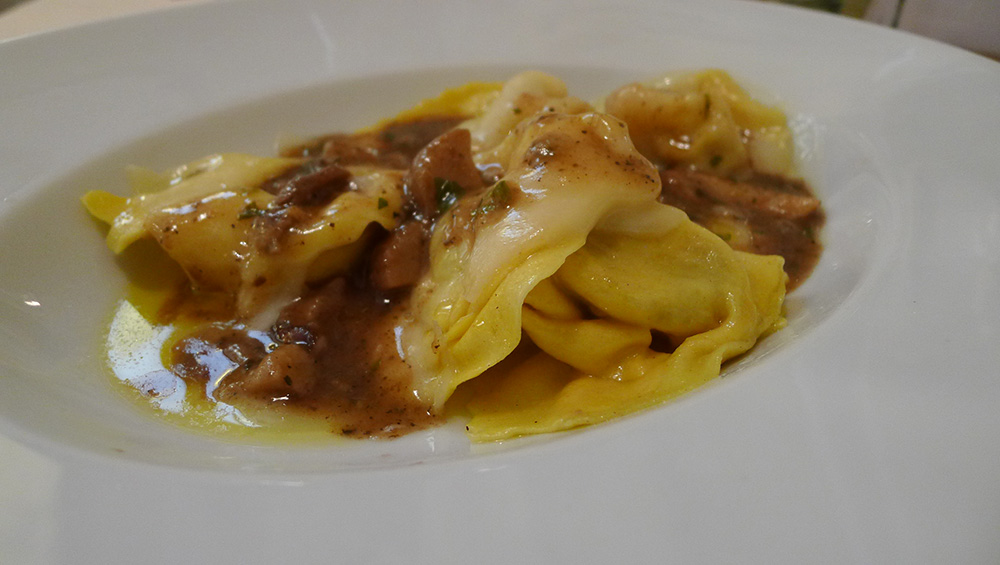 This place was a huge surprise. I don't understand how we'd never been here before, although maybe it's because you can barely notice it. Despite being centrally located, Krizia is in a small side street and there's only a small sign to indicate where you should head down the steps into the basement. But once you're there, the quality and taste of the dishes is incredible. First we tried a pumpkin ravioli before following it with goose liver tortellini with truffle and porchini sauce. Both were so delicately and equally cleverly prepared. The pasta was perfect, with each bite bursting with flavor to the accompaniment of Italian pop music in the background. Here's a disclaimer: for a long time we couldn't decide if Krizia or Fausto's should win the test, since the food was so divine in both, and if we focus merely on taste, both are exceptionally good. We had to decide somehow, and in the end it was the playfulness in Fausto's kitchen that nudged it ahead, but if someone wants an incomparable pasta dish, they should try the goose liver tortellini. It's also worth mentioning that water here costs 400 forints as opposed to 1800, and you can get wine for 600 forints per deciliter, while Fausto's will cost you three times as much.
Taste: 10/10
Price: 5/10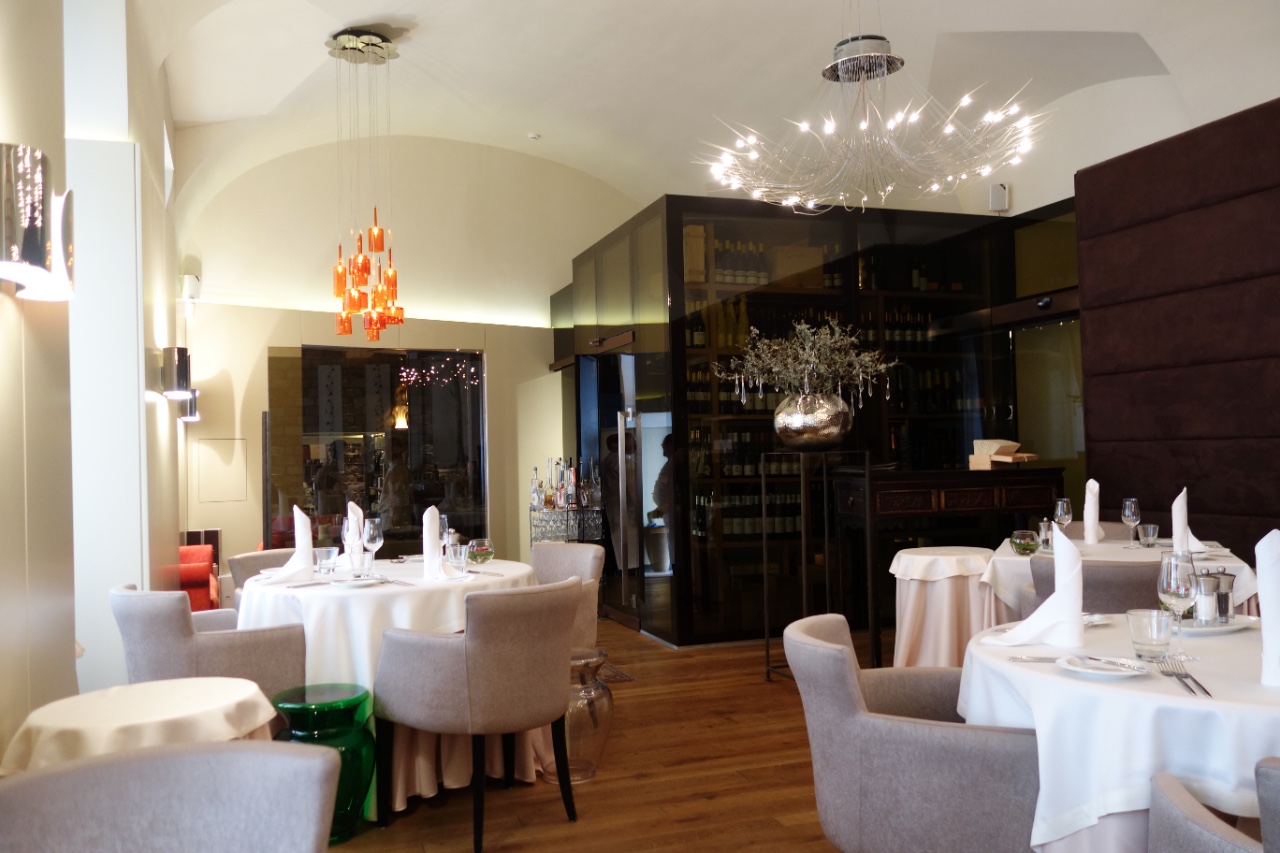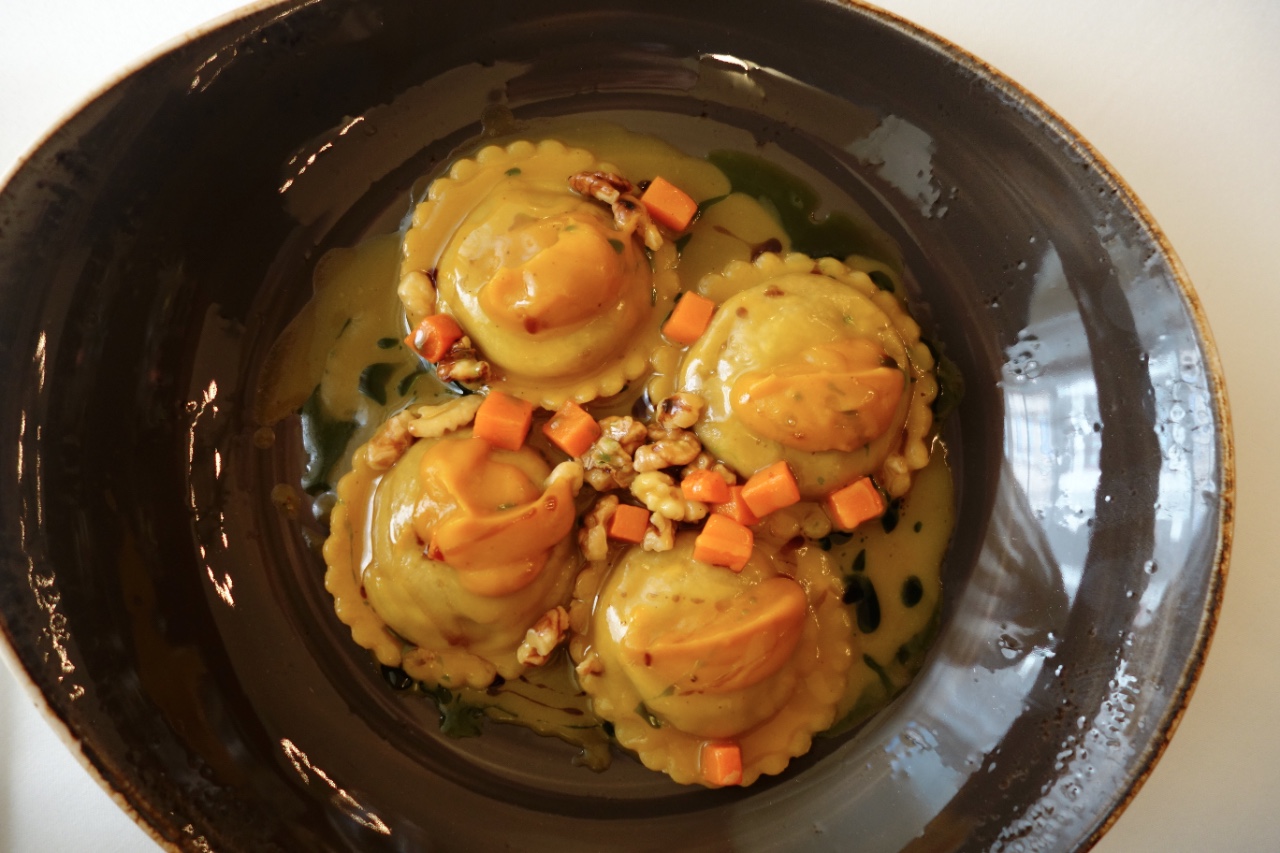 Fausto has two restaurants with a shared entrance. The more homely trattoria is to the left, with the haute cuisine ristorante to the right. There can be no questions regarding the quality. Everything is of the highest standard, the environment is elegant, and three waiters stood by the bar despite only three tables having customers. So what did we order? Venison ravioli with pumpkin cream and toasted walnuts. The price was steep at 3500 forints, on top of which a mandatory service fee and about 2000 forints worth of drinks were added, whether you have just water or anything else. Additionally, the portion isn't the largest either, but as we wrote, this is an elite restaurant known for its sensational flavors, not its low prices or portions that can be taken home. And Fausto's is exactly that. If pasta has some upper reach that cannot be exceeded, then Fausto's has achieved it. One cannot prepare it any better, the harmony of flavors is perfect, the food is simultaneously exciting and thoughtful, the quality of the pasta and the time it took to prepare, the texture of the fillings, and the small pieces of walnut and pumpkin on the side all come together to show how much can be accomplished with pasta. Without a doubt, when it comes to pasta, this is on the same level as Krizia – but just a tiny bit better.
Taste: 10/10
Price: 4/10
 Gusti Mediterraneo, sponsored the article and offered the winning restaurant a voucher worth 100,000 forints to purchase a selection of products to meet the unique needs of its kitchen. A lot of great Italian food can be prepared from the amount of ingredients the winner will be able to buy!
Translation provided by Helpers Business and Immigration Services. Find us at www.helpers.hu
You may find the original article here.