A few years back I went to the Hotel Nemzeti for a rigójancsi (a chocolate-based sponge cake and cream dessert) tasting. The reason we went there was because, according to legend, that is where the dessert was invented. The hotel was where the famous Gypsy violinist János Rigó asked the hotel's confectioner to invent a cake for his love Clara Ward. The lady was at the time the consort of the Belgian Chimay prince, so it wasn't exactly the perfect scenario. In the end, the lady ran away with the violinist, with their relationship ending years later after they had spent a significant amount of money. Clara never found her place in life, working as a photo model for some time after being disinherited. What has remained into the present is the dessert, which the confectioner named rigójancsi after the musician.
Why did I tell this story? Because for this tasting event the Rigó Jancsi confectionary was also invited to participate. All they would have had to do is send their own version of the sweet, but they decided against it, feeling out of place in such a ritzy environment teeming with journalists and Web 2.0 types.
So I paid a visit to their confectionery, and quickly realized why.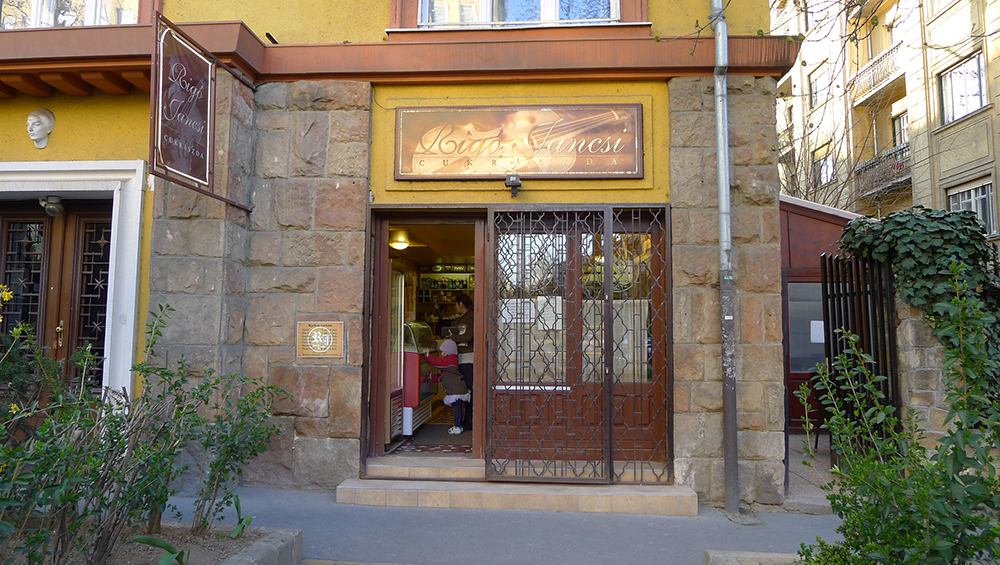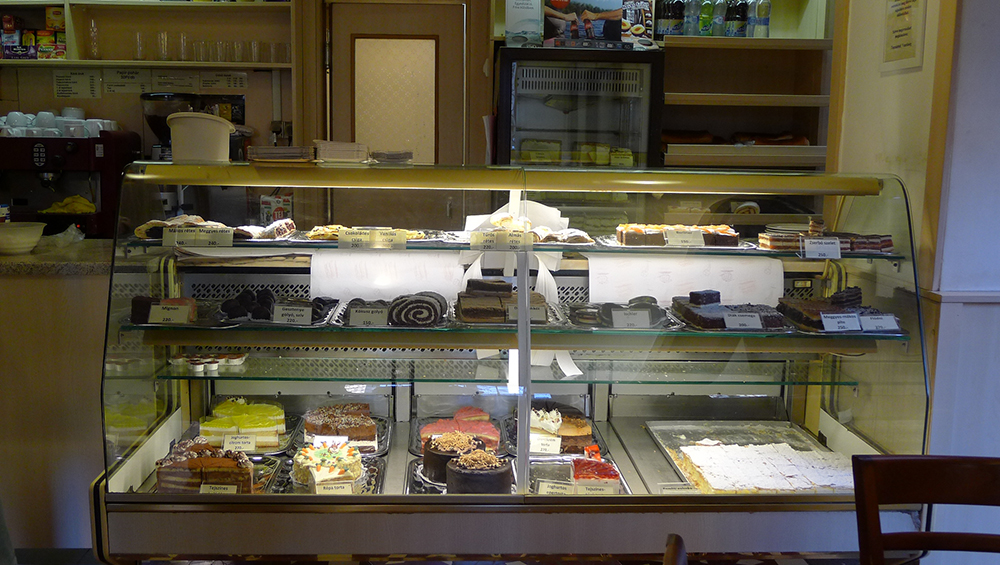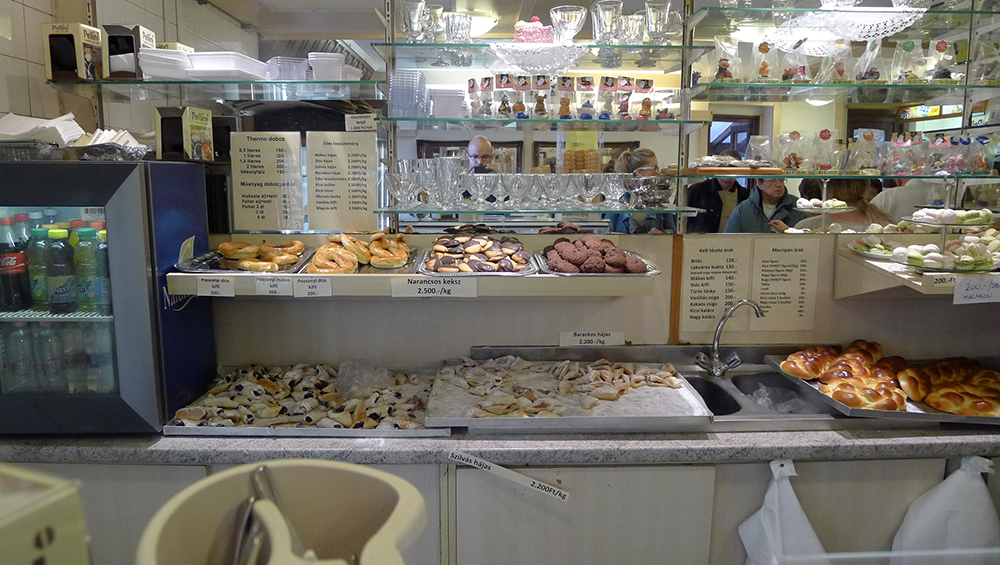 The Rigó Jancsi confectionery is truly a blast from the past, with a likable retro feel that operates according to the old rules, becoming a legend in its neighborhood, a status that it is likely to retain for a long time to come. Elderly servers await customers and they never have a dull moment, for there is almost always a line, despite this place not being a regular fixture on Instagram or Facebook. In my opinion, no one inside would even know what to do with it if it was.
Which is not a problem, for the place is absolutely likeable with its bologna rolls waiting in the refrigerator. That, my friends, is truly something worth devouring. Take a look: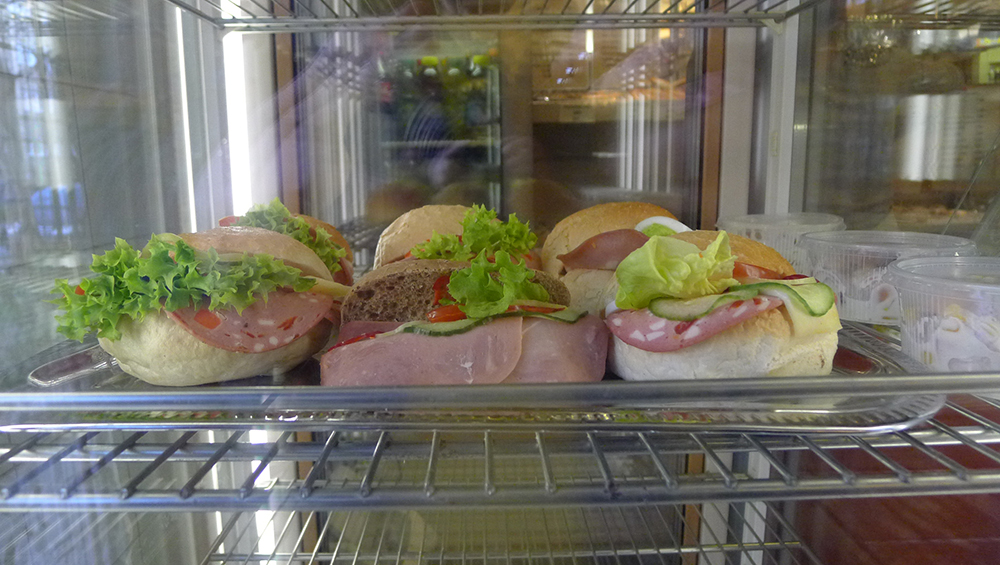 The regulars say they come here due to the many good things on offer, but they insist that the best thing you can get there is the potato pogácsa (a pogácsa is a Hungarian pastry snack that can be prepared in various ways). Franciska  assured me that it was, and I believed her. We asked for a portion at 2,400 forints per kilo, and her claims were quickly verified.
It's a greasy, thick and decadent pogácsa, the type you eat at a house party to wipe the beer from the side of your mouth only to discover that the background character in a movie has become the star of the show.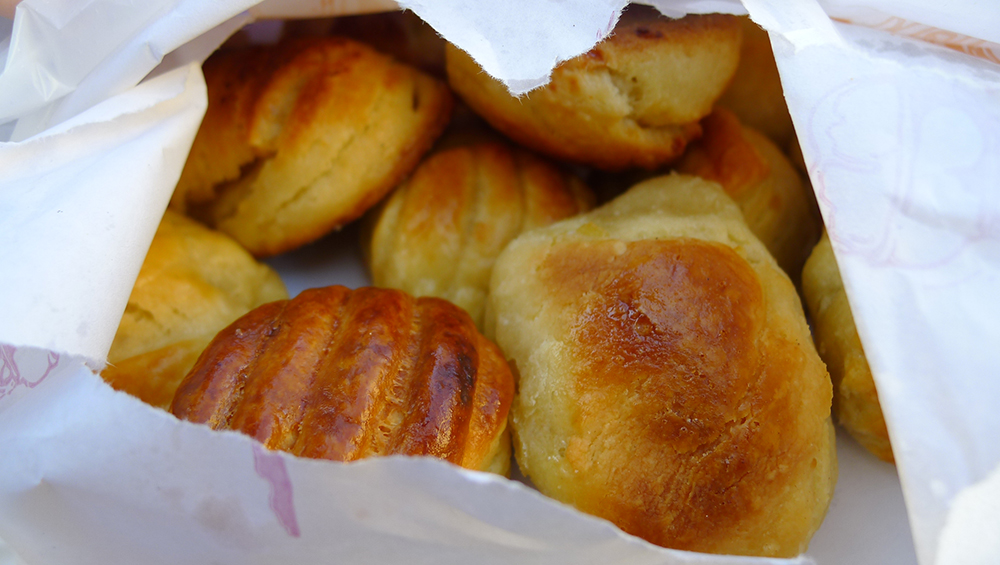 You can devour way too many of them way too quickly.
I ate a sour cherry rétes (strudel) as well, which was just as expected. It wasn't the best I've ever tried, but it was huge, filled with good ingredients and with good pastry. They also had peach pastries and orange cookies, kalács (milk bread), and other assorted Hungarian pastries such as bukta and briós.  
Seemingly the newest addition to the location is the opening hours placard, which shows 7:00-19:00 for Monday to Friday, with something written below Sunday that every local will understand:
Ü.V.: Bukovicsné.  (Store director: Mrs. Bukovics)
A single name, written as it is in the old style. A great way to travel through time, it also reveals just how special this small community is in Hegyvidék. It is, in fact, just wonderful.
Rigó Jancsi
Address: 1126 Budapest, District XII, Böszörményi út 17/a
Opening Hours: 
Monday - Friday 7 am – 7 pm
Saturday - Sunday 9 am – 7 pm
Translation provided by Helpers Business and Immigration Services. Find us at www.helpers.hu
You may find the original article here.