So which one am I thinking of when I say Budapest's most exciting square? Here it is: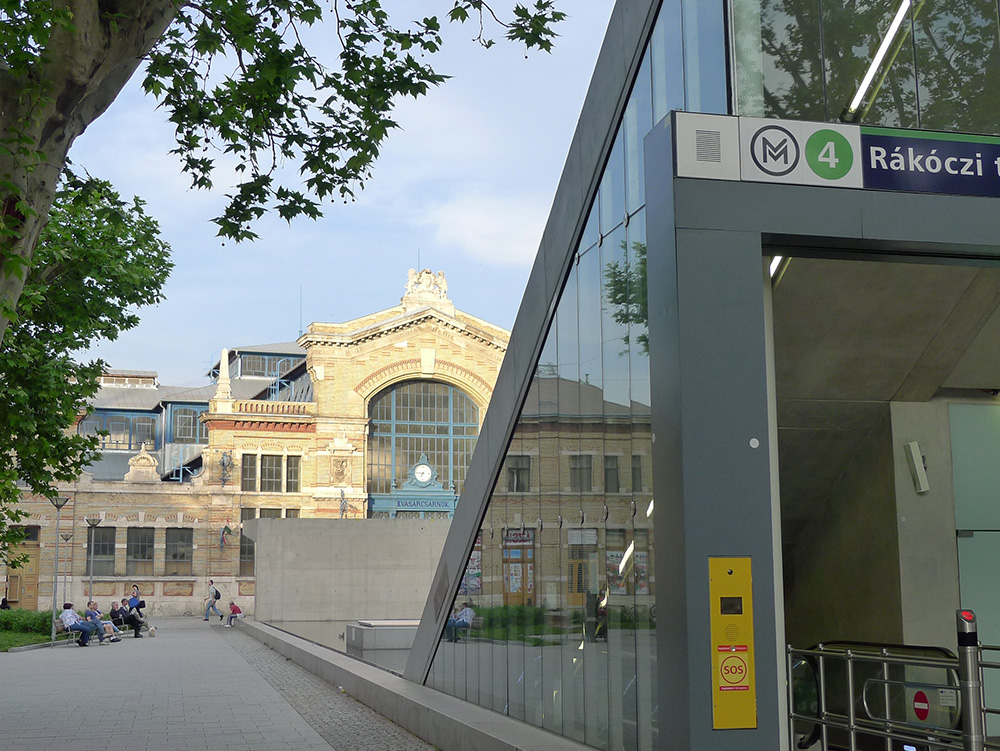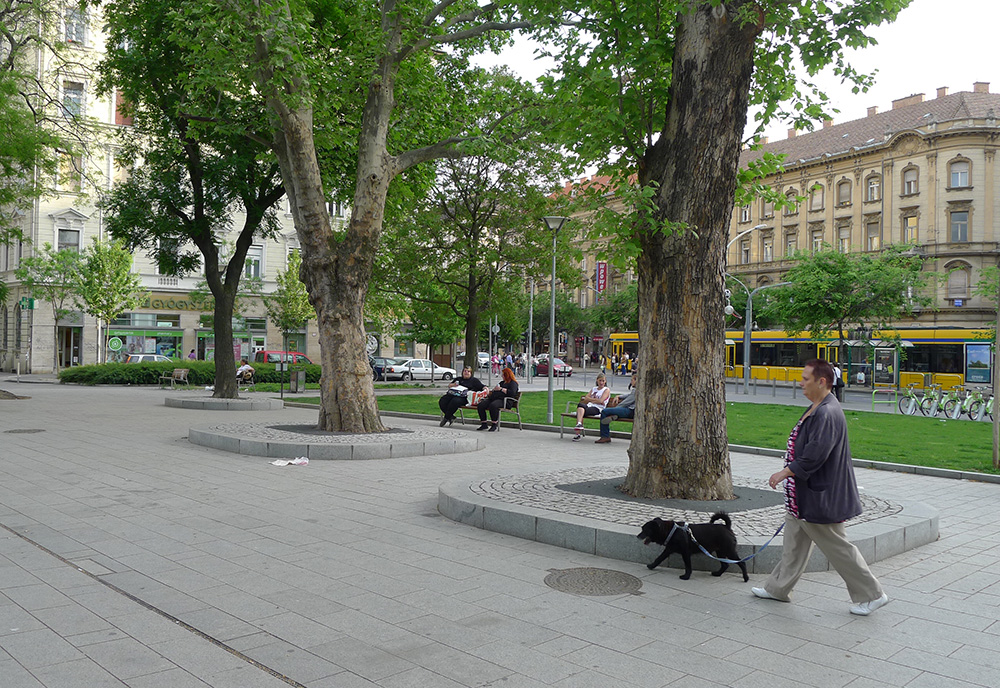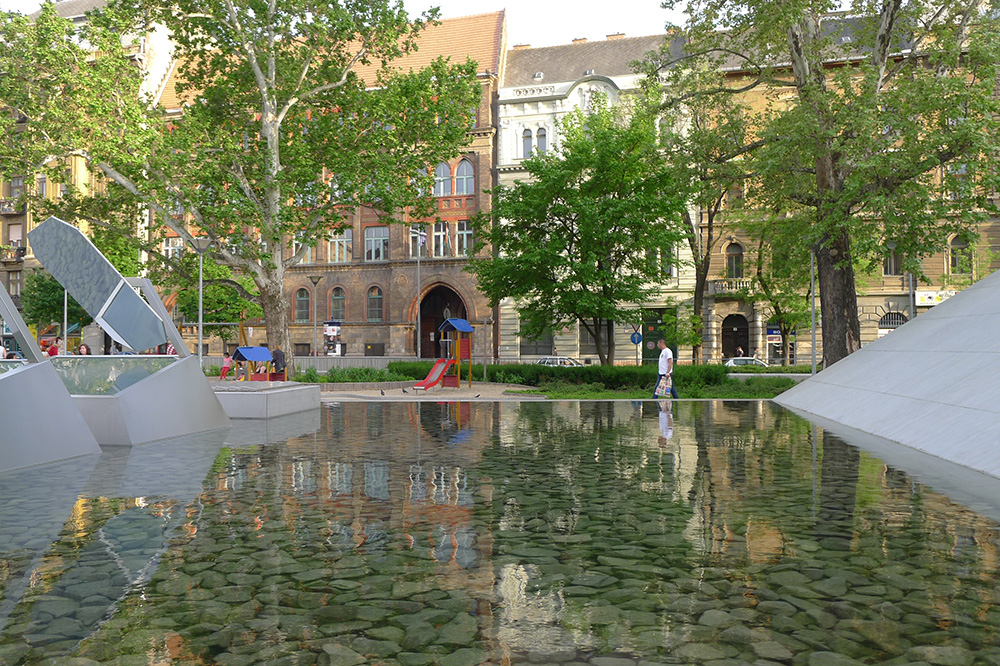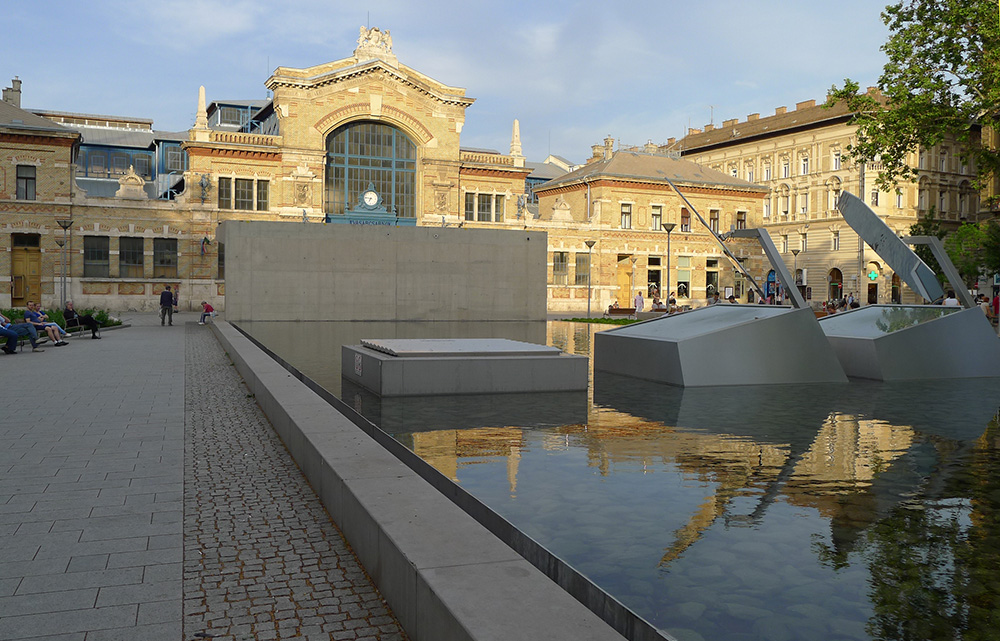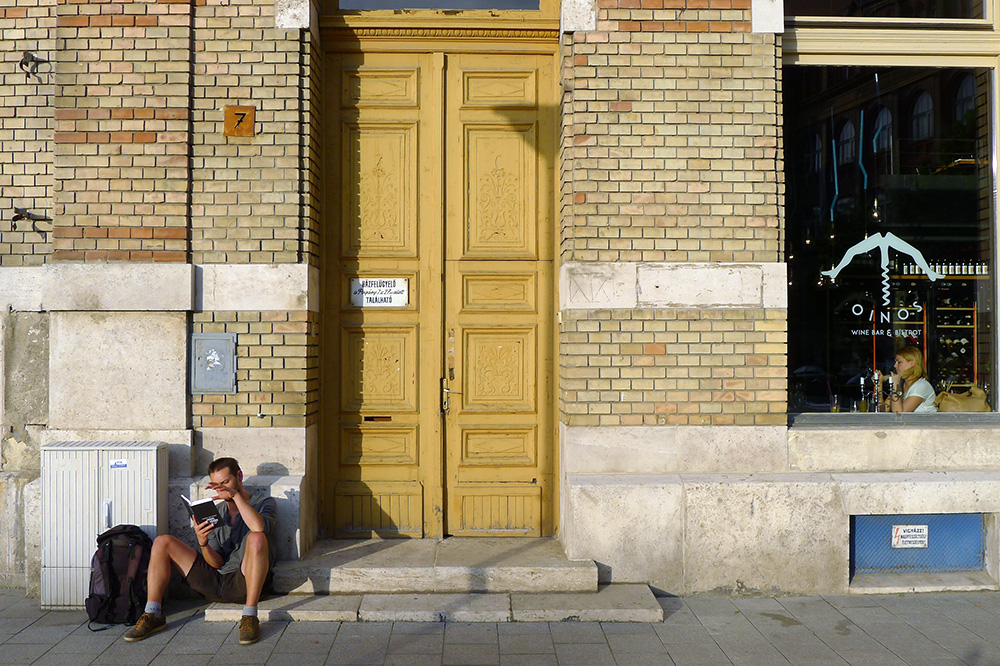 And why is this Budapest's most exciting square? Because when they filled in the giant hole they dug for the Metro 4 station construction works and removed the graffiti-covered plywood sheets that surrounded it, a lively park was revealed complete with an artificial lake. Now every vibration and change currently underway in District VIII can be felt in this once notorious location.
"The girls of Rákoczi Square." Once upon a time, this was the polite euphemism referring to the prostitutes that worked the location, but you won't find hookers here anymore. If we look closely, we just might spot a girl or two whose clothes suggest that they might be ladies of the night, but even if they are, they are here to relax not work.
The people hanging out in the square perfectly reveal why District VIII (Józsefváros or "Josephtown") is so preferred by artists: it has an unbelievably diverse assortment of characters. Here you'll find the faces you wouldn't anywhere else. A college student, an elderly retired couple, some vicious-looking but otherwise harmless introverts, as well as the 150 kilo guy who can barely fit into his tiny flat along with his buddy. Chinese residents walk right past the more adventurous Chinese tourists, seeing as they have little in common. You'll also find a tattoo-covered and waxed body builder and a mother with a baby buggy, or a fortysomething woman with breasts bouncing out of a low-cut top and whose perfume comes around the corner before she does.
But you won't find beggars – this isn't a good hunting ground for them.
The square is quite varied from an architectural perspective. Among the typical District VIII apartment houses, the market hall has finally received the emphasis it deserves. In front of it, the metro exit's crooked tin line and the artificial lake insert themselves into the scenery, a slice of modernity placed before the market's turn-of-the-century façade.
If you sit here for an hour, I guarantee you'll find yourself fully preoccupied watching people and the scenery.
This is the square we will explore in four parts, so we can reveal what's in this neighborhood, the places worth trying, or what you can do around here. For this first post, we picked a restaurant that shows the district's traditional face, but also does something quite unique: I can't say I know of any other restaurant that was created explicitly for lunch. But that's how this place is; it's not nearly as good by the evening. The prepared meals are gone, leaving the tripe stew, the rabbit paprikash, the less exciting roasts and pizzas. I'll quickly add that the pizzas are actually quite good, with the dough halfway between thin and thick crust, and they aren't shy with the cheese on the four cheese pizzas either: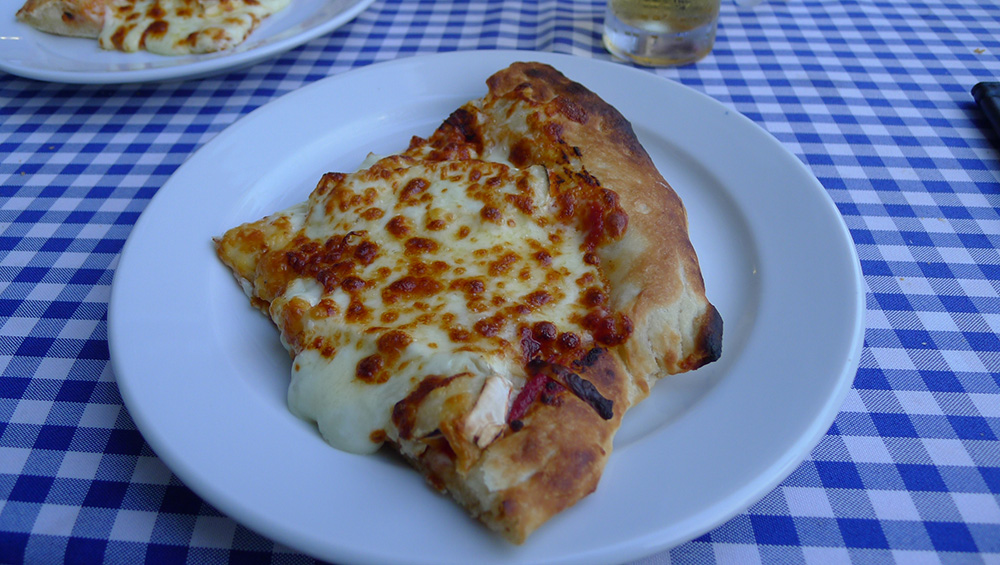 A schnitzel on a blue tablecloth is a true classic: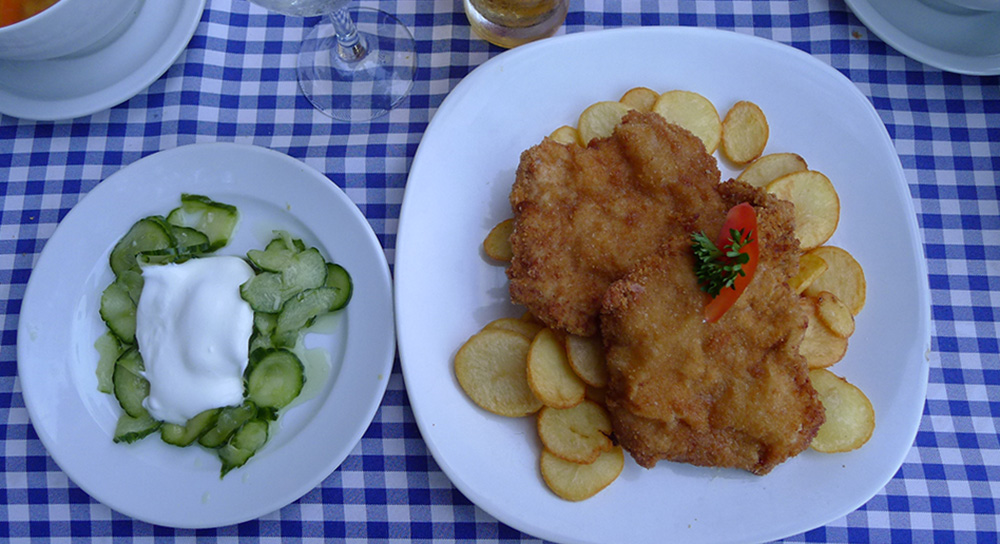 But let's stick with lunch. Here's some pork lung stew: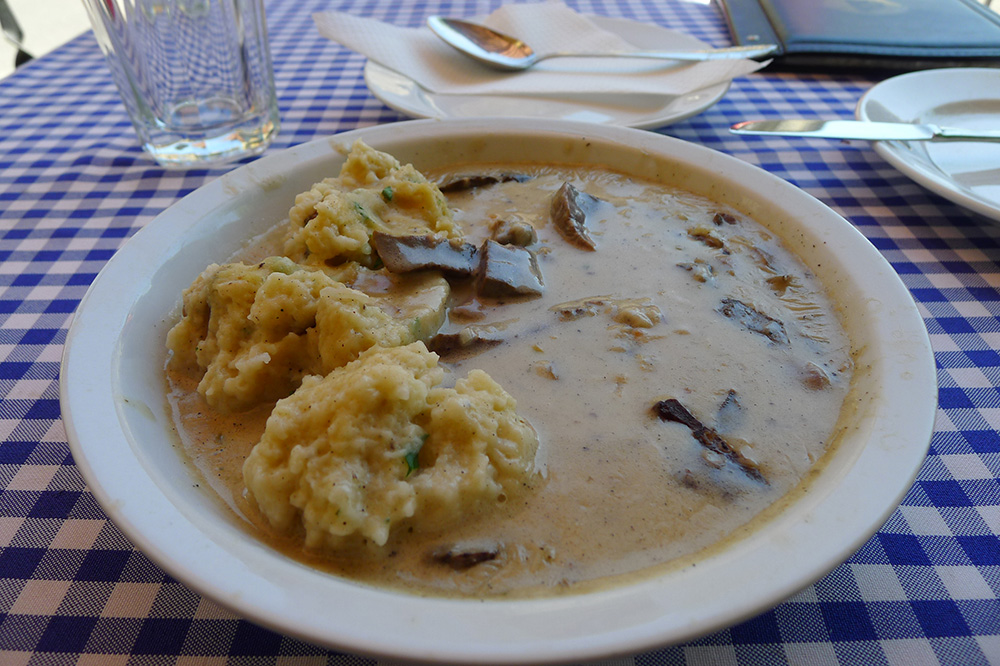 Or a photo with real composition: pork lung with District VIII's old and modern facades, and the metro station in the background: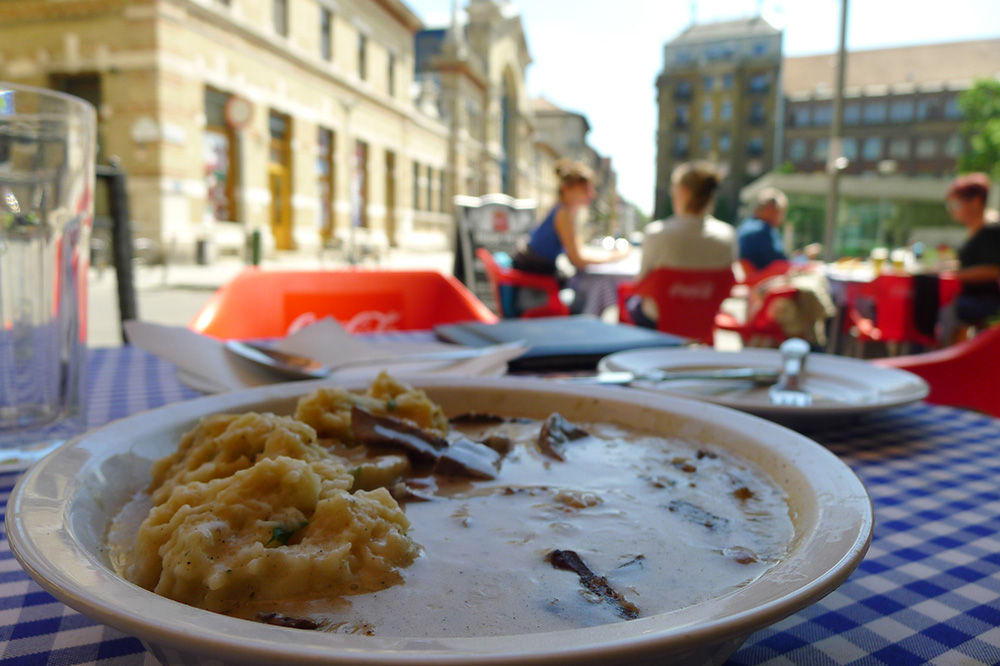 It contains everything: the past, present and future, along with lung soaking in juice.
The restaurant could easily be part of the old Karcsikám television series, were it not only ten years old. The food is as if a neighborhood grandmother had cooked it: well-spiced and without cutting corners on anything. The vegetable stew with Béchamel sauce is nice and thick with ample green spices, the soup was large and thick, and nearly every plate contained what sets small restaurants apart: overly generous use of garlic.
Service was friendly and relaxed. The waitress was not at all ashamed to discuss her private life if a regular asked her, even going so far as to give them a kiss on their sweaty forehead if she received some praise from them. At the terrace's middle table, three friends always seem to be there, arriving at four and staying until the evening. One drinks tea as they sit and watch the square.
There is also a house beer, a korsó of which costs 320 forints, which is pretty good and quite refreshing when it's warm outside. You can drink four or five before realizing what you've done. You can also order a "chaser combo". Combo 2 consists of 4cl of Unicum and a korsó of house beer, which is a true classic. You can order all sorts of fröccs (wine spritzer), with the menu including the háziúr (landlord) and sóher (cheapskate) options (the latter being 1dl of wine to 9dl of soda). The wine's not bad, lacking a little in the acid department, but with a flowery nose and taste. I can recommend it for the ladies.
Let me tell you something even better: you can order Nesquick chocolate milk for 100 forint per deciliter. Where else can you do that?
And to make our bewilderment complete, while flipping through the menu, we also found a totally unexpected option: honey-mustard shark steak. It's completely authentic.
In other words, sitting around here is a nice way to pass some time. The kitchen prepares the old favorites, the service is relaxed and in tune with the district's vibe. The faces you see here are far more varied than anywhere else in the city. From the first floor, we saw a gentleman surveying the scene, waiting for a familiar face to greet. He listens to the murmur, while a few people spy the tables from the bench next to the street, waiting for a table on the terrace to empty. Between noon and 2pm, they could be there for a while.
Address: 1084. Budapest, Rákóczi tér 9
Opening hours:
Mo-Fr: 10am – 9pm
Sa: 10am – 4pm
Su: 11am – 5pm
Translation provided by Helpers Business and Immigration Services. Find us at www.helpers.hu
You may find the original article here.