In Central Budapest, you'll find a square that's been revived from the dead, so to speak. In the past, it had one of the worst reputations in the city, but these days it's being rediscovered as a place where new and old architecture stand side-by-side in harmony. Rákóczi Square contains everything that makes District VIII (Józsefváros or "Josephtown") exciting: all sorts share the seats that surround the reflecting pool, but you can find similarities between the people gathered here. In addition to the elderly playing cards, the moms pushing strollers and the college student reading a book, you can also find faces twisted by their hard lives, not to mention the occasionally bizarre characters that still find their way here. All you need to do is find a seat, sit back, and watch.
In the first part of our series dedicated to Rákóczi Square, we focused on the Rákóczi Restaurant Taverna. It's a place where you can find pizza, schnitzel, rabbit paprikash, tripe stew, all with the word "tavern" included in the name. It's the kind of place that remains unchanged, showing what a kitchen in District VIII should be like. It preserves memories of what the square was formerly like, but it nonetheless still has as much to offer these days as it did in the past.
This time, we only have to walk a few meters across the street to Csiga (Snail).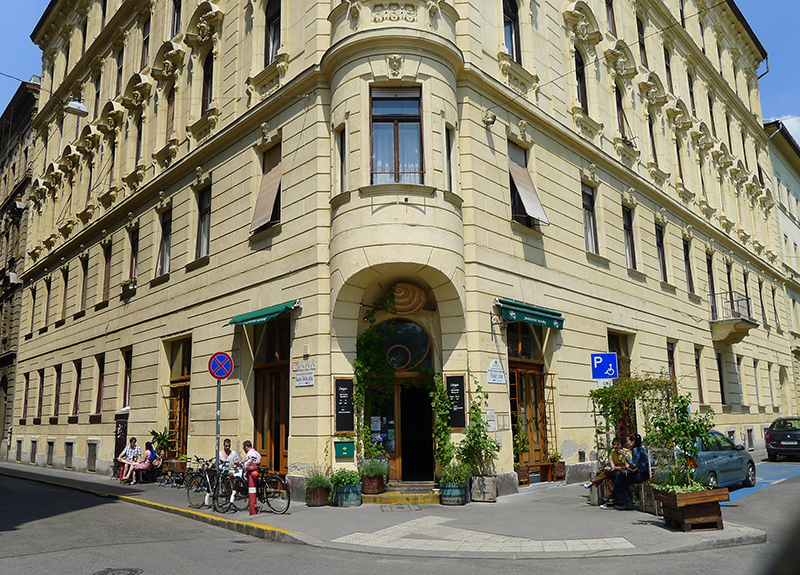 Csiga is at once a gastro pub and café. If anyone wonders what a place like this is doing on this corner, go inside one afternoon and check it out for yourself. You'll soon realize just how much this place truly belongs here.
I don't know where to start. The place has an eclectic interior, with wooden surfaces, wrought-iron snail shapes and many windows to let the sun shine through. And greenery too: the place is filled with potted flowers, cacti and other plants to make sure the incoming light is used to create more oxygen. The walls contain paintings, some of which are more exciting than others. Truth be told, a café in District VIII is one of the best locations to display contemporary art.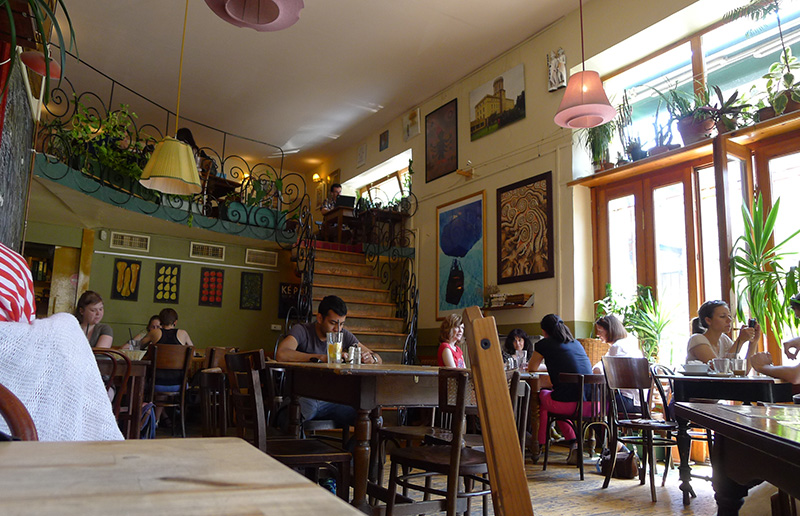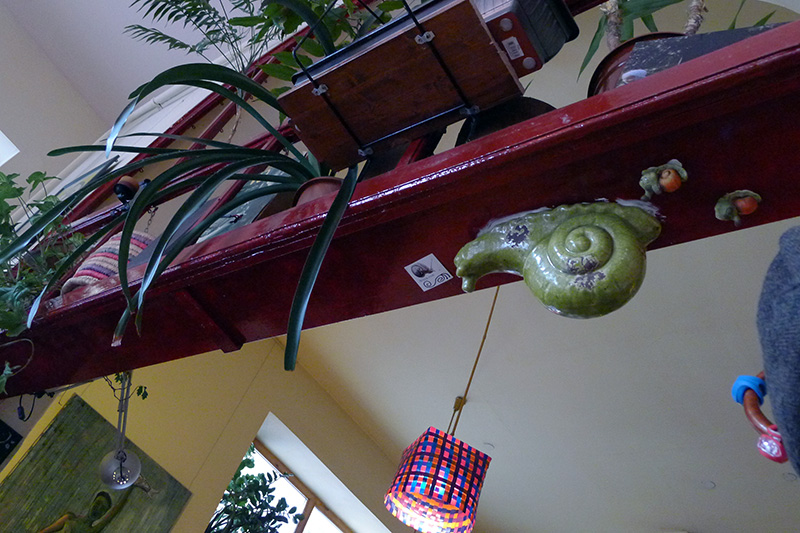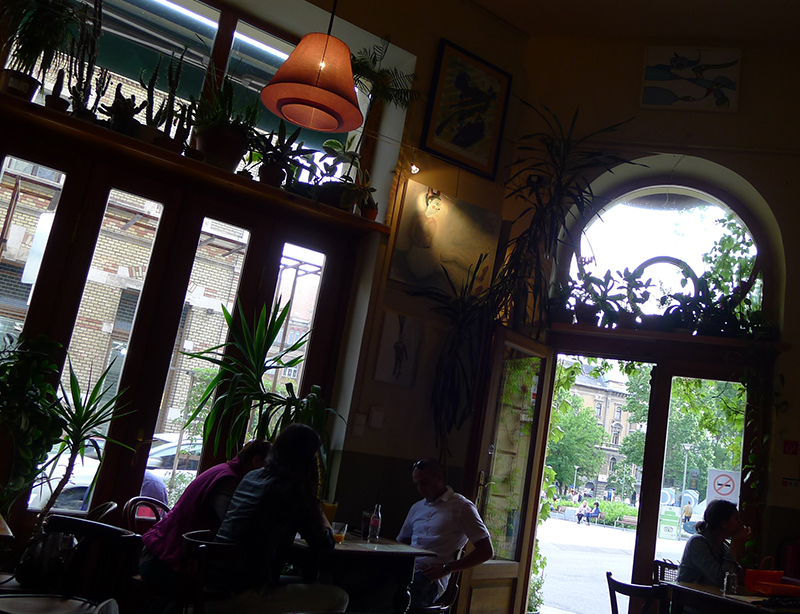 "The chefs: Geri, Gyuri. Their assistants: Csabi, Sanya. We usually have Sanyi to thank for the desserts. Jani helps where he can. He's always here at home."
That's what's written at the bottom of the menu. And this is not some stilted attempt at being funny, for that's really how they are. The service is efficient and friendly but not too-friendly, and if the afternoon is quite busy, they are just quick, but there's no problem with that. A forced fake friendliness would just not work here.
Ten years ago, when the place was still known as Pillangó (Butterfly), the clientele was entirely different. Back then, figures from the underworld used to frequent the place and there was a tension in the atmosphere. These days, however, half the tables are occupied by local youths working on their laptops, while the other half consists of tourists, with the bar propped up by the regulars (or perhaps the other way around). Despite many tables being occupied by people actually working, the place is quite noisy. Even when no one is talking. Sound drifts in from the street and is in the air. If you were you to stand up and sing a peasant cantata, no one would bat an eyelid. It's all good as long as you don't knock a plate from the server's hand.
For lunch, soups will run you 300-400 forints, while mains cost 600-700 forints. A glass of beer or a fröccs (wine spritzer) on the side will be 200 forints more. But what they are proudest of are their breakfasts, as one of their servers told me. They serve tapas, omelets and Spanish breakfasts (bacon, eggs, paprika, potatoes, onion and olives), but I was feeling in a French mood that day as everyone sitting near me was seemingly speaking the language (half a busload of French backpackers arrived to check out this cult location). So I asked for a Croque Madame.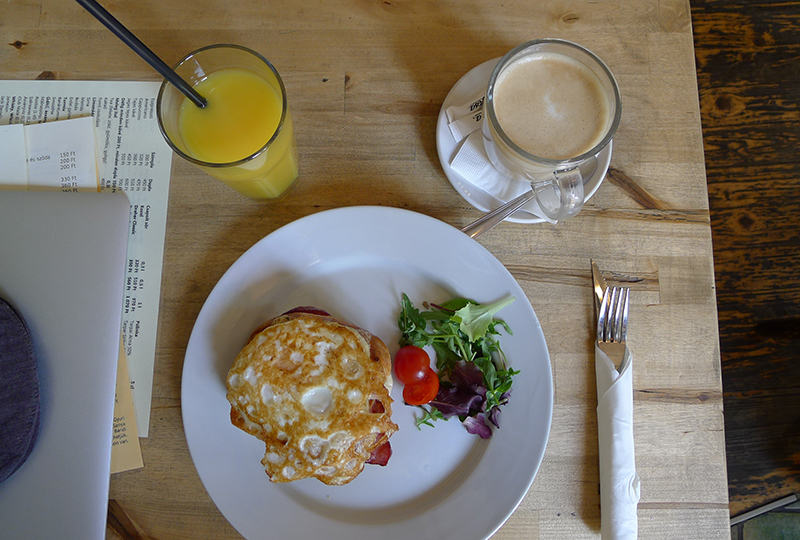 The French sandwich contains a Béchamel-type sauce, cheese and ham, with a fried egg on top. Beyond this, there are no requirements for how to prepare one – it can be prepared from thin or thick bread, and can contain one or several slices of ham. The bread was exceptionally thick for this one.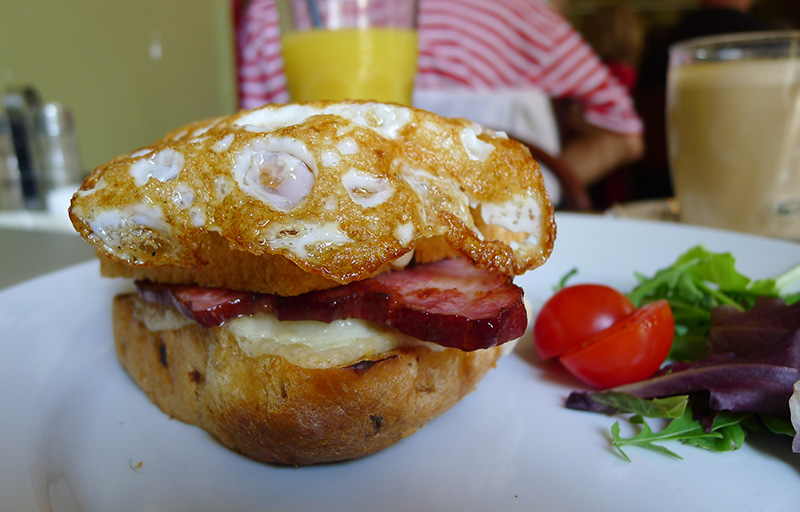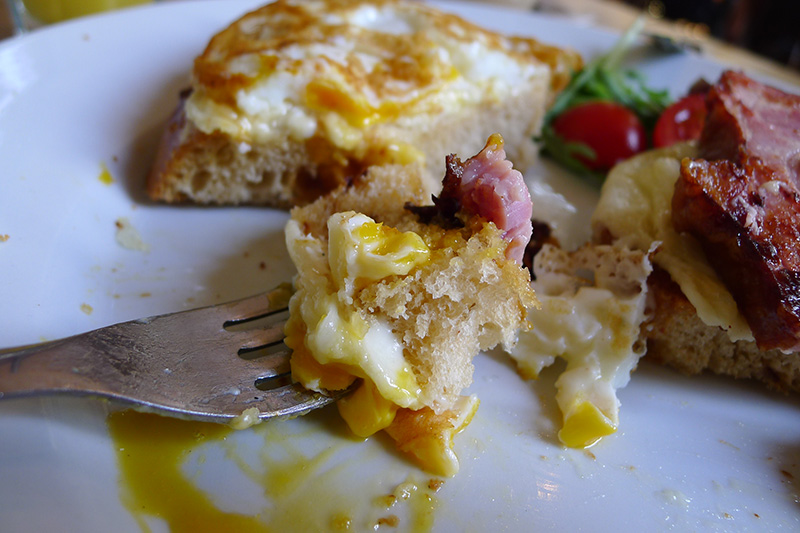 But everything was just as it should be: the bread contained pieces of sundried tomatoes, in place of ham it had tarja (smoked or boiled chuck or upper neck of pork), which gave it a Hungarian twist. The layer of cheese had a slightly moldy flavor to it, while the egg was just plain good. This type of breakfast belongs here, and it was just fine. The Croque Madame from Josephtown in the picture came to 1450 forints, including coffee and orange juice.
What else makes this place unique? Their selection of rum. The shelves have an entire section dedicated to this spirit. I can't say much about the bottles, but you might know more about them. Either way, it shows this place is also a good destination in the evenings.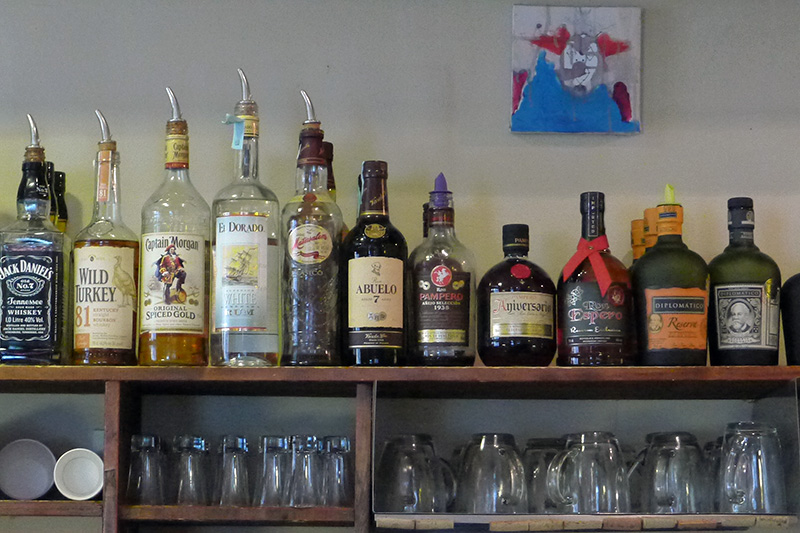 One of the most important measuring sticks regarding the changes underway in District VIII is the quality of the bars that open. That sets the tone for society: if there's no good foundation for a healthy drinking culture with good meeting points where conflicting ideologies can encounter one another, then there's no National Song (a famous Hungarian poem) and no Nyugat (an important early 20th century literary periodical), just wallowing about. And it seems like more and more good places are opening their doors, such as the Drunken Tailor with a unique interior that defies categorization, as well as Macska and Csiga. All of these are the types of places where the atmosphere is its defining characteristic. "Don't be nervous. What difference does it make?" the public inside asks, to which you respond with a satisfied "Yes, and why not?"
Csiga
Address: 1084 Budapest, Vásár u. 2. (Rákóczi tér)
Opening Hours:
Mo-Sa 9am – midnight
Su 10am – midnight
Translation provided by Helpers Business and Immigration Services. Find us at www.helpers.hu
You may find the original article here.