We need more places like this. A lot of them.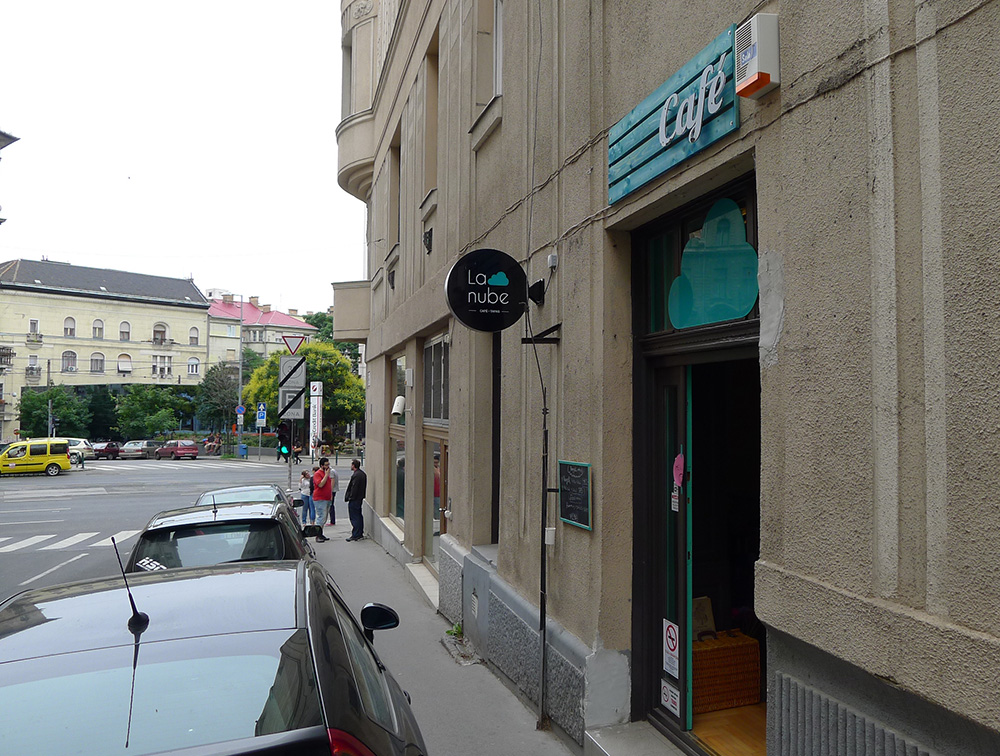 La Nube's entrance is simple and opens from a small side street off Bartók Béla Road. Beneath its name, they simply added in small letters: Café, Tapas. La Nube does not feature overthought minimalist design, it doesn't contain trendy furniture, or the bare brick walls that seemingly have become a requirement in cafés, although we did find Thonet chairs painted in all the colors of the rainbow. And books and things to smell.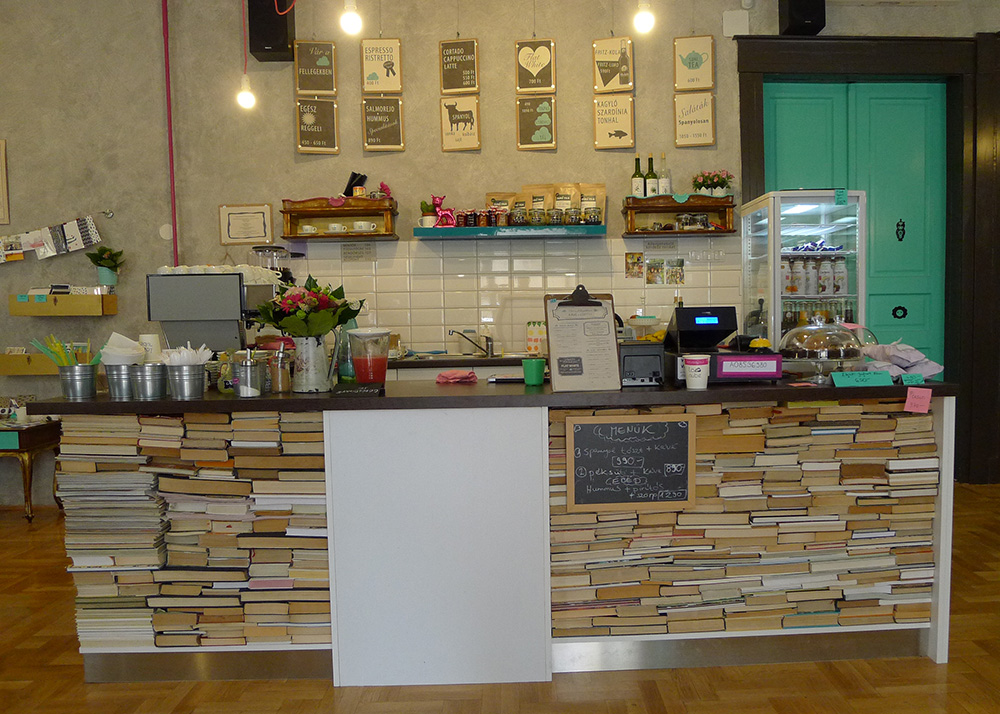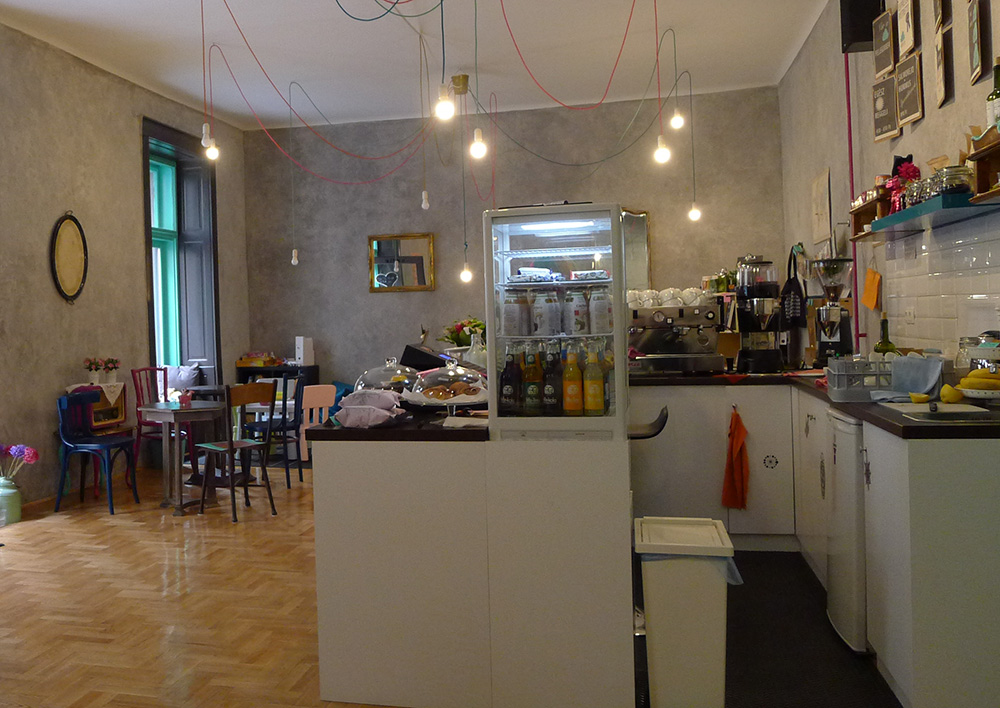 You won't find the pinnacle of culinary delights here either, the modest Spanish owner/chef brings the tapas from the kitchen himself. His wife works in the front and acts not only as the server but also looks after and chats with customers as if we were guests in her home.
Her name is Timi. One thing you'll quickly notice about her is that the colors painted onto the Thonet chairs can also be found in her hair. And the positivity just radiates from her. Take a look at this, for example: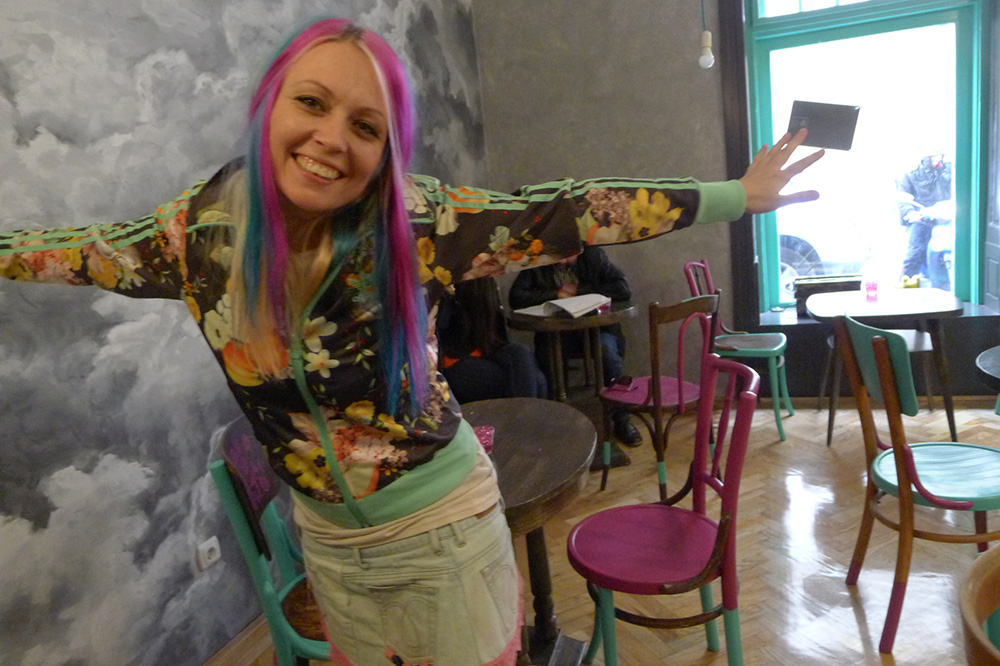 Or this:
The counter rests upon books and the back of the brand-new La Marzocco coffee machine that costs millions of forints is covered with drawings of flowers. A guitar sits in the corner and Timi points at it, encouraging me to pick it up and play.
So I do.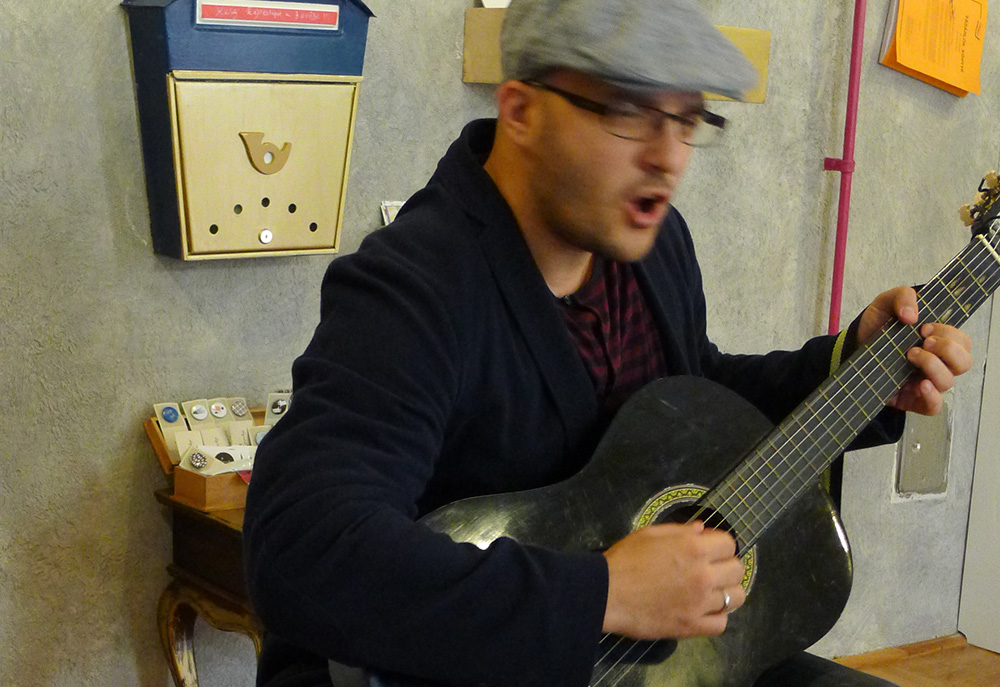 Ivan enters from the kitchen, into whose hands I thrust the instrument. He begins strumming a Spanish melody, singing quietly, as behind my back Timi's voice grows louder and fills the room. Their beautiful love song silences everyone as those walking by on the street stick their heads through the door to see where it is coming from. They smile, just as we do. And then it's over, and what I'd like to do most is to give them a big hug, because it was wonderful, and it made all of us a little emotional.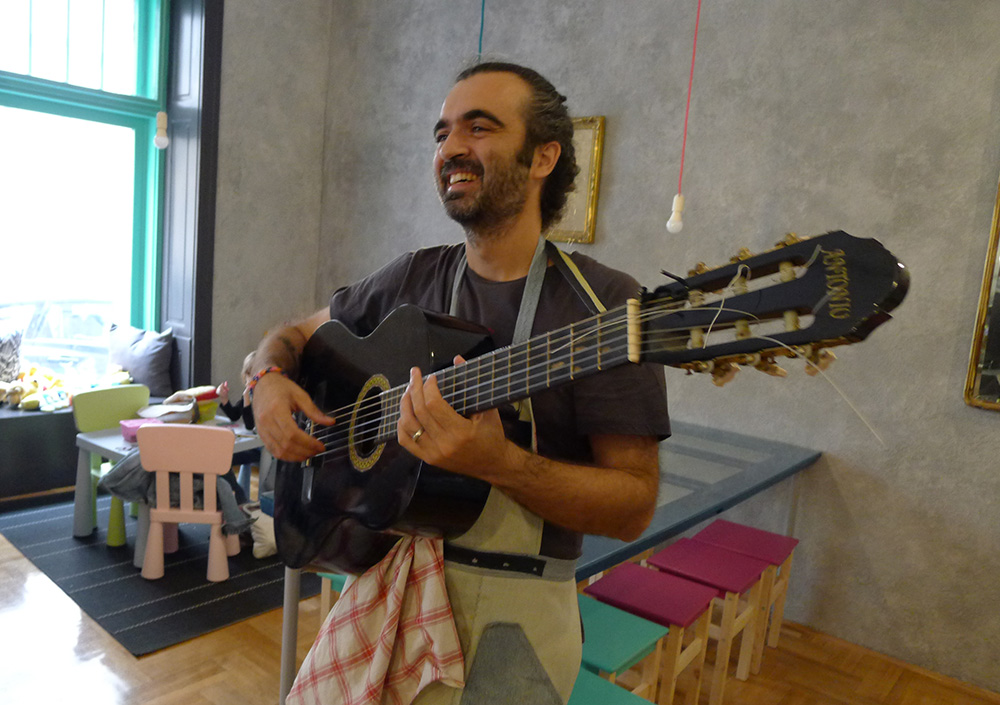 The tapas arrive one after the other. There's no need to hurry while you eat, for two bites come out, then you can continue to chat, accompanied by music and drinks. This Mediterranean attitude of being laid back and easy-going makes its way from your plate into your mind and we also find ourselves relaxing and feeling good. It doesn't take any longer to eat than in a restaurant, but it doesn't feel that way. The portions are small so you don't devour them. And they all taste great, for they were thoughtfully prepared, and it's no problem at all that the scallops came from a can. That's acceptable here. Beneath the tapas, you'll find bread from Pékműhely Józsi, slightly toasted.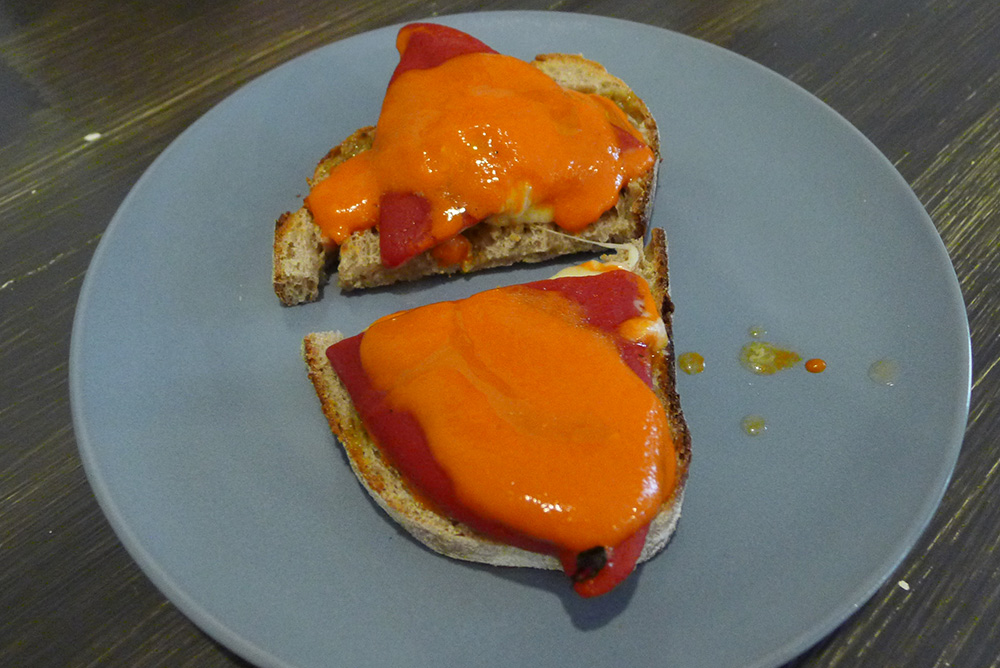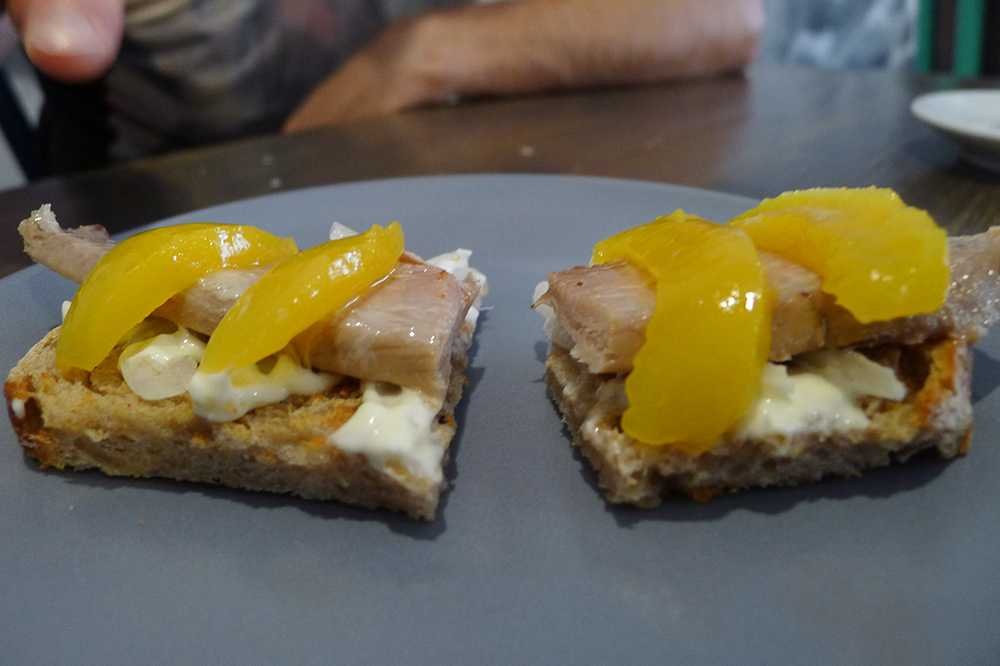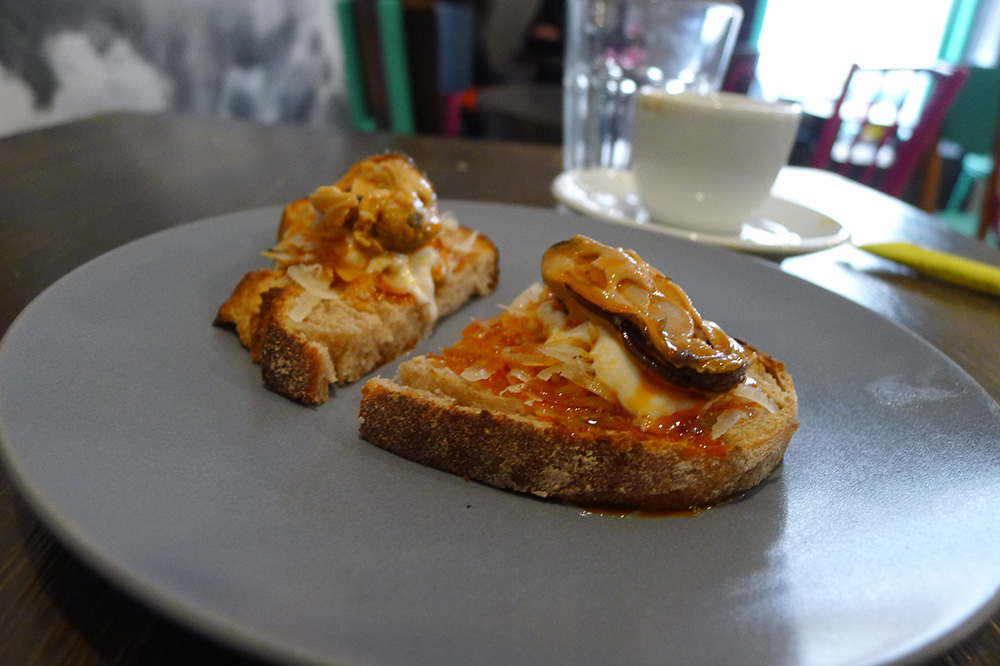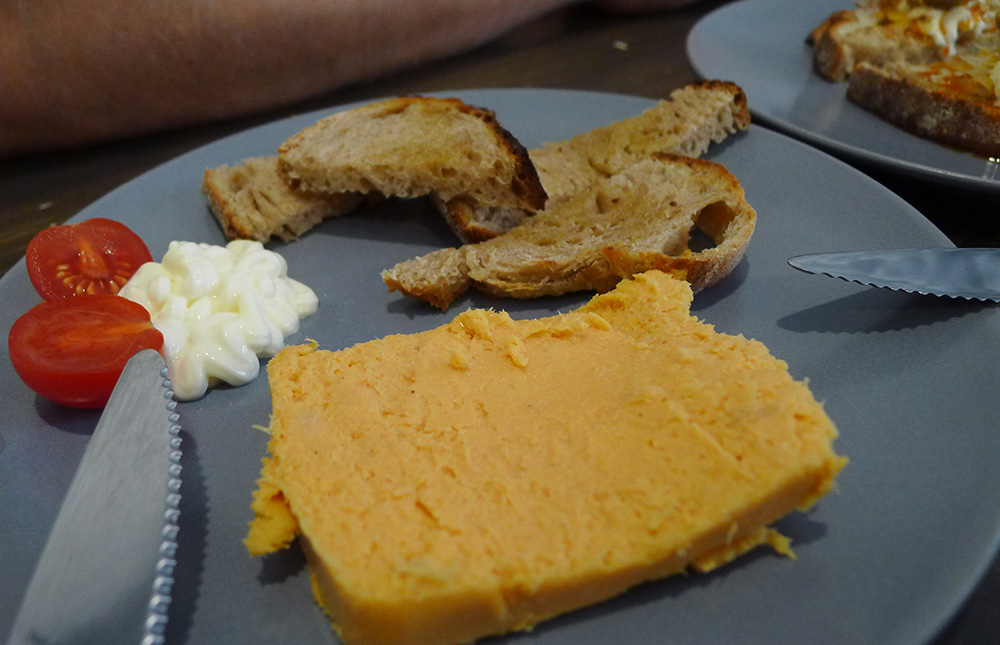 This is what hospitality truly is. At least for me. A place where I can cut loose, where you can become friends with the owners in less than a minute, and where smiles are authentic and come from the heart. They only opened a few weeks ago, putting everything into this place upon returning from Shanghai after spending five years there with their children. You can still find them chatting to one another in Mandarin if you pay close attention.
A Hungarian girl and a Spanish boy speaking to one another in Mandarin in a tapas bar in Budapest, after they performed a love song for their guests. That's so much more than all of the other new cookie-cutter cafés opening in the city. We need more lovable places like this.
And before I forget about the coffee, it's really good. I tested it with my favorite, a cortado.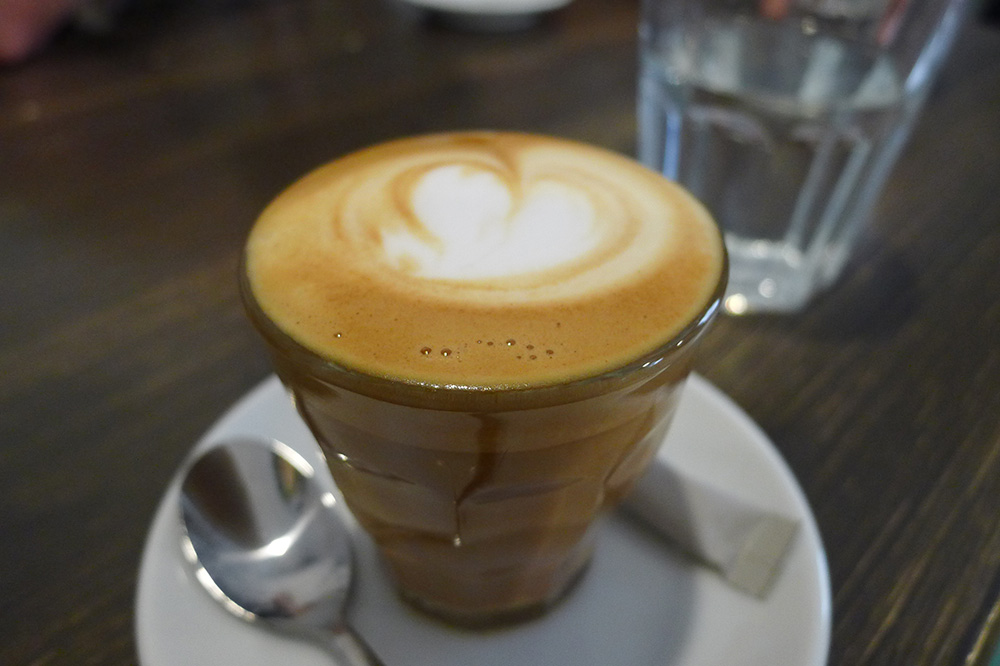 La Nube
Address: 1114 Budapest, Bartók Béla út 41. (The entrance is on Ménesi Street around the corner)
Opening Hours: Mon - Fri 8:00 am - 7:00 pm, Sat 10:00 am - 4:00 pm
Translation provided by Helpers Business and Immigration Services. Find us at www.helpers.hu
You may find the original article here.