Following up on our sightseeing in Madrid post, let's get to a lunch in Budapest prepared by the chef who joined us in the Spanish capital with his wife as the winner of the Vodafone competition.
No, really!
During our trip, we learned that our traveling companion Jani is the chef at Castro Bistro, which I can't say excited us all that much at first, since when we thought of Castro, what came to mind was a couple of laid back beers in the evening or a place to grab a coffee in the morning as you look onto Madách Square. We'd only consider ordering food here if we were really hungry or had no energy to walk elsewhere.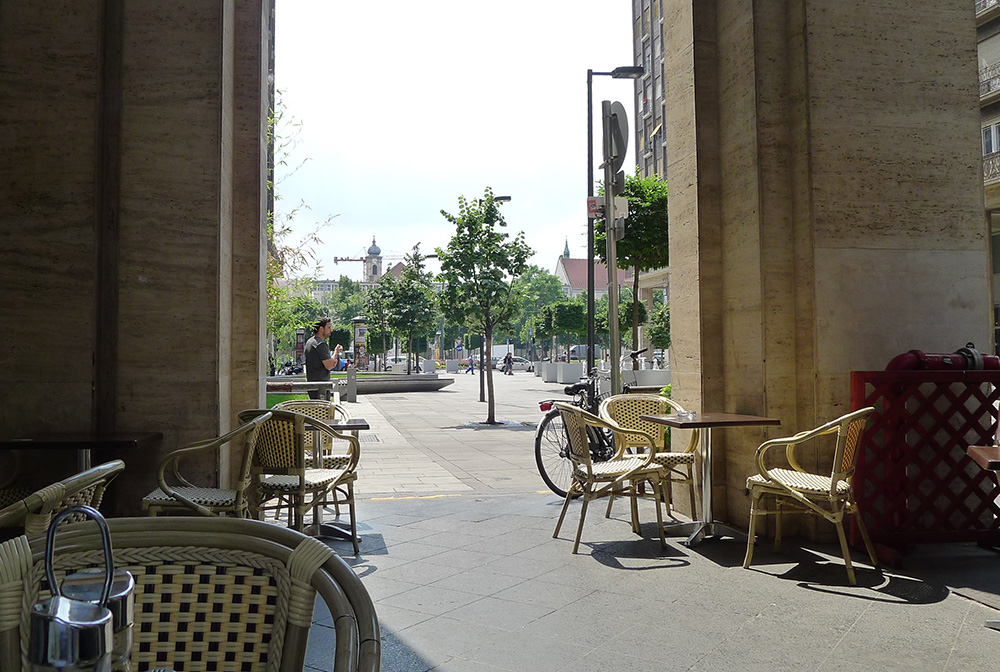 But while we were in Madrid, Jani began telling us of the weekly menu, and Csaba and I were soon rethinking things. These are some of the things we heard:
Ginger sorrel with jalapeno-infused wheat dumpling
Venison stew with cranberries cooked with juniper and served with crispy potatoes and arugula
Turmeric green asparagus soufflé and spinach brown rice rolls with a warm pineapple white tea sauce
Chicken breast strips fried in cashew-pumpkin seed crumbs and served with a Greek peasant salad and new potato chips
Tuna fillet wrapped in sundried tomato and Balkan cheese and steamed in paprika skin, served with early summer mixed salad and pistachio basmati rice
These are the lunchtime menu mains, with a three-course meal costing 1,200 forints. The dishes come from peoples and regions all over the world, and are all described in such a way that you end up feeling like one of Pavlov's dogs. We were instantly hungry, which was something only a Madrid tapas bar could remedy.
I still had some reservations when I paid a visit to Castro unannounced and ordered the following:
Forest mushroom cappuccino with pumpkin seed
Chicken leg fillet with Turkish olives and red lentils, served with lovage cottage cheese dumplings and colored peppercorn Brie sauce
Strawberry crepes with mango sauce
This is what they brought out: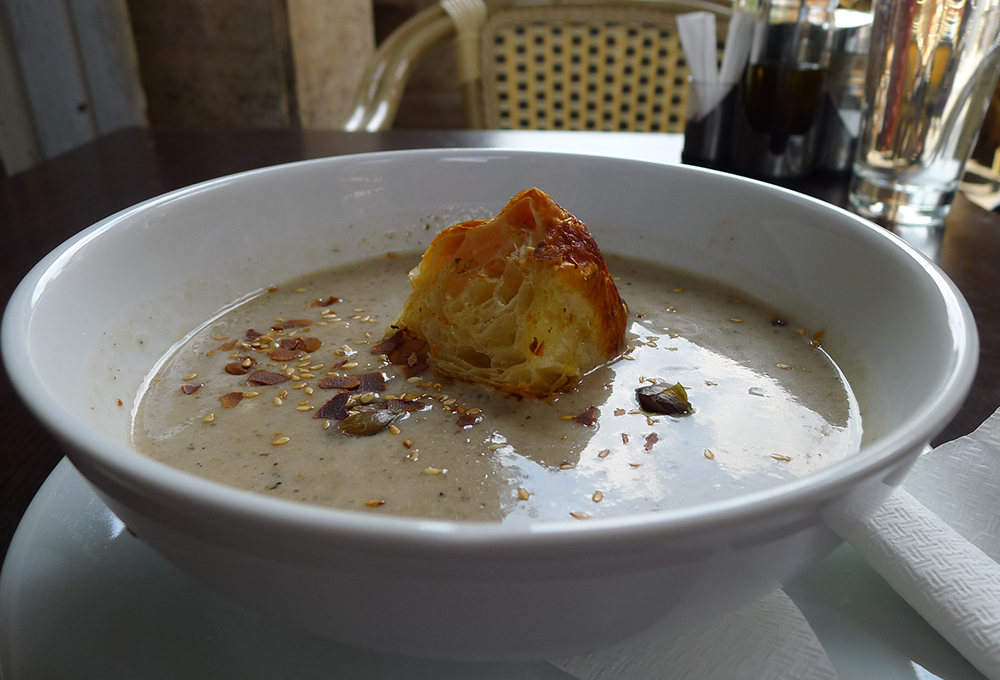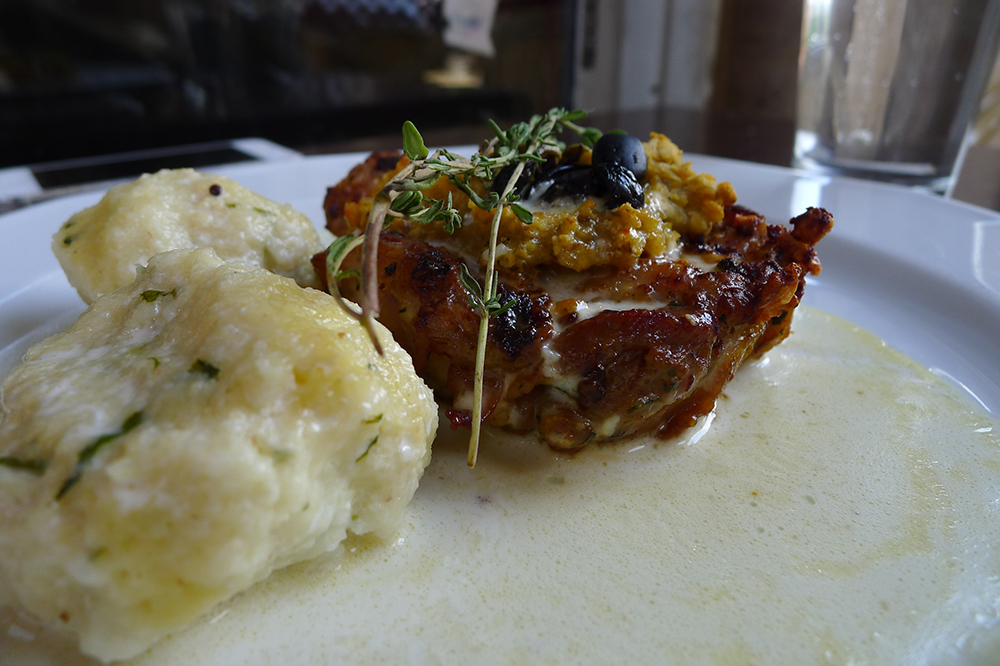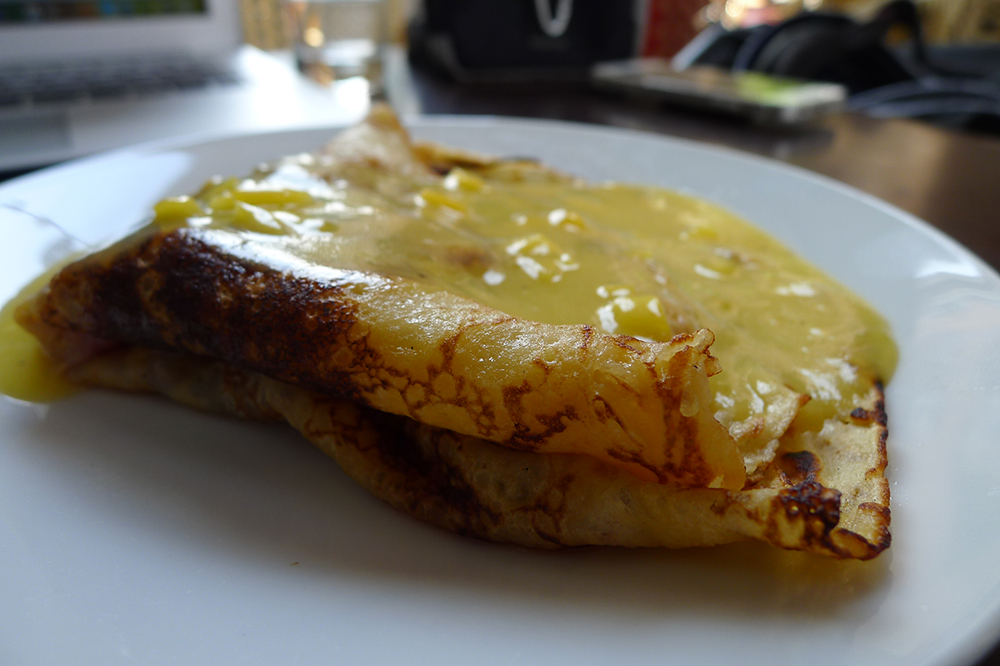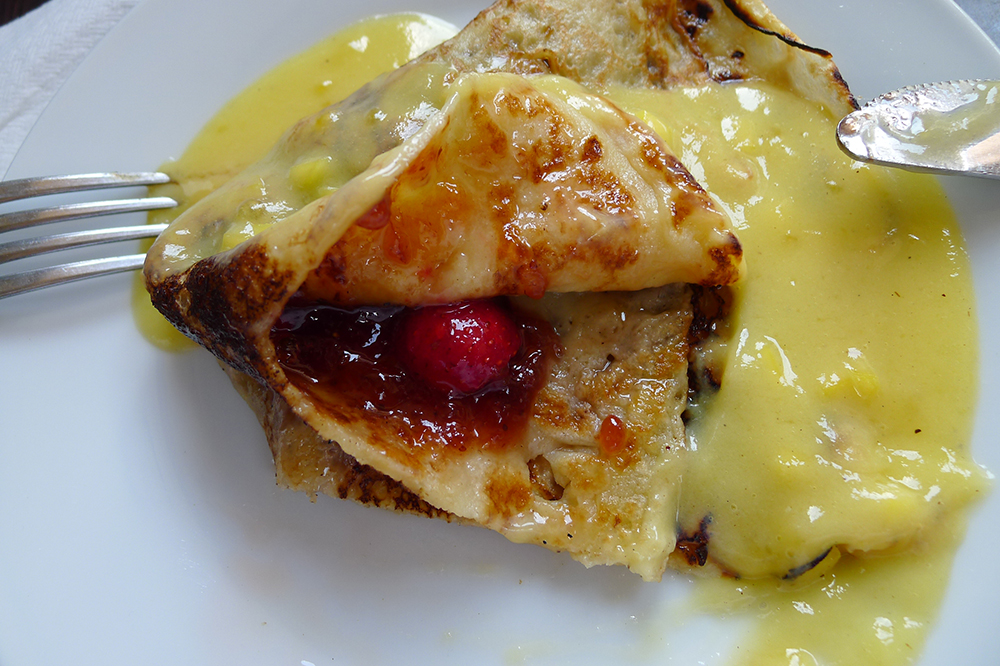 Behind the fancy names we found familiar flavors. The cappuccino was the soup, the hasé we could have mistaken for a kifli, and the crepe wasn't all that different from the Hungarian variety, which in all reality, doesn't differ that much to begin with. But this was immensely superior to the ones they sold on the street in Montmartre for 2-3 euros each.
The soup was flawless. Jani knew exactly that the cream needed a little crunchy pumpkin seed, but he did not stop there, for he topped it with high quality pieces of pastry. Regarding the main, I was particularly happy that he went with the chicken leg, which has become quite overlooked lately and which was presented in an inspired way, while the dumpling and red lentils were an excellent side. The crepe was a worthy way to close the feast.
For me, Castro Bistro has become not just a small beacon with respect to its lunch menu, but a major lighthouse. I'm not saying Jani's kitchen is better than all of the other restaurants in Budapest, just that for this price and in such nice surroundings, you won't get a meal as good as this anywhere else.
Castro Bistro
Address: 1075 Budapest Madách Imre tér 3.
Opening Hours: Sun-Thu 11 am - midnight, Fri-Sat 11 am – 1 am
Translation provided by Helpers Business and Immigration Services. Find us at www.helpers.hu
You may find the original article here.