In Central Budapest, you'll find a square that's been revived from the dead, so to speak. In the past, it had one of the worst reputations in the city, but these days it's being rediscovered as a place where new and old architecture stand side-by-side in harmony. Rákóczi Square contains everything that makes District VIII (Józsefváros or "Josephtown") exciting: all sorts share the seats that surround the reflecting pool, but you can find similarities between the people gathered here. In addition to the elderly playing their card games, the moms pushing strollers and the college student reading a book, you can also find faces twisted by their hard lives, not to mention the occasionally bizarre characters that still find their way here. All you need to do is find a seat, sit back, and watch.
In the first section, we discussed reader's choice Rákóczi Taverna, and then later dropped in on Csiga, a place that could not be better located anywhere else for the type of place it is. In this post, we'll check out the square's newest establishment, the Oinos wine bar and bistro.
Here's a quick spoiler: the kitchen alone does not merit a post. But since we're exploring the square, studying the trends and new directions, we couldn't leave it out. Especially since it really is an important establishment, because it's not run down in the slightest, as opposed to the other places in the area. In fact, it's quite the opposite.
So let's take a peek at Oinos: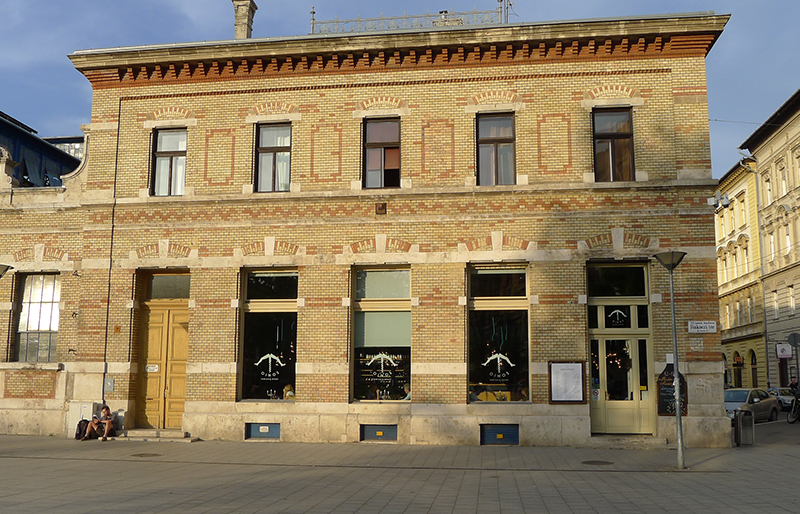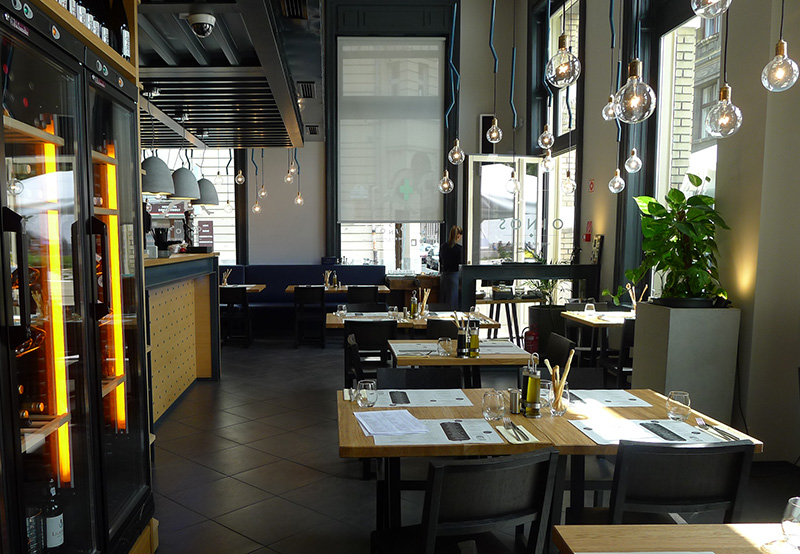 And to show the maximum contrast, here are the former stores located across from the market hall: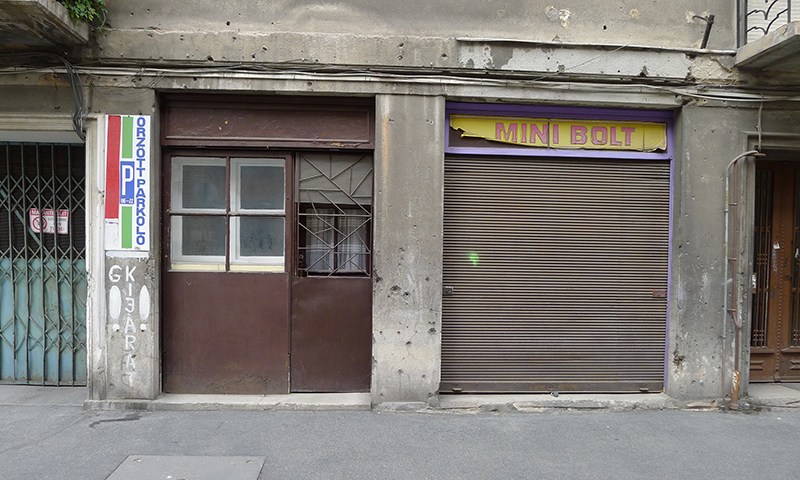 Oinos is therefore an interesting experiment. Has the square matured enough to give a home to this level of establishment? Will those passing by stop to try the Italian and Hungarian wines on offer, and order a sockeye salmon steak with cauliflower on the side?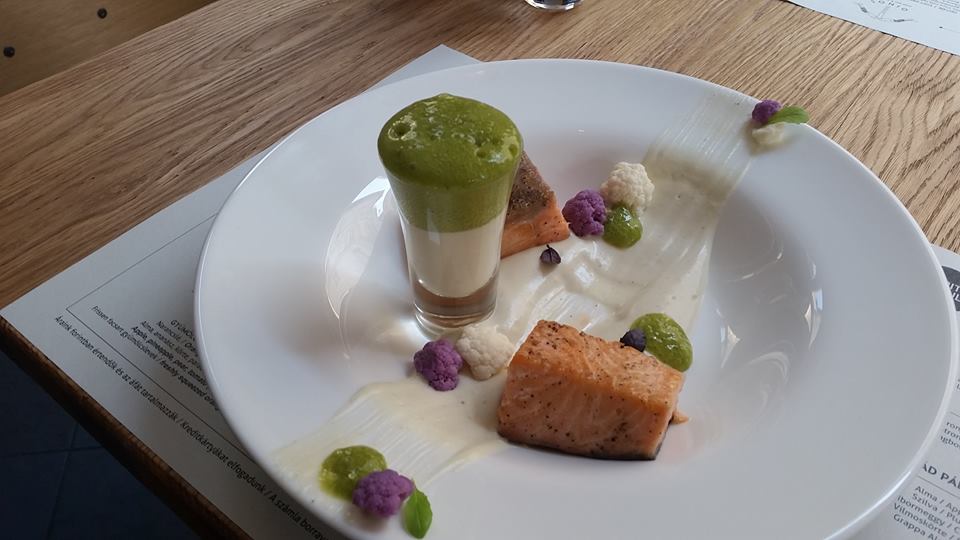 (via the Oinos Facebook page)
I believe that the rejuvenated Rákóczi Square has a bright future, but it's not quite here yet. There are two reasons for this.
One is that it's still too early. The neighborhood is only just beginning to come into its own, and it's much more worthwhile to follow the authentic lead of Csiga and Rákóczi Taverna, and to slowly increase the level of quality, than to come charging out of the gates with a bistro that looks like it would blend in well a few doors over from the Four Seasons.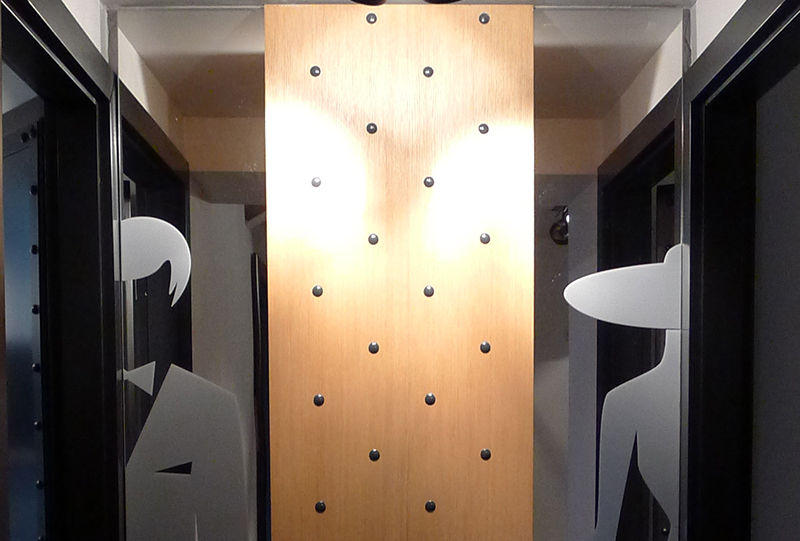 Those with no knowledge of English won't even be able to navigate their webpage without clicking randomly, since there's no way of switching it to Hungarian.
Another thing – and perhaps the most important – is that Oinos' kitchen is average. It's got some fanciness, but tries to be more than it really is. This also doesn't help in terms of fitting in. For 1190 forints they offer a two course lunch menu, which when I visited consisted of store-quality mozzarella, lettuce and balsamic vinaigrette, and some slightly flavorless tomatoes. The main was a slightly nauseating sweet and sour chicken with potatoes, if I recall correctly. It didn't leave that much of an impression.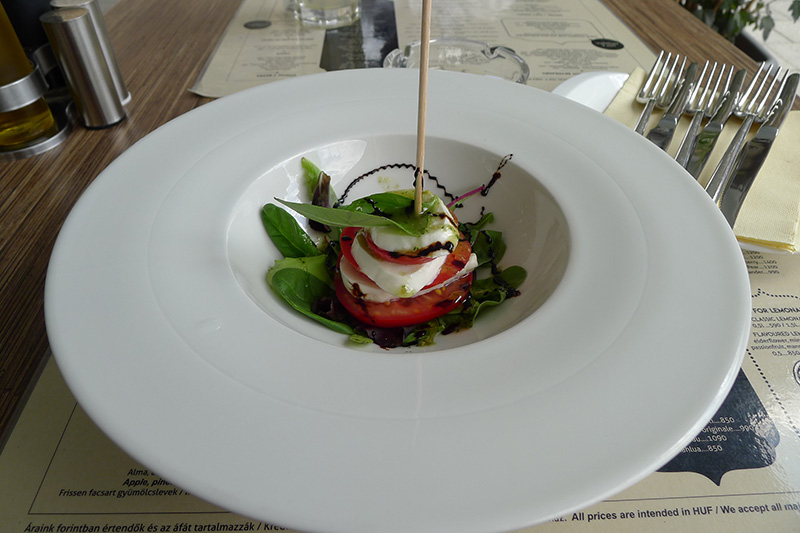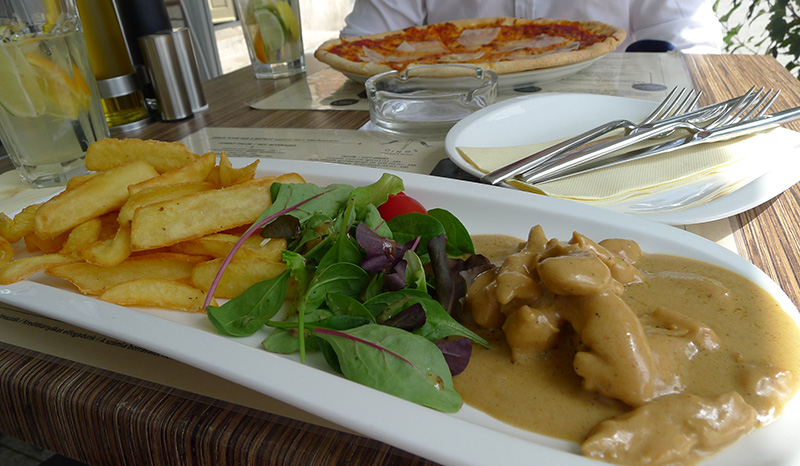 You can also order pizza. A capricciosa costs 1990 forints, and the type named after the place runs at 2390. From noon to 6pm, a pizza and lemonade or fröccs costs only 1700 forints. We had high hopes since the owner is Italian as far as we know. But they were not met. The pizza is thin crust, but offers an experience akin to sitting in a tourist trap in Rome that isn't expecting returning customers.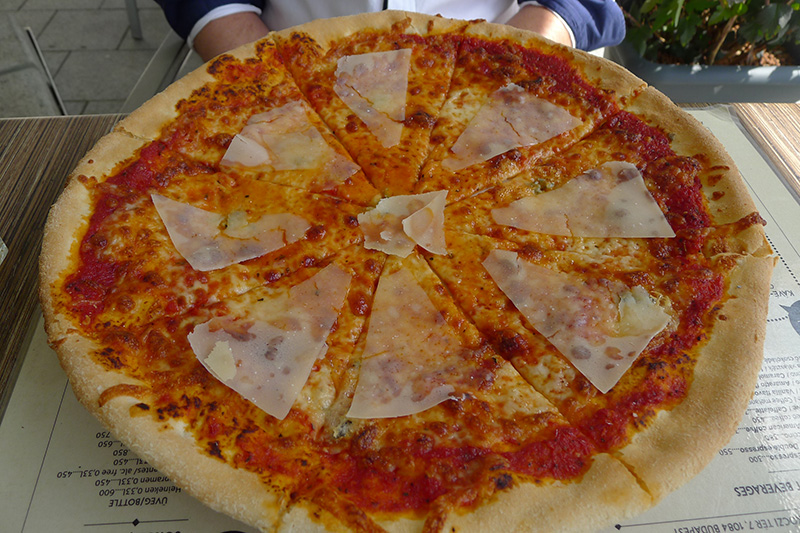 This place is unlikely to thrive on Rákoczi Square due to its kitchen and atmosphere of artificiality. Of course, there's room for improvement on both counts. What is for certain is that it does have one positive going for it: it raises the bar for new places, meaning that in a few years, if someone wants to open a new restaurant, they'll have to use this as a benchmark.
Oinos
Address: 1084 Budapest, Rákóczi tér 7.
Opening Hours: Sun-Thu 11:00 am - midnight, Fri-Sat 11:00 am - 1:00 am
Disclaimer: as is our custom, we arrived unannounced and paid the bill from our own pockets, because that's the kind of guys we are!
Translation provided by Helpers Business and Immigration Services. Find us at www.helpers.hu
You may find the original article here.