Here's the newest in our series on Rákoczi Square. In the past, it had one of the worst reputations in the city, but these days it's being rediscovered as a place where new and old architecture stand side-by-side in harmony. Rákóczi Square contains everything that makes District VIII (Józsefváros or "Josephtown") exciting: all sorts share the seats that surround the reflecting pool, but you can find similarities between the people gathered here. In addition to the elderly playing their card games, the moms pushing strollers and the college student reading a book, you can also find faces twisted by their hard lives, not to mention the occasionally bizarre characters that still find their way here. All you need to do is find a seat, sit back, and watch.
In the first section, we discussed reader's choice Rákóczi Taverna, and then later dropped in on Csiga, a place that could not be better located for the type of place it is. Then, last week, we visited the new, impressively designed and somewhat futuristic wine bar Oinos, where the kitchen leaves something to be desired. This time, we'll check out the jewel in the crown of the square: Budapest's Market Hall No. 2.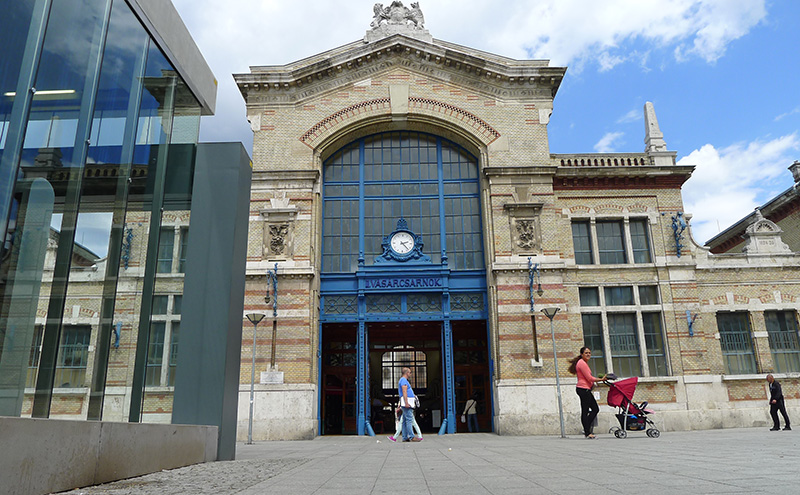 Budapest's market hall fever took off in 1896 with the construction of the Great Market Hall on Vámház Körút. Before that, traders and produce sellers sold their wares at various smaller markets. The new system allowed for centralization and maximization of prices, and the tight, even claustrophobic stalls that were fed with products arriving via various methods, including rail, ensured that Budapest's hungry city dwellers could be provided with a high turnover of goods.
This was the second market to be built, between 1894 and 1896. A year later in 1897, other markets opened, such as those at Hold Street, Hunyadi Square and Klauzál Square. This new way of shopping soon became the norm.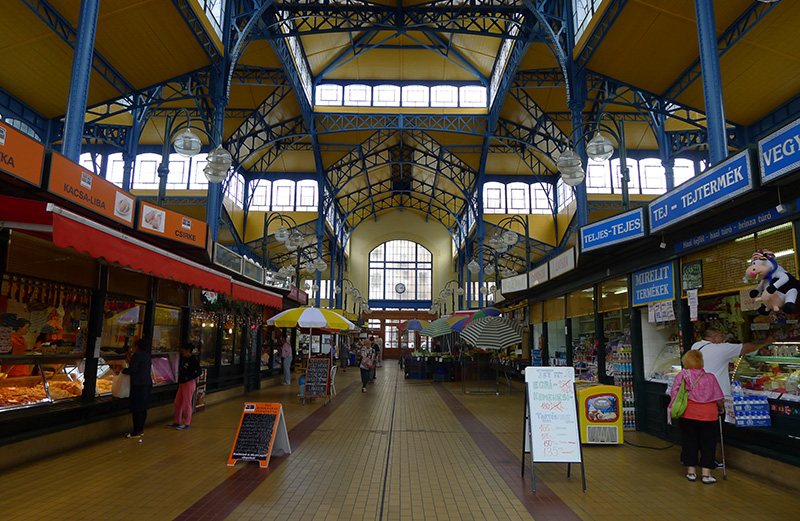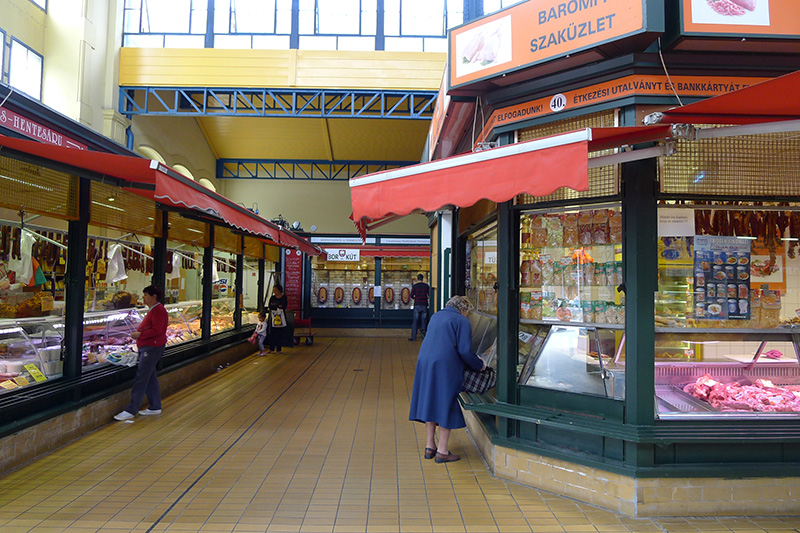 We have a fire to thank for the fact that Market Hall No. 2 is in such good shape. The building was gutted in 1988 and completely rebuilt before reopening in 1991.
Once inside, you'll find yourself standing across from butchers and produce sellers, with one of the latter selling particularly nice products by the side entrance.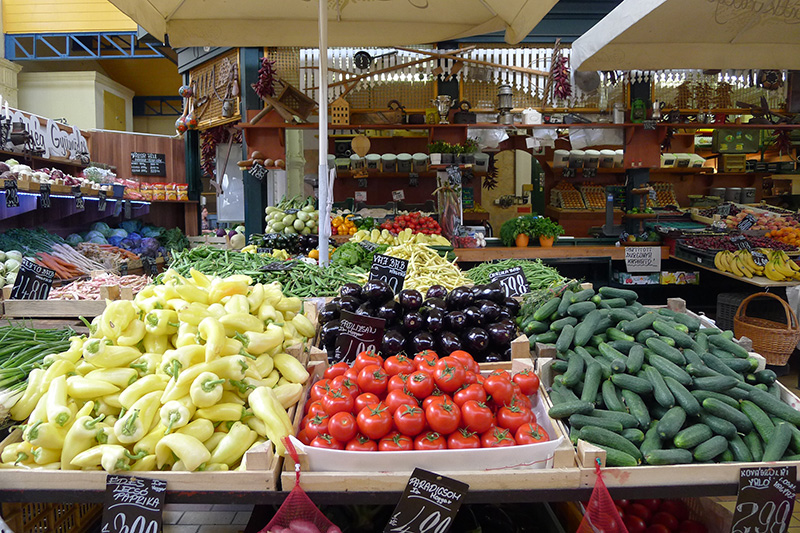 This is where we'll find Rezső Hortig, a dairy farmer from Lajosmizse, selling his cheeses and yoghurts. He sells fresh cow's milk for 220 forints per liter. "Consumable after boiling," the sign reads. I sampled the cheeses, which are the typical kind that belong to the widely available "homemade Hungarian cheese" category. The goat's cheese was quite pleasant, with the smoked garlic cheese a bit too powerful. I couldn't exactly taste the part that had come from the cow.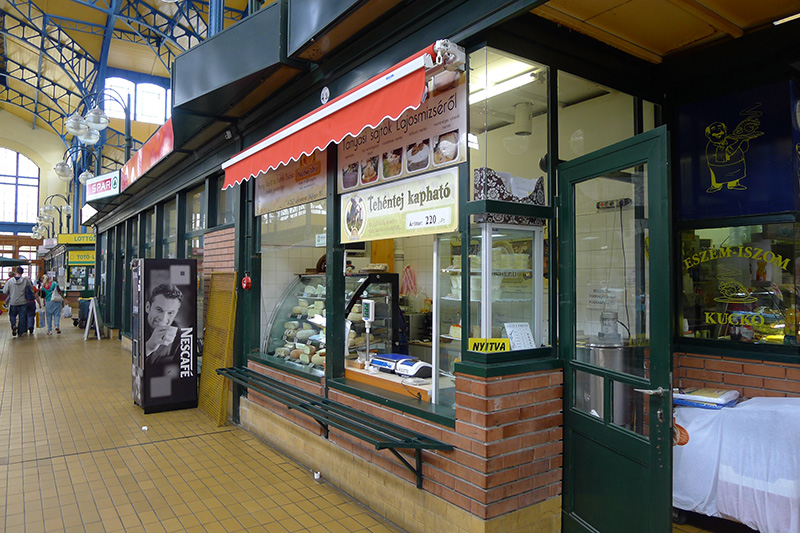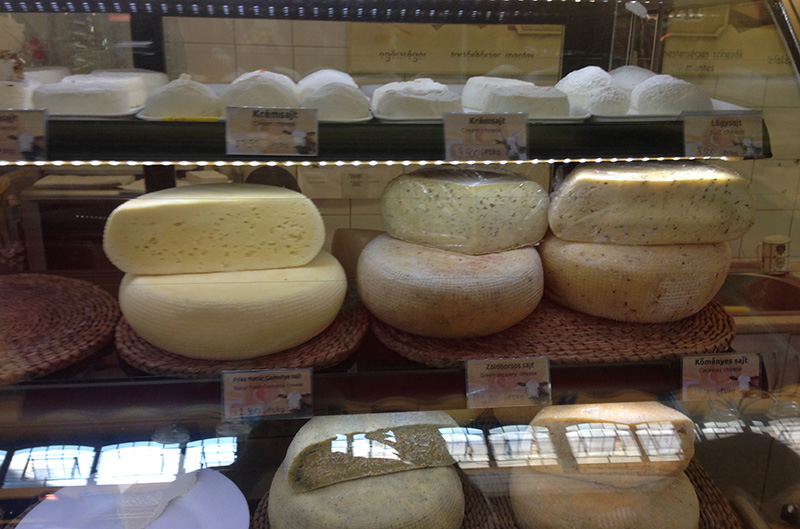 There is a fish stall with the name Aqua Shop, which has a wide selection, where you can find salmon, butterfish, red tuna and squid alongside Zander, trout and carp varieties. They don't have huge quantities, just enough to sell.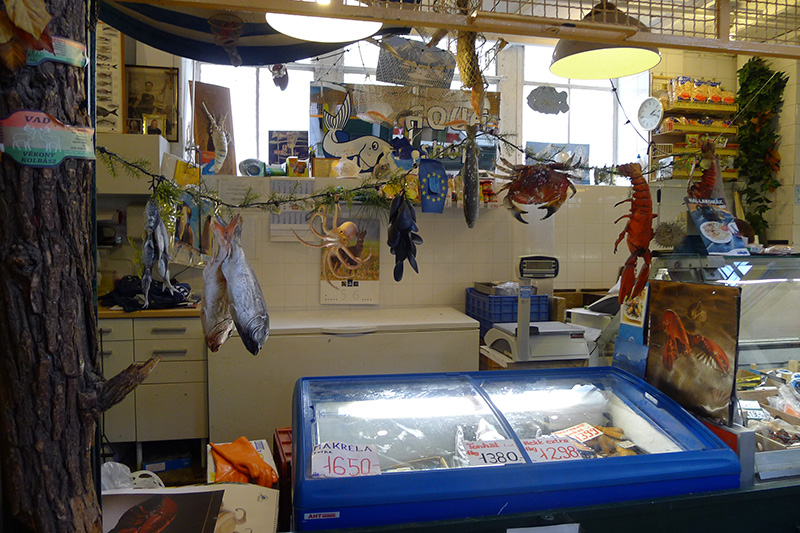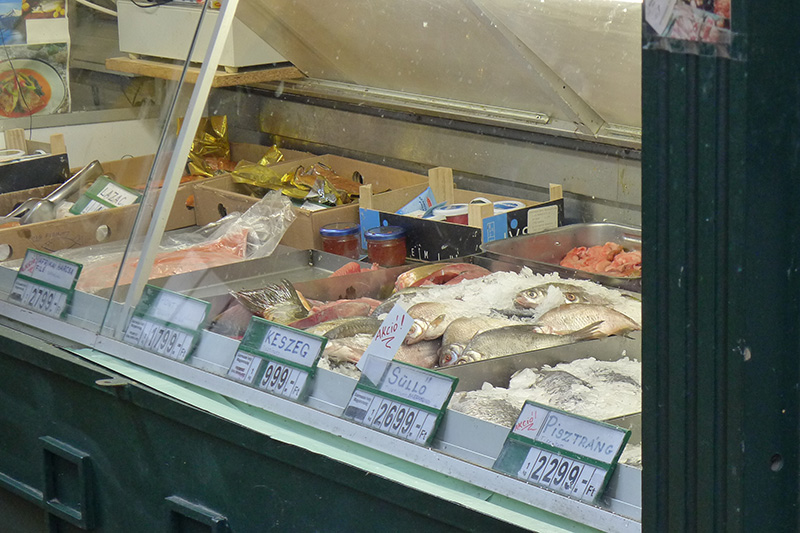 And there's also the Wine Fountain, a magical place where you can tap wine directly from the wall.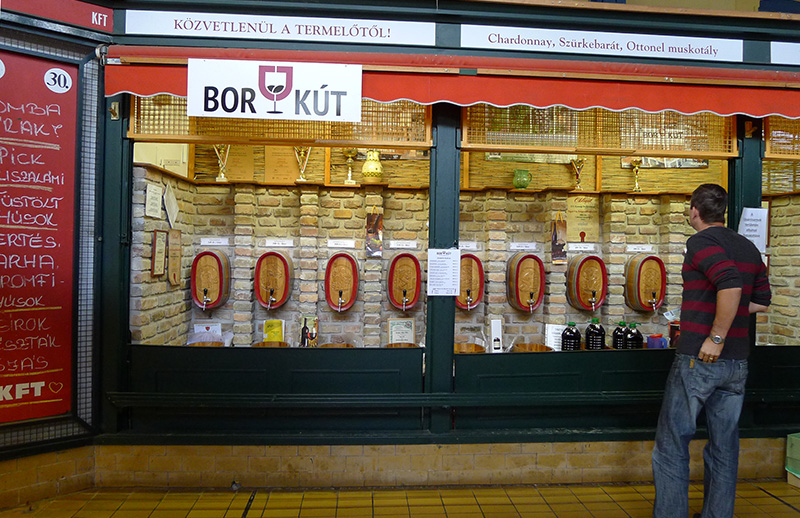 Bring your own bottle and they'll fill it. If you don't, you can buy a PET bottle in 2L or 5L sizes. The chardonnay and kékfrankos are 349/l, with the semi-sweet rosé and white wines running the same. The cabernet sauvignon and the secretive "sweet red" are a bit more expensive at 499/l. I took some dry rosé home with me and a cabernet sauvignon that won an award at the Kunság Wine Competition. The first one surprised me with its vibrant red color, and "red wine lite" aroma, while the latter did the same with its unripe blend of cabernet flavors. Which is what I expected. For these prices, they were entirely drinkable, if not exactly good. They originate from the Tápió-Vin winery in Pest County.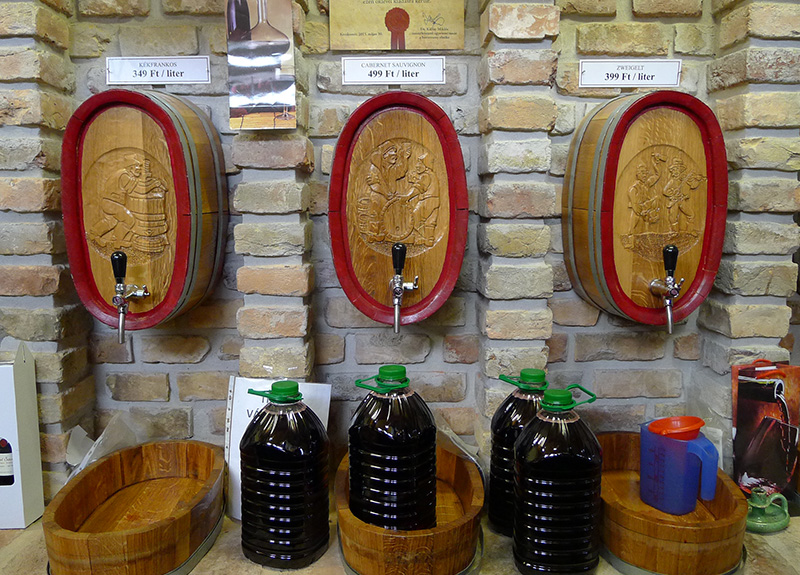 There's also a book exchange point by one of the stores on the side, where if you bring a book you can take another from the shelf. Obviously the books are not the most current. You can find all of the Dallas books, or the picture book A Gépek Forradalma by Jenő Randé, and another book published in the 1970s about anti-communism.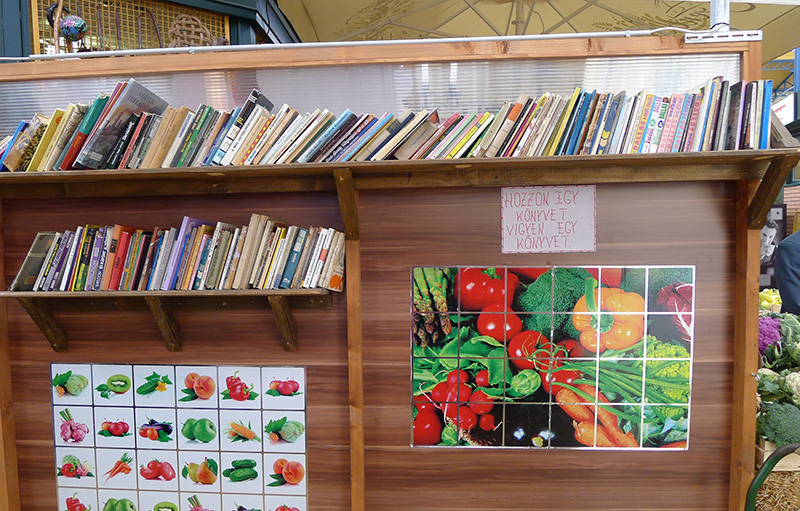 Unfortunately, you won't find a good baker. There's a Fornetti and a Lipóti, with the only enticing bread to be found at Pék Pont, for 900 forints per kilo under the name of Aristano bread.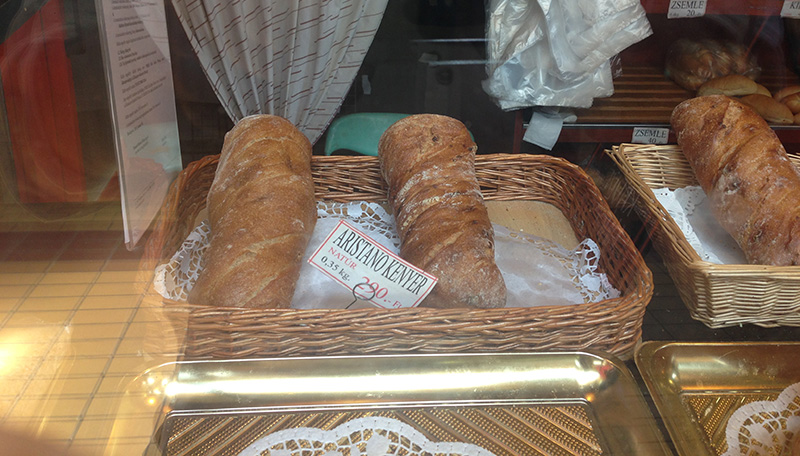 I looked through the sausage varieties ranging from horse to mangalica, and asked for samples at two places from the best looking examples. I asked for paprika pork crackling, without the skin, for 1950 forints, as well as mangalica bacon and not-so-special bacon. All of them were fine, but none stood out.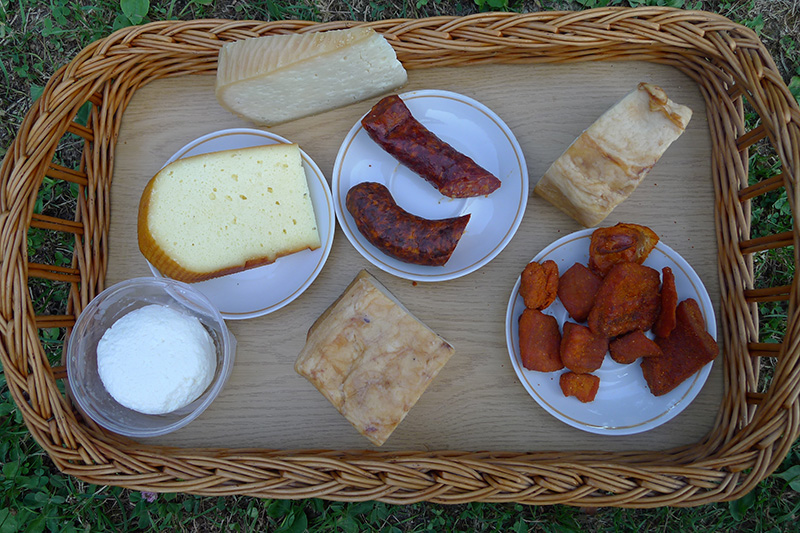 Unfortunately, the market only hits a middling to high level of quality, but at least all of this is in a friendly and airy environment. The side of the building also contains an Asian foods store, where you can purchase Eastern ingredients and spices, complete with a "Keep Calm, we're Open Sunday" sign. Aside from that, everything has an old Josephtown vibe, just a bit cleaner.
Rákóczi Square Market Hall
Address: 1084 Budapest, Rákóczi tér 7.
Opening Hours: Mon 6 am - 4 pm, Tue - Fri 6 am – 6 pm, Sat 6 am – 1 pm
Translation provided by Helpers Business and Immigration Services. Find us at www.helpers.hu
You may find the original article here.