The store is hard to find: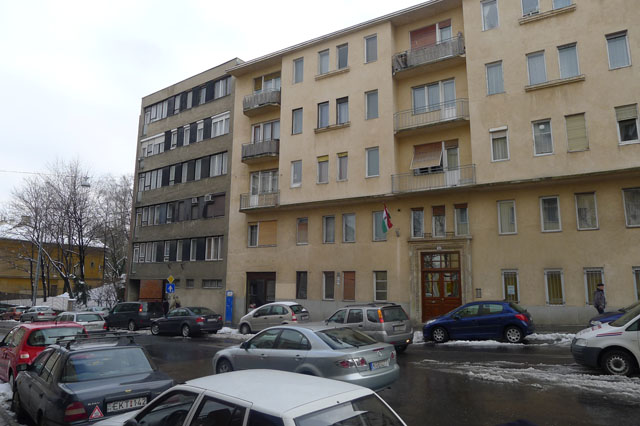 Even when you get closer, it would be hard to find out what's going on inside.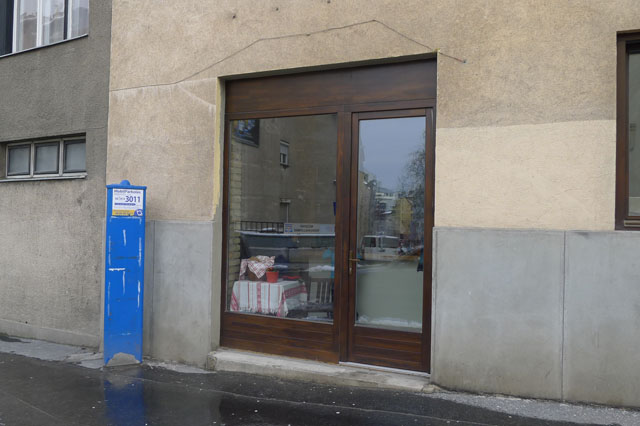 But this is only because the store is so new that it doesn't even have a sign yet. Anyway, it's cozy, homey and clean inside, although you might be taken aback by the decor, which is reminiscent of the Ecseri market.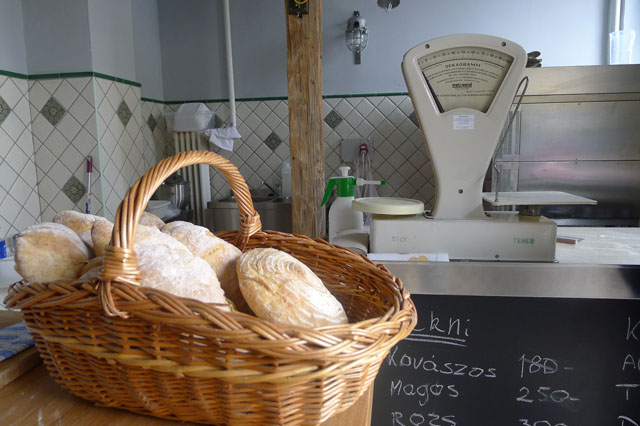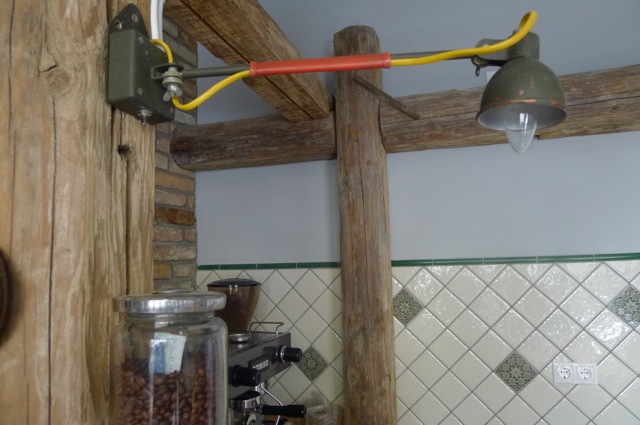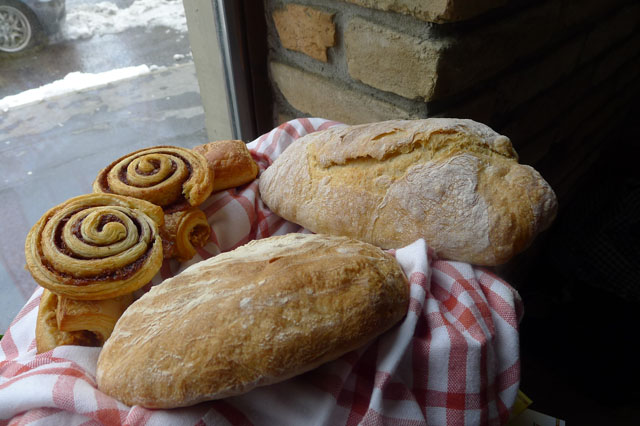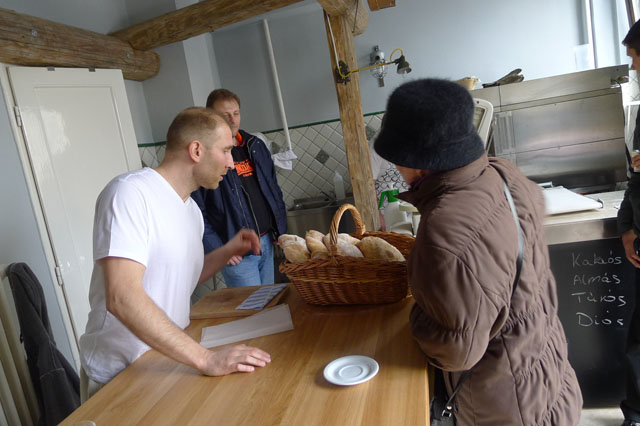 I'm trying my best to describe the impressions I got during the half hour I spent leaning against the counter in this place. Don't think of the usual kind of well-starched professional operation that does everything by the book. It's much more exciting than that.
Although József (on the left in the picture above) adheres strictly to formal speech, he can create an intimate atmosphere in a matter of moments. "Good morning, have you already bought bread today? Everybody gets only one ticket a day. You'll have to come back tomorrow," he says to an elderly lady, who got the joke from his tone of voice and admits that she was nibbling on the bread on her way home and liked it so much she wants to get another one. "All right, then, which one do you want?" In the meantime, a Canadian living in the neighborhood pops in with his two children for some morning cornbread, but they were all out. That's not a problem here. They get right down to baking, even getting the children involved. Let them help if they feel like it. The kids were flouring their own loaf with a sparkle in their eyes.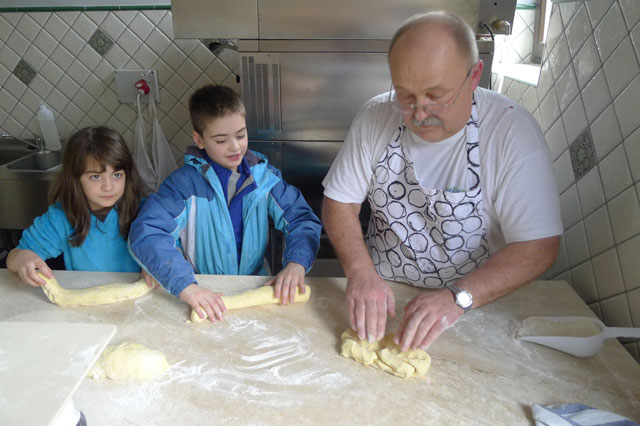 Meanwhile, the coffee is ready, and József offers everybody a cup. For me, the measure of quality is what I have to put in coffee to make it drinkable. I don't need to put anything in this. Sugar would only ruin it. It's great – acidic and fruity. Since it's a fair trade, which you can't tell from the taste, it goes down all the easier.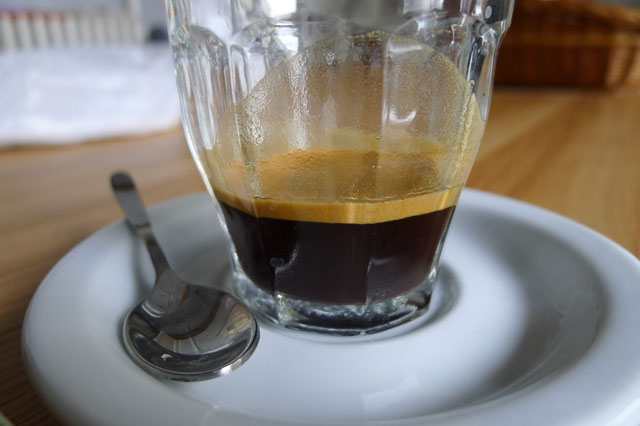 Meanwhile József is telling the customers how he makes each of the breads, what kind of flour he uses and how each product is made. The croissant mentioned above comes out of the oven, and the customers snap up the entire tray in no time at all. Fortunately, I got one too.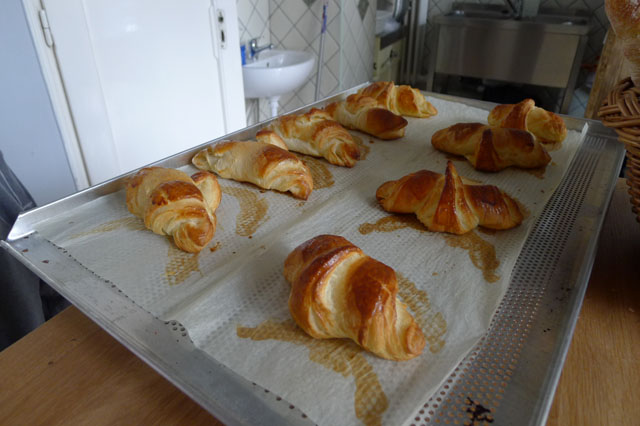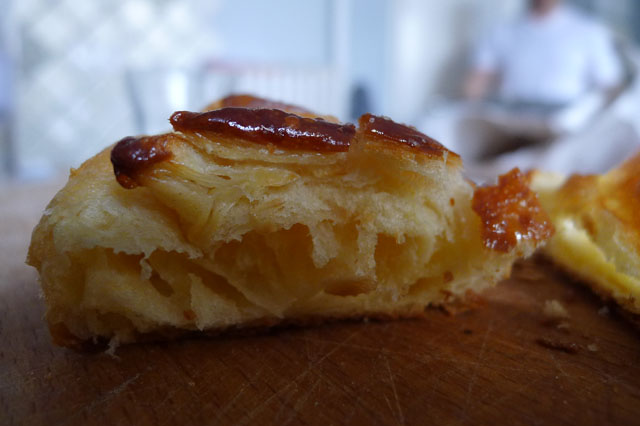 It's really brilliant. Soft dough, crisp on the outside, and outrageously buttery on the inside. "You can't get better than that in Hungary," József says. Obviously, the real question here is not whether they're using real butter in the dough. The question is what kind of butter. "I can't afford French butter. This has German butter in it," he explains.
As a clear sign of his informal, spontaneous character, József tells his customers he's not always satisfied with himself. He had some trouble with his employees in the bakery in Budaörs. The quality was inconsistent, but this is no longer a problem here in his own store because he found the right person and he is always around to keep an eye on things. He is constantly experimenting with newer breads and always asking his customers to taste them.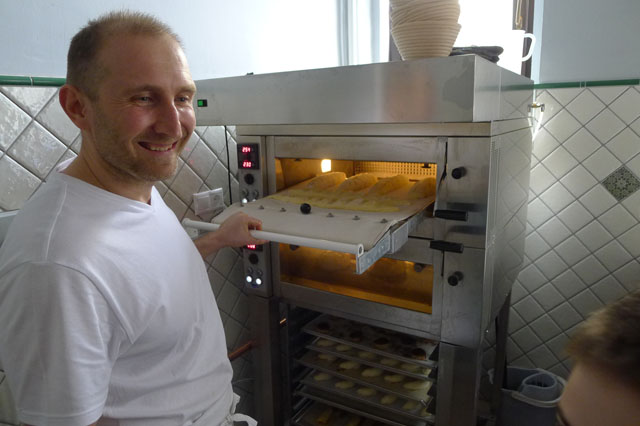 I really like this store. You don't have a chance of getting away with "aloafofbreadpleasethanksbye," but you wouldn't want to. The big plus, in addition to the quality of the breads, is that you just feel like dropping by at Józsi's place to have a cup of coffee and shoot the breeze with him for ten minutes or so, get a taste of some freshly baked stuff, and then head on home loaded down with bread. Going to the bakery has a new meaning.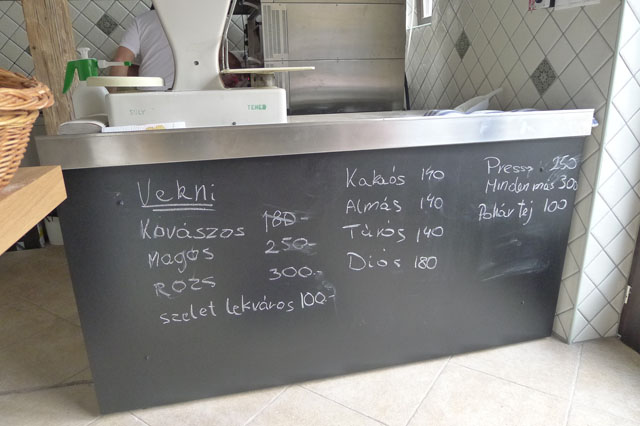 Pékműhely
I. Batthyány u. 24
Opening hours: 07:00 – 19:00 weekdays
Translation provided by Helpers Business and Immigration Services. Find us at www.helpers.hu