Master Wang's restaurants rarely appear promising at first glance. The locations at Telepy and Gizella Streets looked pretty much like any other Chinese cookshop. Every piece of furniture looked cheap and was cheap indeed. The headquarters at Gizella Street functioned as a cookshop at lunchtime, offering the evening meals at a fraction of the regular price, but they were lukewarm and apparently not freshly made. Nonetheless, the quality was still better than many other "some sort of dragon" eateries for the same price.
Then Mr. Wang decided to close both restaurants. The one in Telepy Street was closed for good and, according to some internal sources, sold to a friend. One of our readers accidentally sampled the new owner's ambitions and said you should not expect the former quality. Master Wang focused solely on the place in Gizella Street, where reconstruction work started at the beginning of the summer 2013. The renovated place opened a few months later. And the changes are baffling.
First, take a look at the outside of the building.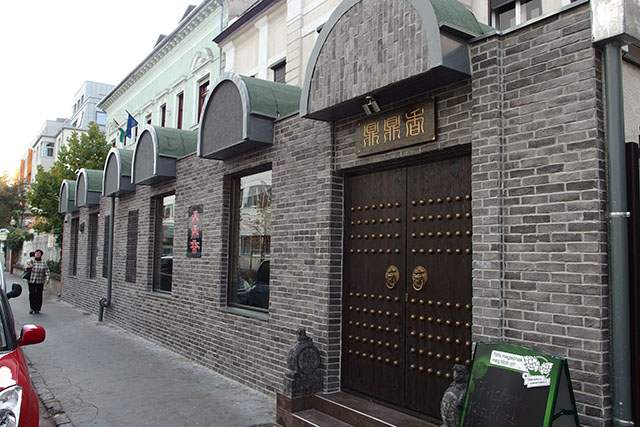 And how it looked like just a few years ago.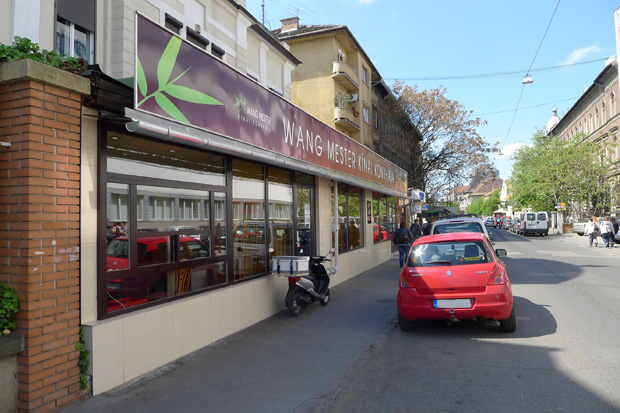 Look at the interior: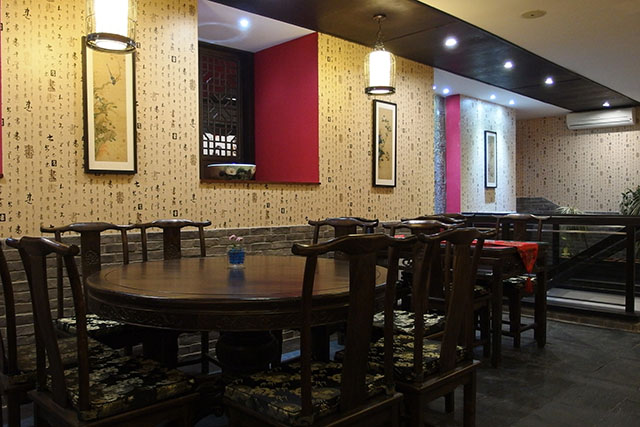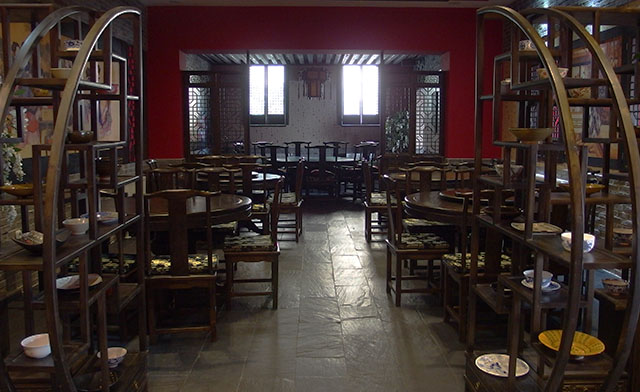 This is how it looked before: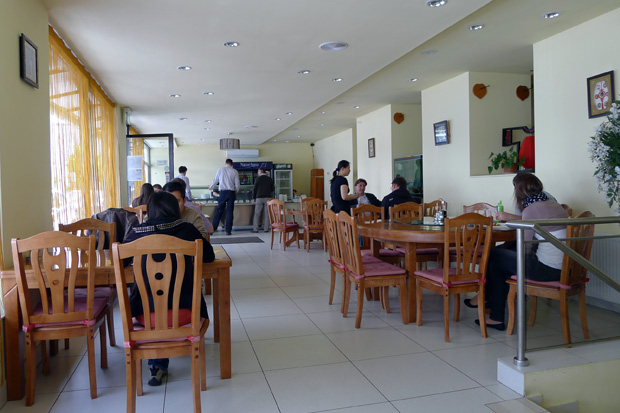 It's no longer a buffet, nor is it like the golden kitsch display of the Taiwan restaurant. This is a modern, trendy Chinese restaurant. In my opinion, it has created its own category in Budapest.
We went out with Évi and two friends for dinner to see if they had anything new in the kitchen. That was when we were struck by another surprise: the waiter. He had been working there as long as Master Wang himself. Instead of the "I wear whatever is at hand" kind of clothing we had seen before, he was wearing a black shirt, black trousers and pointed black shoes. Obviously, it was his uniform and suited him well.
The new menu is more or less the same, with a few new dishes. Of course, I ordered something new, chicken with water chestnuts, homemade noodles with vegetables, and wood ear mushroom salad, which is a must.
Then came the third surprise: the serving. New plates with a Darth Maul-like head. Heavy chopsticks, golden for men and silver decorated for women. And the dishes arrived with a new presentation as well, for example the Beijing onion chicken: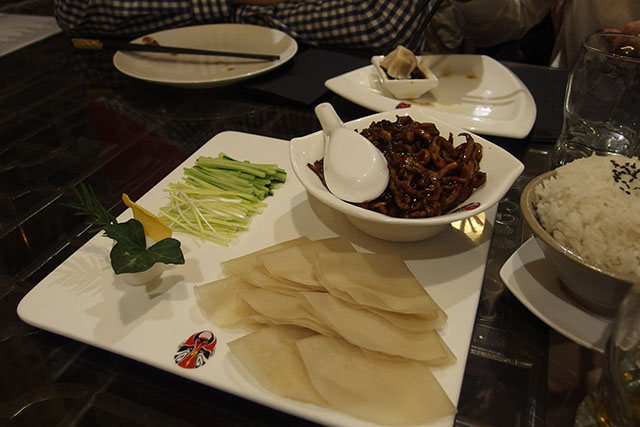 Wood ear mushroom salad: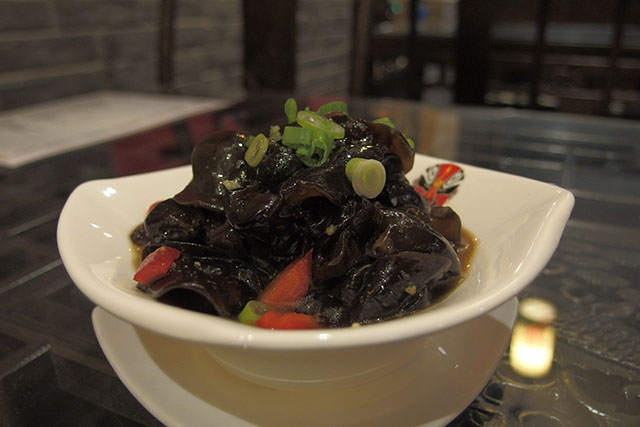 Freshly fried meat dumplings (these are actually boiled and then fried a bit)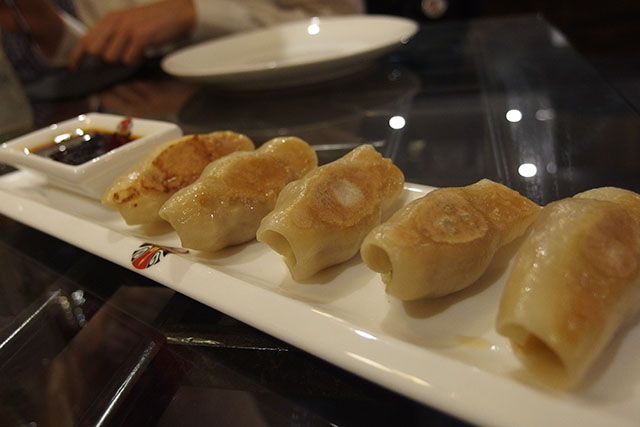 The fried noodles are still damn good: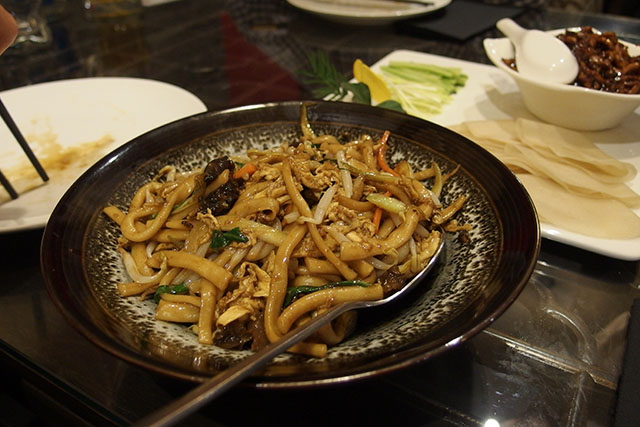 The sweet and sour chicken is served with pears, kiwi and tomatoes, and take a look at the decoration on the left. You could not imagine anything like this here before: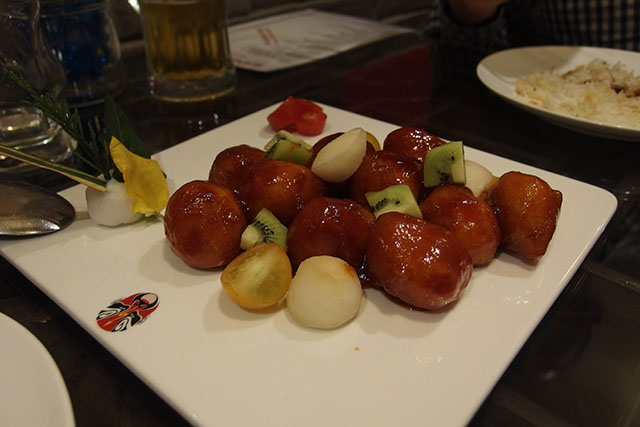 And the new main course, the chicken with water chestnuts and vegetables: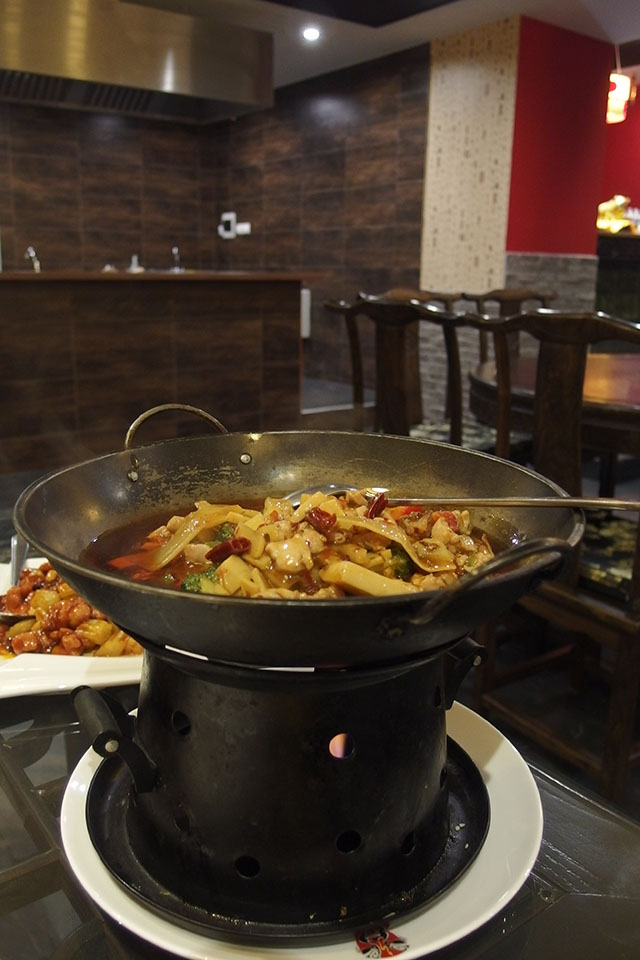 It is served while still boiling, with a fire burning beneath it as you begin to help yourself to it. What can I say? It's my new favorite. Every single bite is a bit different, one is dominated by the meat, another one by bamboo and vegetables, and yet in another one you bite into a Sichuan pepper. It's rich and varied, which is why I come here often.
And now the fourth surprise, which is not so pleasant: The prices.
It's understandable that they raised their prices, since now the place is more exclusive and one where you can safely take your date or business partner for a great meal. The presentation of the dishes themselves are also more civilized and extras are added to each course (see the sweet and sour chicken). Yet the prices were not raised equally.
Let me be a little unfair now: I'm going to compare the current prices to those two years ago. On one hand, because I have the old menu saved, and on the other, because there was already a painful price hike last year. I wanted to see the two together as I was a regular here two years ago. I was curious to know what the difference was between now and then.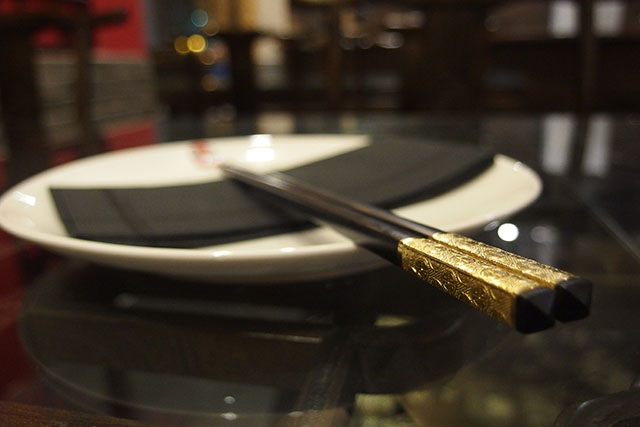 The good news is that some prices are the same. One example is the knuckle roll á la Wang: it's still HUF 1890.
The prices of most dishes, however, were raised by 20-30%. The famous homemade Wang fried noodles went from HUF 1290 to HUF 1590, which is 23%. I think it's still a good price.
The rice portions became smaller. You may have to order more than one for one person, although its price is more than twice as much. But we have to admit that the quality of the rice is noticeably better.
What really hurts is the wood ear mushroom salad. It's a must. Two years ago it cost HUF 890, but now it's HUF 1590. A light, weightless starter for the price of what a main course used to cost. I was sorry to see that.
For us a typical feast for two looks like this: meat dumplings, wood ear mushroom salad, one main course (say Beijing onion chicken), Wang fried noodles and rice. This used to cost HUF 4880 two years ago, but now it's HUF 7350. This is a 50% increase in two years.
I broke the numbers down because you will also notice the jump and begin to count. I wanted to save you the trouble. Despite all this, I will continue to be a regular here. Actually, I will be more happy to come here than before. I'll be glad to take my relatives here without having to find any excuse why I chose this place. We can get a near-premium quality service that we are not used to in a Chinese restaurant in Budapest. And finally, one more important thing. The cooks had a few months to rest at home so now they are good-tempered, which you can feel in the dishes they make.
Wang's restaurant has become damn good. Period.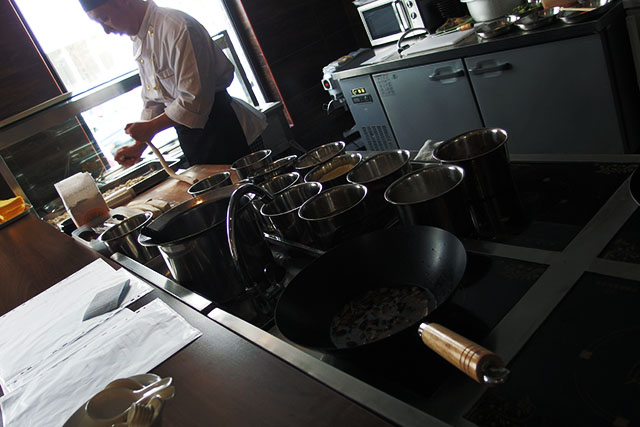 You can get a lunch menu between noon and 3 pm. The old self-service counter was replaced by an open kitchen where you can watch the cooks making your dishes in front of you. The prices are really fair during this time with HUF 1300-1600 for one or two courses. By the way, the open kitchen will stay for the evening too. The noodle chef will be making the homemade stuff here.
Translation provided by Helpers Business and Immigration Services. Find us at www.helpers.hu
You may find the original article here.